Chris Gutteridge's occasional blog

Some occasional thoughts, comments and commentries that have occured to me.
10 March 2012
I gather it's International Bagpipe Day. Maybe we'll stay in bed till it's over.
25 February 2016
Well, it's becoming clear that if any sort of entertainer is mentioned with reference to paedophilia, all hell is let loose and the media investigate it endlessly, but if it's a politician, it's just a "conspiracy theory", regardless of how much evidence is provided and then mysteriously disappears!
6 December 2016
Mildly amused by the concept of Waitrose "essential" balsamic vinegar.
18 December 2016
Last Hunstanton Concert Band gig of the year this morning - playing Xmas music in King's Lynn Tesco foyer for charity. As it was Xmas, I made a special effort - green tail coat, scarlet waistcoat and bow tie, and top hat. Emerging from my front door, I met my neighbour, wearing his usual leather trousers, piercings, tattoos and mohican. "Where are you going?" he asked, "Tesco", I replied. "What, dressed like that?"
25 February 2017
Grapefruit doesn't resemble grapes in any way whatsoever, and pineapple is nothing like pine or apples. Why have I never noticed this before?
Jayne keeps unintentionally summoning siri on her iPad. Normally, she automatically apologises to him and he replies, in an irritatingly smug voice, "no problem, or "that's OK", or even "no need to apologise". The other day she was already feeling frustrated with what she was trying to do, and when she awoke siri she uncharacteristically snapped, "Oh, f**k off!", to which he replied, "Oooooooh!"
7 June 2017
I was born during the post-war Labour government that brought us the National Health Service and all the other social benefits that they implemented, at a time when we were recovering from the war and paying off massive debts to the United States. Successive Conservative governments (and the so-called Labour government of Tony Blair) have been selling off your public utilities and public transport and nibbling away at the National Health Service ever since. They are stealing your old age pension (which will soon be back to the state it was in 1909, with retirement starting at age 70). All these things are things that you, the public, owned, and the Tories have flogged them off cheap to their mates, and to foreign powers. They are blatantly corrupt, supporting the bankers who created our financial problems and allowing big companies and the mega-rich to evade their taxation responsibilities. The Prime Minister's husband is nothing more than a professional tax-fiddler. If they are allowed to continue in power they will bring this country to its knees as they asset-strip what's left. The mainstream media, owned by tax-dodging non-resident press barons, smear and lie on their behalf. Please vote tomorrow. Vote for whomever you like as long as it's not the corrupt Tories, or their far-right wing, UKIP. Please don't think that there's no point voting. We stand on the brink of possible disaster. I am worried sick, not so much for myself as for the next generation.
28 June 2017
Jayne took me to see Wendy Cope at Westacre Theatre this afternoon. Wendy Cope is, I think, one of our greatest living poets - witty, intelligent, incisive and a master of intricate rhyming schemes. Jayne also bought me two of Wendy's books that I didn't already possess. This is the start of a month of celebrations leading up to my birthday! I'm being spoilt rotten!
2 July 2017
Seen in a German newspaper: Theresa May is doing the work of two men, unfortunately they are Laurel and Hardy.
14 July 2017
Dear Agony Aunt,
Jayne and I have been together for ten years, and married for six. Our life together has been wonderful. However, we have been sorting out some of our things, and are talking of combining our libraries.
Do you think it's too soon for this? I'd hate anything to come between us. Jayne has even been talking of only keeping one Oxford dictionary! Please help us to make the right decision.
Yours,
"Concerned".
16 July 2017
This afternoon I have been "re-purposing" or "upcycling" a 1950s desk to kindling. Legs, frame and 4 drawer fronts in beech, 2 sliding shelves and 2 drawer fronts in multi-layered 3/4" ply (I suspect the top will be the same under the veneer and edging), panels and drawer bottoms in wafer-thin 3-ply, drawer sides and backs in, believe it or not, mahogany!
31 July 2017
What a way to spend your 70th birthday! Conducting Hunstanton Concert Band from the trombone was not quite what I had in mind.
18 September 2017
Going into Lynn this morning, we were behind a woman's car with a bumper sticker saying, "Powered by Fairy Dust".
Jayne:
"So how many fairies were killed and ground into a powder, just to provide fuel for her car?"
4 October 2017
Today marks a historic date in the story of the anti-fascist movement. It's been 81 years since the Jewish community of East London and its allies blocked the streets in order to prevent Oswald Mosley and his British Union of Fascists from marching through.
The Battle of Cable Street, as it became known, is considered to be the greatest ever anti-fascist victory to have taken place on British soil.
It's estimated that anywhere between 100,000 and half a million people were there that day.
It is as well to remember that Mosley and his thugs were protected by the police, and that many members of the British aristocracy, including the Duke of Windsor, and Lord Northcliffe, owner of the Daily Mail were enthusiastic followers of Hitler.
15 October 2017
I spent a pleasant day yesterday, working with Lizzie Gutteridge and Erik Martens as Wyldes Noyse, playing for a charming wedding at the beautiful 17th century St Mark's College, Audley End. It had a very nice fireplace!
18 October 2017
What have we come to, that the Speaker of the House is forced to address the government front bench like naughty children, because that is how they are behaving?
31 October 2017
We bought some hot cross buns in Waitrose today! They were reduced because they'd reached their "best before" date. We weren't sure why they were available in October, but we like hot cross buns, so we bought them. They were the most inedible, tasteless, stodgy things I've ever eaten. It wasn't until later that I read the small print, under where it said "Just Hot Cross Buns" - "No gluten, no egg, no dairy, absolutely nothing scary." They certainly scared me. Should read "absolutely nothing pleasant".
9 November 2017
Apparently I am susceptible to something called "White Coat Syndrome". One result of this is that the thought of having my blood pressure taken puts my blood pressure up. Therefore, for the second time in five years, I am wearing an automatic blood pressure monitor for 24 hours. It takes my blood pressure every twenty minutes, but at midnight it goes to once an hour.
At about 5am I rolled over onto it at the precise moment it went off, which woke me up. As it was being squashed, it didn't believe the reading, so took it again. It then decided that as I was obviously awake, it should switch to daytime mode, so I gave up and got up.
For some inexplicable reason, when I was getting ready for bed last night, Jayne found the sight of me wearing nothing but an arm band connected by a long tube to a heart monitor hysterically funny. She said I looked sexy, but I don't think she meant it.
10 November 2017
Thanks to Cherri Graebe for reminding me of this. One tends to overlook how incredibly talented one's own progeny have become. Here's Lizzie Gutteridge doing amazing things on shawm and percussion in one of her live looping tunes. As far as I know, she's the first person to combine live looping and medieval music. She's also the founder and director of the world's first community shawm band open to all comers, the Colchester Waits. If you want to know anything about breeding, caring for and training animals, be they dogs, goats, cattle, horses or camels, I refer you to my other talented daughter, Rose Trevor.
16 November 2017
Carrying a container of bottles for the bottle bank, I went over on my ankle. Deep-seated instinctive memories from my youth of practising judo falls kicked in. I threw the bottles away and rolled as I fell. Broken bottles but no broken bones, just a few bruises and a graze. In view of the fashion amongst friends and relatives for broken wrists lately, I'm rather relieved.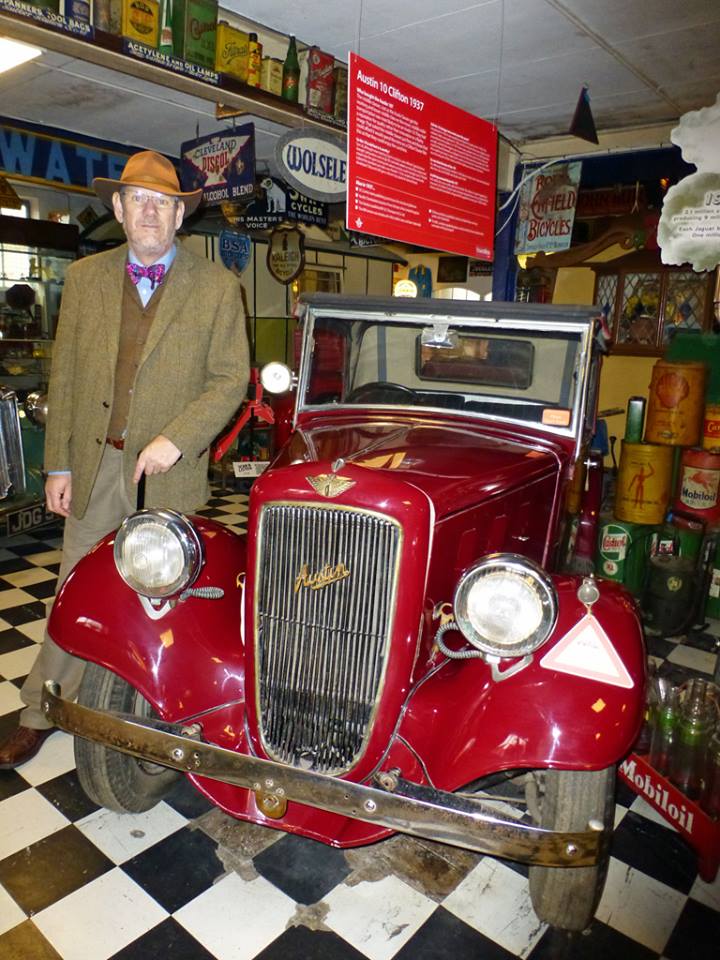 24 February 2018
Me with a 1937 Austin 10 Clifton. 53 years ago, my mate Charlie Firth bought a 1935 model from a man who had a barn full of Austins and Morrises for £35 and restored it himself. You can buy one today for £15,000! I wanted to buy an Austin 10 Lichfield saloon for £40, but my parents said I had to buy a "proper" car. My Ford Thames van cost £50 and fell apart after 2 years. Proof that parents are not always right!One dark and stormy night, Charlie, Colin Adams and I were driving home in the pouring rain. I was operating the windscreen wiper by hand as the motor had packed up. Colin, in the dicky, lay down and pulled it shut on top of him. As we drove through a deep puddle, there was a cry of rage and anguish from behind me as Colin got a face full of dirty, cold water through the hole in the floor. Happy days! Photos by Jayne Gutteridge.
>