Chris Gutteridge's occasional blog

Some occasional thoughts, comments and commentries that have occured to me.
28 May 2011
West Gallery done. Hedingham Castle tomorrow. Hunstanton Concert Band at St Nicholas King's Lynn Thursday and at Assembly rooms, Swaffham Saturday!
10 March 2012
I gather it's International Bagpipe Day. Maybe we'll stay in bed till it's over.
7 July 2012
Very pleased with the pleasant sound the reduced Hunstanton Concert Band made this morning. Well done, one and all, especially the clarinets and flute and the euphonium.
17 May 2015
Had another great day at the King's Lynn Hanse Festival with Wyldes Noyse as King's Lynn Waites for Black Knight Historical, with Erik, Lizzie, Jayne, and Emily Baines. As we left Pizza Express after lunch in full 15th century dress, a passer-by said to Emily, "However long did they take to serve you in there?!" I think possibly the wittiest comment on our early music clothing yet!
21 September 2015
Visiting our corner shop just now, we met a neighbour, who said of the weather, "that's nasty, now." It brought to mind a conversation between two old gents that I overheard one crisp, frosty morning over 40 years ago in a Swaffham newsagents:

"That's cowald!"
"That IS cowald!"
"I don't like that when that's cowald."
"I don't mind that when that's cowald; that's when that's cowald and wet I don't like that."
25 February 2016
Well, it's becoming clear that if any sort of entertainer is mentioned with reference to paedophilia, all hell is let loose and the media investigate it endlessly, but if it's a politician, it's just a "conspiracy theory", regardless of how much evidence is provided and then mysteriously disappears!
14 April 2016
Wandering around Walsingham this afternoon, we came across a film crew filming a girl in a miniskirt riding a donkey up the main street. They told us they were making a film for BBC4 on Mother Julian of Norwich. Further down the road, a priest and a monk were watching, fascinated, from the doorway of a religious bookshop. Jayne called out to them, "I think they're making a low-budget version of Lady Godiva", which caused them to dissolve into helpless giggles - the most fun they'd had for ages, I suspect.
26 April 2016
We discovered this lunch time that we are known to the staff of Mother Hubbard's Fish & Chip Shop in Swaffham as Mr & Mrs Haddock - not that we're predictable at all. I wonder if that should be Captain & Mrs Haddock, actually...
12 June 2016
It's been a funny sort of day. Went to Burnham Norton, where Chris Holderness and Richard Blake of Rig-A-Jig-Jig joined me to entertain the villagers at their Queen's Birthday Party. Food and beer were plentiful, and I think we made some pretty good music on fiddle, Norfolk dulcimer and serpent. Then I went on to Ingoldisthorpe, where Hunstanton Concert Band was playing for the village Queen's Birthday fete. Conducted the second half whilst still dressed in Victorian farm labourer's dress, including brown bowler hat (a local speciality - first worn by Lord Coke's gamekeepers at Holkham Hall).
Feeling somewhat drained and aching. Never mind, it's all good fun!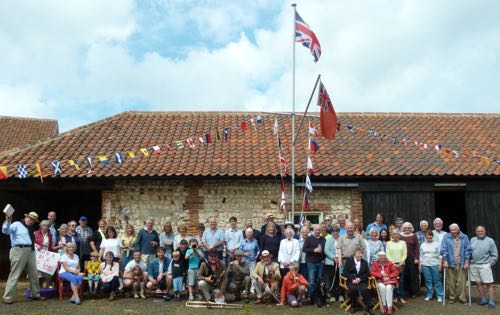 17 June 2016
Waiting for our flight at Schiphol airport with a few excess-to-requirements Euros in my wallet, I browsed in a book shop and came across Let's Explore Diabetes with Owls, a book of short stories by David Sedaris. "Brilliantly clever, inventive and funny" - Guardian "Howlingly funny" - Daily Mail. This morning I started reading it. It takes a tremendous amount to make me give up on a book, but after reading the first two stories without so much as a vague smile, I moved on to Agatha Christie!
6 December 2016
Mildly amused by the concept of Waitrose "essential" balsamic vinegar.
18 December 2016
Last Hunstanton Concert Band gig of the year this morning - playing Xmas music in King's Lynn Tesco foyer for charity. As it was Xmas, I made a special effort - green tail coat, scarlet waistcoat and bow tie, and top hat. Emerging from my front door, I met my neighbour, wearing his usual leather trousers, piercings, tattoos and mohican. "Where are you going?" he asked, "Tesco", I replied. "What, dressed like that?"
25 February 2017
Grapefruit doesn't resemble grapes in any way whatsoever, and pineapple is nothing like pine or apples. Why have I never noticed this before?
Jayne keeps unintentionally summoning siri on her iPad. Normally, she automatically apologises to him and he replies, in an irritatingly smug voice, "no problem, or "that's OK", or even "no need to apologise". The other day she was already feeling frustrated with what she was trying to do, and when she awoke siri she uncharacteristically snapped, "Oh, f**k off!", to which he replied, "Oooooooh!"
28 May 2017
On the way back from Jayne's flight with Fenland Flying School, I finally got to visit Parson Drove, which some of you may remember Samuel Pepys describing as "a heathen place" in one of my posts from his diary. It looked very pleasant, but the "redundant" village church is over a mile outside the village, with a very spooky overgrown churchyard. We returned to the village centre, intending to have a quiet drink at the Swan Inn, an obviously popular hostelry. However, the wall of pulsing "music" that hit us as we entered the door drove us straight out again, and we headed out of the village towards Guyhirn. On a typical fen road, alarmingly buckled in all directions due to the underlying peat drying out, I was doing a cautious 50mph when I was overtaken by someone obviously being pursued by the Devil himself, travelling at something over 80 or 90mph, bouncing all over the road. I don't think we'll bother again.
Can anyone explain why there's a dead kangaroo lying on the central reservation of Dereham bypass???
4 June 2017
Problems of getting older: we went for a wander round Castle Acre Priory this afternoon, using our new English Heritage membership, and I was suddenly struck by a call of nature. I hurried round behind a big leafy tree, where I seemed to be well hidden from the public gaze, and had just started to seek relief, when a voice said, "Oooh!" I thought, "I can't stop now!" Luckily it turned out to just be a pigeon calling.
7 June 2017
I was born during the post-war Labour government that brought us the National Health Service and all the other social benefits that they implemented, at a time when we were recovering from the war and paying off massive debts to the United States. Successive Conservative governments (and the so-called Labour government of Tony Blair) have been selling off your public utilities and public transport and nibbling away at the National Health Service ever since. They are stealing your old age pension (which will soon be back to the state it was in 1909, with retirement starting at age 70). All these things are things that you, the public, owned, and the Tories have flogged them off cheap to their mates, and to foreign powers. They are blatantly corrupt, supporting the bankers who created our financial problems and allowing big companies and the mega-rich to evade their taxation responsibilities. The Prime Minister's husband is nothing more than a professional tax-fiddler. If they are allowed to continue in power they will bring this country to its knees as they asset-strip what's left. The mainstream media, owned by tax-dodging non-resident press barons, smear and lie on their behalf. Please vote tomorrow. Vote for whomever you like as long as it's not the corrupt Tories, or their far-right wing, UKIP. Please don't think that there's no point voting. We stand on the brink of possible disaster. I am worried sick, not so much for myself as for the next generation.
28 June 2017
Jayne took me to see Wendy Cope at Westacre Theatre this afternoon. Wendy Cope is, I think, one of our greatest living poets - witty, intelligent, incisive and a master of intricate rhyming schemes. Jayne also bought me two of Wendy's books that I didn't already possess. This is the start of a month of celebrations leading up to my birthday! I'm being spoilt rotten!
2 July 2017
Seen in a German newspaper: Theresa May is doing the work of two men, unfortunately they are Laurel and Hardy.
14 July 2017
Dear Agony Aunt,
Jayne and I have been together for ten years, and married for six. Our life together has been wonderful. However, we have been sorting out some of our things, and are talking of combining our libraries.
Do you think it's too soon for this? I'd hate anything to come between us. Jayne has even been talking of only keeping one Oxford dictionary! Please help us to make the right decision.
Yours,
"Concerned".
16 July 2017
This afternoon I have been "re-purposing" or "upcycling" a 1950s desk to kindling. Legs, frame and 4 drawer fronts in beech, 2 sliding shelves and 2 drawer fronts in multi-layered 3/4" ply (I suspect the top will be the same under the veneer and edging), panels and drawer bottoms in wafer-thin 3-ply, drawer sides and backs in, believe it or not, mahogany!
31 July 2017
What a way to spend your 70th birthday! Conducting Hunstanton Concert Band from the trombone was not quite what I had in mind.
18 September 2017
Going into Lynn this morning, we were behind a woman's car with a bumper sticker saying, "Powered by Fairy Dust".
Jayne:
"So how many fairies were killed and ground into a powder, just to provide fuel for her car?"
4 October 2017
Today marks a historic date in the story of the anti-fascist movement. It's been 81 years since the Jewish community of East London and its allies blocked the streets in order to prevent Oswald Mosley and his British Union of Fascists from marching through.
The Battle of Cable Street, as it became known, is considered to be the greatest ever anti-fascist victory to have taken place on British soil.
It's estimated that anywhere between 100,000 and half a million people were there that day.
It is as well to remember that Mosley and his thugs were protected by the police, and that many members of the British aristocracy, including the Duke of Windsor, and Lord Northcliffe, owner of the Daily Mail were enthusiastic followers of Hitler.
15 October 2017
I spent a pleasant day yesterday, working with Lizzie Gutteridge and Erik Martens as Wyldes Noyse, playing for a charming wedding at the beautiful 17th century St Mark's College, Audley End. It had a very nice fireplace!
18 October 2017
What have we come to, that the Speaker of the House is forced to address the government front bench like naughty children, because that is how they are behaving?
31 October 2017
We bought some hot cross buns in Waitrose today! They were reduced because they'd reached their "best before" date. We weren't sure why they were available in October, but we like hot cross buns, so we bought them. They were the most inedible, tasteless, stodgy things I've ever eaten. It wasn't until later that I read the small print, under where it said "Just Hot Cross Buns" - "No gluten, no egg, no dairy, absolutely nothing scary." They certainly scared me. Should read "absolutely nothing pleasant".
9 November 2017
Apparently I am susceptible to something called "White Coat Syndrome". One result of this is that the thought of having my blood pressure taken puts my blood pressure up. Therefore, for the second time in five years, I am wearing an automatic blood pressure monitor for 24 hours. It takes my blood pressure every twenty minutes, but at midnight it goes to once an hour.
At about 5am I rolled over onto it at the precise moment it went off, which woke me up. As it was being squashed, it didn't believe the reading, so took it again. It then decided that as I was obviously awake, it should switch to daytime mode, so I gave up and got up.
For some inexplicable reason, when I was getting ready for bed last night, Jayne found the sight of me wearing nothing but an arm band connected by a long tube to a heart monitor hysterically funny. She said I looked sexy, but I don't think she meant it.
10 November 2017
Thanks to Cherri Graebe for reminding me of this. One tends to overlook how incredibly talented one's own progeny have become. Here's Lizzie Gutteridge doing amazing things on shawm and percussion in one of her live looping tunes. As far as I know, she's the first person to combine live looping and medieval music. She's also the founder and director of the world's first community shawm band open to all comers, the Colchester Waits. If you want to know anything about breeding, caring for and training animals, be they dogs, goats, cattle, horses or camels, I refer you to my other talented daughter, Rose Trevor.
16 November 2017
Carrying a container of bottles for the bottle bank, I went over on my ankle. Deep-seated instinctive memories from my youth of practising judo falls kicked in. I threw the bottles away and rolled as I fell. Broken bottles but no broken bones, just a few bruises and a graze. In view of the fashion amongst friends and relatives for broken wrists lately, I'm rather relieved.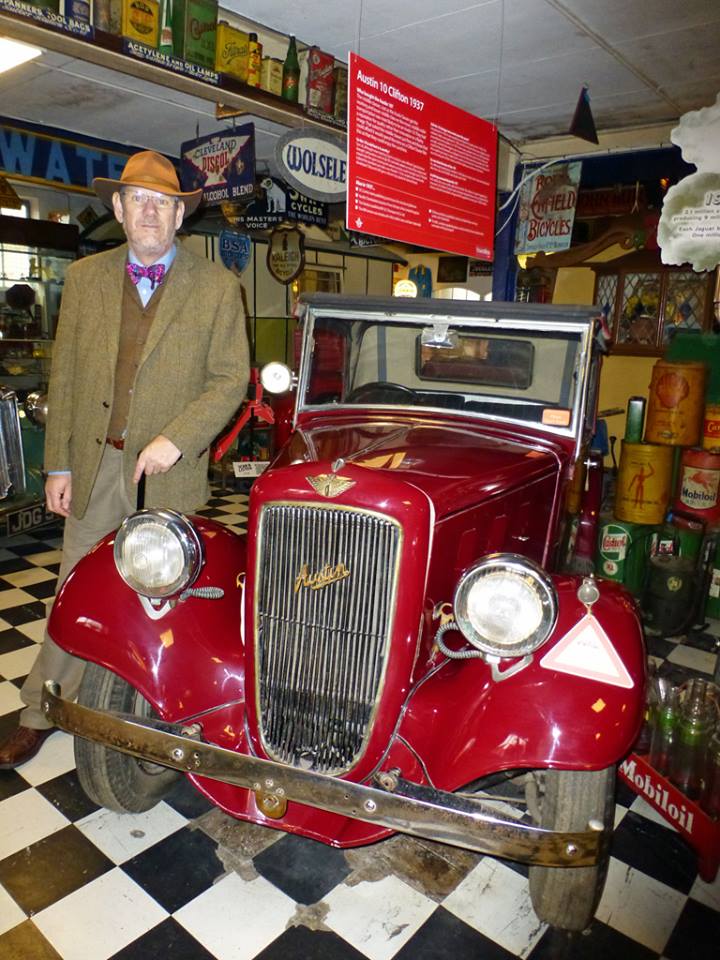 24 February 2018
Me with a 1937 Austin 10 Clifton. 53 years ago, my mate Charlie Firth bought a 1935 model from a man who had a barn full of Austins and Morrises for £35 and restored it himself. You can buy one today for £15,000! I wanted to buy an Austin 10 Lichfield saloon for £40, but my parents said I had to buy a "proper" car. My Ford Thames van cost £50 and fell apart after 2 years. Proof that parents are not always right!One dark and stormy night, Charlie, Colin Adams and I were driving home in the pouring rain. I was operating the windscreen wiper by hand as the motor had packed up. Colin, in the dicky, lay down and pulled it shut on top of him. As we drove through a deep puddle, there was a cry of rage and anguish from behind me as Colin got a face full of dirty, cold water through the hole in the floor. Happy days! Photos by Jayne Gutteridge.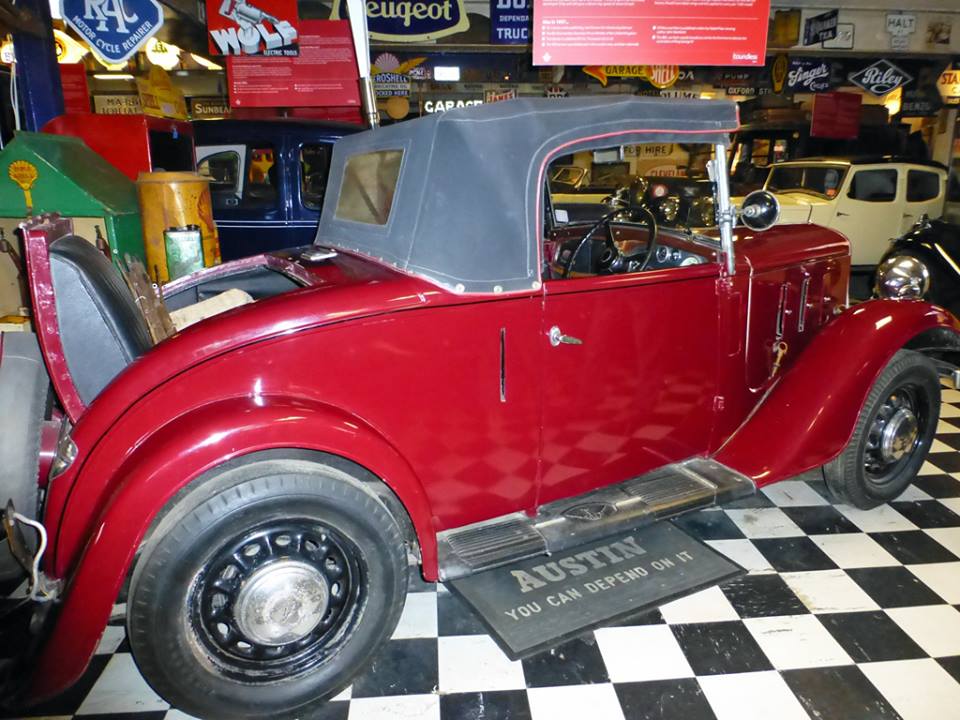 12 April 2018
So, we're making bullace vodka. The bullace has been marinating in vodka for six months, and now it's time to strain it and bottle it. I was throwing the fruit and stones away, but Jayne thought that was a terrible waste. So we've been standing in the kitchen eating vodka-soaked prunes. Definitely the road to ruin!
29 May 2018
Look what I just bought! a 1937 2-seater Morris 8 tourer. Jayne reckons it's a case of mid-life crisis, but I say I'm a bit old for that!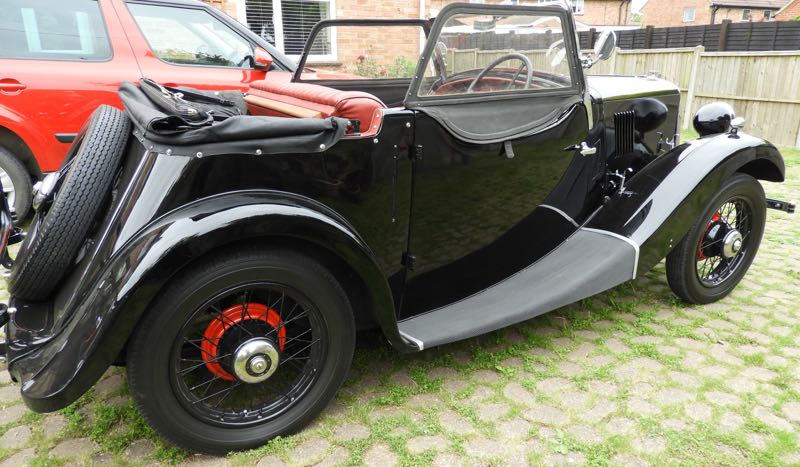 30 May 2018
I was cleaning the car this afternoon when a pigeon flew over and clouted me on the head with its wing. It collided with the gutter, then scrabbled onto the roof of the house and sat there looking at me. After a while, it took off, clouted me on the head with its wing again, and landed on the roof of the bungalow across the road, then flew over and landed on the car. I saw it had rings on its legs, so was a racing pigeon, so I went and got it some seed and water, thinking it was tired and hungry. It went back on the roof of the house and stared at my offerings, then came down and landed on the car again. I offered it some grain, but it spurned me, so I decided to ignore it. After a while, it took off, gave me a last clout on the head, and flew away.
30 June 2018
The last day of June, and this evening, at last, the reduced number of house martins that have arrived are looking at nests. They would surely have had at least one brood by now in previous years? Still, it's nice to hear them chattering away as they inspect their prospective homes - there's plenty to choose from.
4 July 2018
It's a sad reflection on our society that if someone rings you up and asks how you are, you know immediately that it must be a cold caller.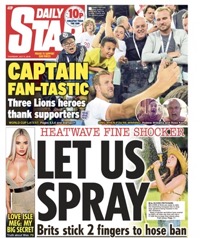 5 July 2018
Saw this front page at the supermarket this afternoon. So my first thought was, Star "readers" would rather die of thirst as long as they can have a green lawn; and my second thought was that you can tell them they won't get a pension until they're 70, you can take their free health care away, and they don't react, but tell them they can't use a hosepipe and you've got a revolution on your hands. Strange, isn't it.
8 July 2018
Had a very pleasant day with Chris Holderness (fiddle) and Richard Blake (dulcimer) playing Norfolk folk tunes to entertain the good villagers of Burnham Norton, who like a good party. This one was to celebrate the conversion of their treasured red phone box into a free library. Chris received the classic comment from a lady, who asked what Richard's instrument was; "A Norfolk Dulcimer." and then she declared emphatically, indicating my serpent, "And that's a crumhorn." "No, it's a serpent."
21 August 2018
I am currently re-reading John Aubrey's "Brief Lives".

Nearly 50 years ago, when I went to stay with my brother in Nottingham, I would often visit the new, exciting Nottingham Playhouse. In their repertory cast was a young character actor called Roy Dotrice, whom I greatly admired.

He specialised in playing old men, as did I, being an amateur actor at the time, and he was an inveterate and hilarious scene-stealer (recently, seeing his daughter Michele as the wardrobe mistress in the West End production of "Nell Gwynn", I was delighted to see that she had inherited both his talent and his habit of scene-stealing).

Among other things, he went on to create the part of John Aubrey in the one-man play, "Brief Lives" which ran in the West End for three years, and then toured the world.

I always regretted that I never managed to get to see it, and for my recent birthday, Jayne bought me a DVD of him acting the play in Australia, along with a second-hand copy of the script (I'm sure there's a career for Jayne in sourcing obscure items for people) and the other evening we watched it. He was just as wickedly funny as I remembered him being, and brought John Aubrey to life. It didn't surprise me that, reading the script, I discovered that by the time he reached Australia, he had dropped quite a few of the less interesting lines from the play, using the time thus saved to add hilarious "business" of his own. Wonderful!
9 September 2018
I put a flyer on the Hunstanton Concert Band facebook page advertising vacancies in the band, due to young members going on to higher education. Mary Montgomery Hornback, an American lady and ex-band member, commented: "Omg! Wish I was there. No band I've played with since coming back to the USA compares with the level of professionalism, commitment and camaraderie that was ever-present in the Hunstanton Concert Band. I learned so much with you guys." Very heartwarming.
22 September 2018
I've been trawling youtube a lot lately, as a bit of light relief from the many troubles of the world, and have discovered two groups of fantastically talented musicians I'd never heard of - the New Orleans band, Tuba Skinny, and the Man Overboard Quintet - a jazz ensemble from south-east England. Their clarinetist and their violinist have to be heard to be believed!
9 October 2018
We were chatting with a lady today about her recent holiday to Gran Canaria. It was lovely, she said, and beautiful weather, and she was intrigued that it was so popular as a holiday destination for gays, lesbians, transvestites and nudists. Which left me pondering - if you're a transvestite nudist, how can we tell?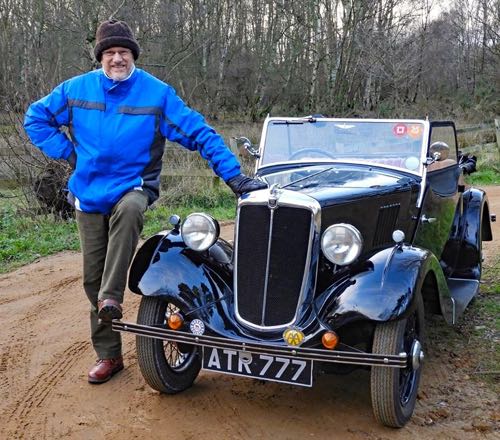 28 December 2018
On one of our frequent trips to Cardiff, we stopped off in Monmouth and visited the Nelson Museum. We'd been trying to visit the museum for quite some time, but it was always closed. This time, however, it was open.

"Why a Nelson museum in Monmouth?" you may well ask. Because there was a lady who lived in Monmouth who collected Nelson memorabilia, and left it to the town, is the answer. It's an eccentric collection, but the most interesting exhibit, hidden in a corner, is nothing to do with Nelson, but has everything to do with Monmouth.

It is the only extant example of an original Monmouth Cap. This was standard 16th century headgear for almost anybody who wasn't rich. It is a sort of bobble hat knitted from coarse wool and lightly felted, keeps your ears warm, and has a high dome which traps warm air on the top of your head. It was especially useful if you were a soldier who was lucky enough to possess a helmet, acting as essential padding, and better than nothing if you weren't so lucky.

I found someone who makes excellent Monmouth Caps from coarse Welsh wool, and bought myself one. It's ideal for driving around in the Morris on cold December days with the hood down!
https://undyarns.co.uk
31 July 2019
I went into Europarts today to buy some antifreeze for topping up the Morris's radiator. They sell one that's suitable for "vintage" vehicles. As far as I can remember, this was the procedure for making the sale, but I may have forgotten parts of it:

1 Look up item on paper list, and enter a 12 digit number into the computer.

2 Enter the details of the sale into the computer.

3 Enter the purchase in the card reader. Customer uses contactless payment.

4 Take merchant copy from card reader and write a six digit number on the back of it. Hand customer copy to customer.

5 Enter the six digit number on a paper list. Ring up sale in till and place merchant copy in till.

6 Get up and walk to the next room to collect A4 printed invoice for customer.

This was even more convoluted than the time we bought a length of rope from a builders' merchants!