John Aubrey's Brief Lives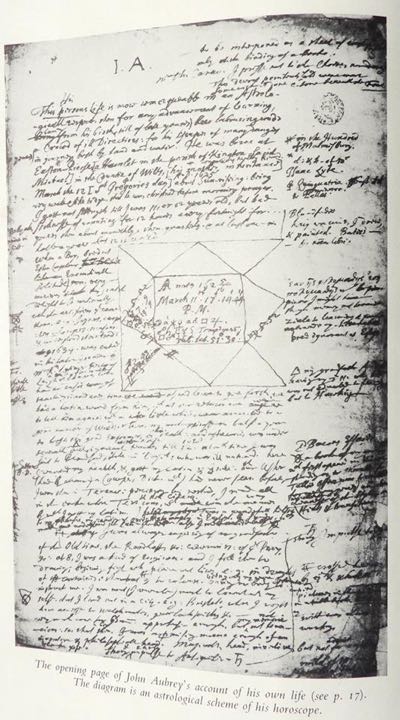 As I've come to the end of Mr Pepys' diary, I'm re-reading another 17th century man's "book" - John Aubrey's Brief Lives. Aubrey kept very chaotic notes about people and places he knew, and his friend Anthony à Wood suggested they should be published. Here's a picture of one of the pages of Aubrey's notes. In a letter to Wood, Aubrey wrote:

"Sir!
I have according to your desire, put into writing these minutes and lives tumultuously as they occurred to my thoughts; or as, occasionally I had information of them: they may easily be reduced into order at your leisure by numbering them with red figures, according to time and place etc."

Not surprisingly, Wood never bothered! We start with excerpts from Aubrey's own life, written partly in the third person and partly in the first.
John Aubrey
His life is more remarkable in an astrological respect than for any advancement of learning, having from birth (till of late years) been labouring under a crowd of ill directions: for his escapes of many dangers, in journeys both by land and water, forty years. He was born (longaevous , healthy kindred) at Easton Pears... 12 March (St Gregory's day) A.D. 1625, about sun-rising, being very weak and like to die, so that he was christened before morning prayer
I got no strength till I was 11 or 12 years old; but had sickness of vomiting, for 12 hours every fortnight for some years, then about monthly, then quarterly, and at last once in half a year. About 12 it ceased.
25 March 1675, my nose bled at the left nostril about 4 p.m. I do not remember any event which followed this bad omen.
John Aubrey, 20 March 1693, about 11 at night robbed and 15 wounds in my head. 5 January 1694, an apoplectic fit, about 4 p.m. My uncle Anthony Browne's nag threw me dangerously the Monday after Easter, 1639. Just before it I had an impulse of the briar under which I rode, which tickled him, at the upper end of Berylane.
Thanks be to God!
In 1633, I entered into my grammar at the Latin school at Yatton Keynell, in the church, where the curate, Mr Hart, taught the eldest boys Virgil, Ovid, Cicero, etc. The fashion then was to save the ferules of their books with a false cover of parchment, that is old manuscript, which I was too young to understand; but I was pleased with the elegancy of the writing and the coloured initial letters. I remember the rector here, Mr Wm. Stump, great grandson of Stump the clothier of Malmesbury, had several manuscripts of the Abbey. He was a proper man and a good fellow; and when he brewed a barrel of special ale, his use was to stop the bunghole, under the clay, with a sheet of manuscript; he said nothing did it so well: which methought did grieve me then to see. Afterwards I went to school to Mr Latimer at Leigh Delamere, the next parish, where was the like use of covering books. In my grandfather's days the manuscripts flew about like butterflies. All music books, account books copy books, etc. were covered with old manuscripts, as we cover them now with blue paper or marbled paper: and the glovers at Malmesbury made great havoc of them; and gloves were wrapped up no doubt in many good pieces of antiquity. Before the late wars a world of rare manuscripts perished hereabout; for within half a dozen miles of this place were the abbey of Malmesbury, where it may be presumed the library was well furnished with choice copies as most libraries of England; and perhaps in the library we might have found a correct Pliny's Natural History, which Camitus, a monk here, did abridge for King Henry the Second. Within the aforesaid compass was Broadstock Priory, Stanleigh Abbey, Farleigh Abbey, Bath Abbey, eight miles, and Cirencester Abbey, twelve miles. In 1638 I was transplanted to Blandford School, in Dorset, to Mr. Wm. Sutton. (In Mr Wm. Gardner's time it was the most eminent school for the education of gentlemen in the west of England.) Here also was the use of covering books with old parchments, that is, leases etc, but I never saw anything of a manuscript there. Hereabouts were no abbeys or convents for men. One may also perceive by the binding of old books how the old manuscripts went to wrack in those days. In 1647 I went to Parson Stump out of curiosity, to see his manuscripts, whereof I had seen some in my childhood; but by that time they were lost and dispersed. His sons were gunners and soldiers, and scoured their guns with them; but he showed me several old deeds granted by the Lords Abbots, with their seals annexed, which I suppose his son Capt. Tho. Stump of Malmesbury hath still.
George Abbot (Archbishop of Canterbury)
1562-1633

Old Nightingale was his servant, and weeps when he talks of him. Everyone that knew, loved him. He was sometimes choleric.

He was the son of a sherman. His mother, with child of him, longed for a jack [pike], and dreamed that if she could eat a jack, her son should be a great man. The next morning, going to the river, which runs by the house (which is by the bridge), with her pail, to take up some water, a good jack came into her pail; which she ate up, all, herself. This is generally received for truth.
Thomas Allen
1542-1632

...he was the best astrologer of his time. In those dark times, astrologer, mathematician and conjurer were accounted the same things, and the vulgar did verily believe him to be a conjurer. He had a great many mathematical instruments and glasses in his chamber, which did also confirm the ignorant in their opinion, and his servitor (to impose on freshmen and simple people) would tell them that sometimes he should meet the spirits coming up his stairs like bees.

One time, being at Holm Lacy in Herefordshire, at Mr John Scudamore's (grandfather to the Lord Scudamore), he happened to leave his watch in the chamber window (watches were then rarities): the maids came in to make the bed, and hearing a thing in a case cry Tick, tick, tick, presently concluded that that was his devil, and took by the string with the tongs, and threw it out of the window into the moat (to drown the devil). It so happened that the string hung on a sprig of an elder that grew out of the moat, and this confirmed to them that it was the devil. So the good old gentleman got his watch again.
Lancelot Andrews
1555-1626

He had not that smooth way of oratory as now. It was a shrewd and severe animadversion of a Scottish lord, who, when King James asked him how he liked Bishop Andrewes's sermon, said that he was learned, but he did play with his text, as a jackanapes does, who takes up a thing and tosses and plays with it, and thentake up another, and plays a little with it – 'here's a pretty thing, and there's a pretty thing!'
Sir Henry Blount
1602-82

He was heretofore a great shammer, i.e. one that tells falsities not to do anybody any injury, but to impose on their understanding: e.g. at Mr Farr's: he said that at an inn (naming the sign) in St Albans, the innkeeper had made a hog's trough of a free-stone coffin; but the pigs, after that, grew lean, dancing and skipping, and would run up on the tops of the houses like goats. Two young gentlemen that heard Sir H. tell this sham so gravely, rode next day to St Abans to enquire; coming there, nobody had heard of any such thing, 'twas altogether false. The next night, as soon as they alighted, they came to te Rainbow, found Sir H., looked louringly on him, and told him they wondered he was not ashamed to tell such stories. 'Why, gentlemen', said Sir H. 'have you been there to make enquiry?' "Yea,' said they. 'Why, truly, gentlemen,' said Sir H. 'I heard you tell strange things that I knew to be false. I would not have gone over the threshold to have found you in a lie:' at which all the company laughed at the two young gentlemen.
Edmund Bonner 1495-1569

Mr Stephens, whom I met lately accidentally, informed me thus: that Bishop Bonner was of Broadgates Hall; that he came thither a poor boy, and was at first a scullion boy in the kitchen, afterwards became a servitor, and so by his industry raised to what he was.

When he came to his greatness, in acknowledgement from whence he had his rise, he gave to the kitchen there a great brass pot, called Bonner's pot.* He has showed the pot to me, I remember. It was the biggest pot, perhaps, in Oxford: ask the old cook how much it contained.

*Anthony Wood notes against this 'false', presumably because he made his own enquiries and could not find any evidence for the story. Ed.
Richard Boyle first Earl of Cork
1566-1643

This noble lord, by his prudent and pious consort, no less an ornament and honour to their descendants than himself, was blessed with five sons, of which he lived to see four lords and peers of the Kingdom of Ireland.

And a fifth, more than these titles speak, a sovereign and peerless in a larger province – that of universal nature, subdued and made obsequious to his inquisitive mind.

And eight daughters.

And that you may remark how all things were extraordinary in this great personage, it will, I hope, be neither unpleasant nor impertinent, to add a short story I had from our lady's own mouth.

Master Boyle, after Earl of Cork (who was then a widower) came one morning to wait on Sir Jeffrey Fenton, at that time a great officer of state in that Kingdom of Ireland, who being engaged in business, and not knowing who it was desired to speak with him, a while delayed him access; which time he spent pleasantly with his young daughter in her nurse's arms. But when Sir Jeffrey came, and saw whom he had made stay somewhat too long, he civilly excused it. But Master Boyle replied, he had been very well entertained, and spent time much to his satisfaction, in courting his daughter, if he might obtain the honour to be accepted for his son-in-law. At which Sir Jeffrey, smiling (to hear one who had formerly married, move for a wife carried in arms, and under two years old) asked him if he would stay for her? To which he frankly answered him he would, and Sir Jeffrey as generously promised him he should then have his consent. And they both kept their words honourably.

My lady Petty says he had a wife or two before, and that he married Mistress Fenton without her father's consent.
Robert Boyle
1627-91

He is very tall (about six foot high) and straight, very temperate, and virtuous and frugal; a bachelor; keeps a coach; sojourns with his sister, the Lady Ranelagh. His greatest delight is chemistry. He has at his sister's a noble laboratory and several servants (apprentices to him) to look to it. He is charitable to ingenious men that are in want, and foreign chemists have had large proof of his bounty, for he will not spare for cost to get any rare secret. At his own cost and charges he got translated and printed the New Testament in Arabic, to send into the Mahometan countries. He was not only a high renown in England, but abroad; and when foreigners come hither, 'tis one of their curiosities to make him a visit.
Thomas Bushell
1594-1674

He was one of the gentlemen that waited on the Lord Chancellor Bacon. 'Twas the fashion in those days for gentlemen to have their suits of clothes garnished with buttons. My Lord Bacon was then in disgrace, and his man Bushell having more buttons than usual on his cloak, they said that his lord's breech made buttons and Bushell wore them – from whence he was called' buttoned Bushell'.

He had done something (I have forgotten what) that made him obnoxious to parliament or Oliver Cromwell, about 1650; would have been hanged if taken; printed several letters to the Parliament etc dated from beyond sea, and all that time lay privately in his house in Lambeth marsh where the pointed pyramid is. In the garret there, is a long gallery, which he hung all with black, and had some death's heads and bones painted. At the end where his couch was, was in an old Gothic niche (like an old monument) painted a skeleton incumbent on a mat. At the other end, where was his pallet-bed, was an emaciated dead man stretched out.
Samuel Butler
1612-80

Memorandum: satirical wits disoblige whom they converse with, etc; and consequently make to themselves many enemies and few friends; and this was his manner and case. He was of a leonine-coloured hair, sanguine-choleric, middle-sized, strong.
William Butler
1535-1618

William Butler, physician: he was of Clare Hall in Cambridge, never took the degree of Doctor, though he was the greatest physician of his time.

The occasion of his being taken notice of was thus: about the coming-in of King James, there was a minister of a village a few miles from Cambridge that was to preach before his majesty at Newmarket. The parson heard that the king was a great scholar, and studied so excessively that he could not sleep, so somebody gave him some opium, which would have made him sleep his last, had not Dr Butler used this following remedy. He was sent for by the parson's wife. When he came and saw the parson, and asked what they had done, he told her that she was in danger to be hanged for killing her husband, and so in great choler left her. It was at that time when the cows came into the back side to be milked. He turns back, and asked whose cows those were. She said, her husband's. Said he: 'Will you give one of these cows to fetch your husband to life again?' that she would with all her heart. Her then causes one presently to be killed and opened, and the parson to be taken out of his bed and put into the cow's warm belly, which after some time brought him to life, or else he had infallibly died.

Memorandum: there is a parallel story to this in Machiavelli's Florentiac History where 'tis said that one of the Cosmos, being poisoned, was put into a mule's belly, sewed up, with a place only for his head to come out.

He was a man of great moods. One time King James sent for him to Newmarket, and when he was gone halfway, he left the messenger and turned back; so then the messenger made him ride before him.

I think he was never married. He lived in Crane's, an apothecary's, shop in Cambridge, to whom he left his estate; and he in gratitude erected the monument for him at his own charge, in the fashion he used. He was not greedy of money, except choice pieces of gold or rarities.

He would many times (I have heard say) sit among the boys at St Mary's church in Cambridge (and just so would the famous attorney-general Noy, in Lincoln's Inn, who had many such frolics and humours).

I remember Mr Wodenoth, of King's College, told me that being sent for to _ he told him that his disease was not to be found in Galen or Hippocrates, but in Tully's Epistles, Cum non sis ubi fueris, non est cur velis vivere [When you are elsewhere, it will not be because you wanted to live].

I think he left his estate to the apothecary. He gave to the chapel of Clare Hall, a bowl, for the communion, of gold (cost, I think £2 or 300), on which is engraved a pelican feeding her young with the blood from her breast (an emblem of the passion of Christ) no motto, for the emblem explained itself.

He was much addicted to humours, and would suffer persons of quality to wait sometimes some hours at his door, with coaches, before he would receive them. Once, on the road from Cambridge to London, he took a fancy to a chamberlain or tapster in his inn, and took him with him, and made him his favourite, by whom only accession was to be had to him, and thus enriched him. Dr Gale, of Paul's school assures me that a Frenchman came one time from London to Cambridge, purposely to see him, whom he made stay two hours for him in his gallery, and then he came out to him in his old blue gown; the French gentleman makes him two or three very low bows down to the ground; Dr Butler whips his legs over his head, and away goes into his chamber, and did not speak with him.

He kept an old maid whose name was Nell. Dr Butler would many times go to the tavern but drunk by himself. About 9 or 10 at night old Nell comes for him with a candle and lanthorne and says: 'Come you home, you drunken beast.' By and by Nell would stumble; then her master calls her 'drunken beast'; and so they did drunken beast one another all the way till they came home.

A servingman brought his master's water to Doctor Butler, he being then in his study (with turned bars) but would not be spoken with. After much fruitless importunity, the man told the doctor he was resolved he should see his master's water; he would not be turned away – threw it at the doctor's head. This humour pleased the doctor, and he went to the gentleman and cured him. Mr R Hooke.

A gentleman lying a-dying, sent his servant with a horse for the doctor. The horse being exceeding dry, ducks down his head strongly into the water, and plucks down the doctor over his head, who was plunged in the water over head and ears. The doctor was madded, and would return home. The man swore he should not; drew his sword, and gave him ever and anon (when he would return) a little prick, and so drove him before him. Mr Godfrey.

From Mr James Bovey, some instances of Dr Butler's cures. The doctor lying at the Savoy in London, where was a balcony looked into the Thames, a patient came to him that was grievously tormented with the ague. The doctor orders a boat to be in readiness under his window, and discoursed with the patient (a gentleman) in the balcony, when on a signal given, two or three lusty fellows came behind the gentleman and threw him a matter of 20 feet into the Thames. This surprise absolutely cured him.

A gentleman with a red ugly pumpled face came to him for a cure. Said the doctor 'I must hang you.' So presently he had a device made ready to hang him from a beam in the roof; and when he was even almost dead, he cuts the veins that fed the pumples, and let out the black ugly blood, and cured him. Another time one came to him for the cure of a cancer (or ulcer) in the bowels. Said the doctor: 'Can ye shit?' 'Yes' said the patient. So the doctor ordered a basin for him to shit, and commanded him to eat it up. This did the cure.

From Dr More. More's father was a very strong-bodied man. 'Twas forty stools he gave his father; he had almost killed him. Told him he would be the better for it as long as he lived.

That he was chemical I know by this token that his maid came running in to him one time, like a slut and a fury, with her hair about her ears, and cries 'Butler! Come and look to your devils yourself, and you will; the stills are all blown up!' She tended them, and it seems gave too great a heat. Old Dr Ridgeley knew him and I think was at that time with him.
William Camden
1551-1623

Mr Camden much studied the Welsh language, and kept a Welsh servant to improve him in the language, for the better understanding of our antiquities – From Samuel Butler

Sir William Dugdale tells me that he has minutes of King James's life to a month and a day, written by Mr William Camden; as also his own life, according to years and a day, which is very brief, but two sheets, Mr Camden's own hand writing. Sir William Dugdale had it from Hacket, Bishop of Coventry and Lichfield, who did filch it from Mr Camden as he lay a-dying.
Lucius Cary
Second Viscount Falkland, ?1610-43

He travelled, and had a very discreet gentleman to be his governor, whom he respected to his dying day.

He married Letice, the daughter of Sir R Morrison...

This Lady Letice was a good and pious lady, as you may see by her life, written 1649 or 50 by John Duncomb, DD. But I will tell you a pretty story from William Hawes, of Trinity College, who was well acquainted with the governor aforesaid, who told him that my lady was (after the manner of women) much governed by, and indulgent to, the nursery; when she had a mind to beg anything of my lord for one of her women (nurses, or &c.) she would not do it by herself (if she could help it), but put this gentleman upon it, to move it to my lord. My lord had but a small estate for his title; and the old gentleman would say, 'Madam, this is so unreasonable a motion to propose to my lord, that I am certain he will never grant it;' e.g. at one time to let a farm twenty pounds per annum under value. At length, when she could not prevail on him, she would say tat, 'I warrant you, for all this, I will obtain it of my lord; 'twill cost me but the expense of a few tears.' Now she would make her words good; and this great wit, the greatest master of reason and judgment of his time, at the long run, being stormed by tears (I presume there were kisses and secret embraces that were also ingredients), would this pious lady obtain her unreasonable desires of her poor lord.

N.B. My lord in his youth was very wild, and also mischievous, as being apt to stab and do bloody mischiefs; but it was not long before he took up to be serious, and then grew to be an extraordinary hard student.
Charles Cavendish
1620-43

Mr Thomas Hobbes told me, that this Mr Cavendish told him that the Greeks do sing their Greek. In Herefordshire they have a touch of this singing; our old divines had. Our old vicar of Kington St Michael, Mr Hynd, did sing his sermons rather than read them. You may find in Erasmus that the monks used this fashion, who mocks them, that sometimes they would be very low, and by and by would be mighty high quando nihil opus est. In 1660 coming to Mr Hobbes, his Greek Xenophon lay open on the board: said he, 'Had you come a little sooner you had found a Greek here that came to see me, who understands the old Greek; I spoke to him to read here in this book, which put me in mind of what Mr Charles Cavendish told me.'
William Chillingworth
1602-44

About the year .... He was acquainted with a man who drew him and some other scholars over to Douai where he was not so well entertained as he thought he merited for his great disputative wit. They made him the porter (which was to try his temper, and exercise his obedience): so he stole over and came to Trinity College again, where he was fellow.

William Laud, Archbishop of Canterbury, was his godfather and great friend. He sent his grace weekly intelligence of what passed in the university. Sir William Davenant (poet laureate) told me that notwithstanding this doctor's great reason, he was guilty of the detestable crime of treachery. Dr Gill, son of Dr Gill schoolmaster of Paul's school and Chillingworth held weekly intelligence one with another for some years, wherein they used to nibble at state matters. Dr Gill in one of his letters calls King James and his son 'the old fool and the young one', which letter Chillingworth communicates to W. Laud, Archbishop of Canterbury. The poor young Dr Gill was seized and a terrible storm pointed towards him, which by eloquent intercession and advocation of Edward Earl of Dorset, together with tears of the poor old doctor his father, and supplication on his knees to his majesty, was blown over. I am sorry so great wit should have such a naeve.

He would always be disputing: so would my tutor. I think it was an epidemic evil of that time, which I think is now grown out of fashion, as unmannerly and boyish.
George Clifford
Third Earl of Cumberland, 1558-1605

This George, Earl of Cumberland, built the greatest fleet of shipping that ever any subject did. He had a vast estate, and could then ride in his own lands from Yorkshire to Westmorland.

The best account of his expedition with his fleet to America is to be found in Purchas his Pilgrims. He took from the Spaniards to the value of seven or eight hundred thousand pounds; when he returned with this rich cargo (the richest without doubt that ever subject brought), the queen's council (where he had some that envied him – virutis comes invidia) laid their heads together and concluded 'twas too much for a subject to have, and confiscated it all to the queen, even the ships and all, and to make restoration to the Spaniards, so that he was forced to sell fifteen pounds per annum. My Lady Thanet told me she saw the accounts in writing. The armada of the Argonauts was but a trifle to this. As I take it, Sir Walter Raleigh went this brave voyage with his lordship; and Mr Edmund Wright, the excellent navigator; and not unlikely, Mr Harriot too.

This was the breaking of that ancient and noble family; but Robert Earl of Salisbury (who was the chiefest enemy) afterwards married his daughter, as he might well be touched in conscience, to make some recompense after he had done so much mischief. That he was an acquaintance of Sir Walter Raleigh, I remember by this token, that Sir James Long told me that one time he came to Draycot with Sir Walter Raleigh from Bath, and hunting a buck in the park there, his horse made a false step in a coney-burrow and threw him and broke the kennel-bone of his shoulder.

[George Clifford lost his estate by his extravagance. Aubrey's story of the council depriving him of his booty is largely untrue.]
Sir Edward Coke
1552-1634

He left an estate of eleven thousand pounds per annum. Sir John Danvers told me (who knew him) that when one told him his sons would spend the estate faster than he got it, he replied 'They cannot take more delight in spending of it than I did in the getting of it.'

He married, his second wife the relict of Sir William Hatton, who was with child when he married her: laying his hand on her belly (when he came to bed) and finding a child stir, 'What,' said he, 'Flesh in the pot?' 'Yes,' quoth she, 'or else I would not have married a cook.'

He showed himself too clownish and bitter in his carriage to Sir Walter Raleigh at his trial, where he says 'thou traitor' at every word, and 'thou liest like a traitor.'

He plays with his case as a cat with a mouse, and is so fulsomely pedantic that a schoolboy would nauseate it. But when he comes to matter of law, all acknowledge him to be admirable. When Mr Cuff, secretary to the Earl of Essex, was arraigned, he would dispute with him in syllogisms, till at last one of his brethren said 'Prithee, brother, leave off; thou dost dispute scurvily.'

Memorandum: when the play called Ignoramus (made by one Ruggle of Clare Hall) was acted with great applause before King James, they dressed Sir Ignoramus like Chief Justice Coke and cut his beard like him and feigned his voice.
Jean Baptiste Colbert
1619-83

Monsieur Colbert was a merchant and an excellent accountant i.e. for debtor and creditor. He is of Scottish extraction, and that obscure enough, his grandfather being a Scottish bagpiper to the Scottish regiment.

Cardinal Mazarin found that his stables were very chargeable to him, and was imposed upon in his accounts. He hearing of this merchant Colbert to be a great master of the art, sends for him and desires him to make an inspection into his accounts and put him in a better method to avoid being abused. Which he did, and that so well that he employed him in ordering the accounts of all his estate and found him so useful that he also made use of him to methodise and settle the accounts of the king. This was his rise. – From Dr John Pell.
John Colet
?1467-1519

After the conflagration, his monument being broken, his coffin, which was lead, was full of liquor which conserved the body. Mr Wyld and Ralph Greatorex tasted it and 'twas of a kind of insipid taste, something of an ironish taste. The body felt, to the probe of a stick which they thrust in a chink, like brawn. The coffin was lead and laid in the wall about two and a half feet above the surface of the floor.
Richard Corbet
1582-1635

He was a Westminster scholar; old parson Bussey of Alscott in Warwickshire went to school with him – he would say that he was a very handsome man, but something apt to abuse, and a coward.

He was a student of Christ Church in Oxford. He was very facetious, and a good fellow. One time he and some of his acquaintance being merry at 'Friar Bacon's Study' (where was good liquor sold), they were drinking on the leads of the house, and one of the scholars was asleep, and had a good pair of silk stockings on. Dr Corbet (then MA if not BD) got a pair of scissors and cut them full of holes, but when the other awoke, and perceived how and by whom he was abused, he did chastise him, and made him pay for them.

After he was Doctor of Divinity, he sang ballads t the cross at Abingdon on a market-day. He and some of his comrades were at the tavern by the cross (Which by the way was then the finest of England; I remember it when I was a freshman: it was admirable curious Gothic architecture , and fine figures in the niches; 'twas one of those built by King Edward for his queen). The ballad singer complained he had no custom, he could not put off his ballads. The jolly doctor puts off his gown, and puts on the ballad singer's leather jacket, and being a handsome man, and had a rare full voice, he presently vended a great many, and had a great audience.
The Danvers Family

Henry Danvers, Earl of Danby; ask my brother William, and J. Stokes for the examination order of the murder of Henry Long, by Charles Danvers at Cosham in North Wilts. R. Wisdom was then lecturer and preached that day, and Henry Long expired in his arms. My great-grandfather, R. Danvers, was in some trouble about it, his horse and men being in that action. His servants were hanged and so were Long of Linet's.

Elizabeth Danvers. His mother, an Italian, prodigious parts for a woman. I have heard my father's mother say that she had Chaucer at her fingers' ends. A great politician; great wit and spirit, but revengeful. Knew how to manage her estate as well as a man; understood jewels as well as any jeweller.

Very beautiful, but shortsighted. To obtain pardons for her sons over the murder of Long she married Sir Edmund Carey, cousin-german to Queen Elizabeth, but kept him to hard meat.

Sir John Danvers (the younger).

His first wife was the Lady Herbert, a widow, mother of the Lord Edward Herbert of Cherbury and George Herbert, orator. By her he had no issue; she was old enough to have been his mother. He married her for love of her wit. The Earl of Danby was greatly displeased with him for his disagreeable match.

Sir John Danvers told me that when he was a young man, the principal reason of sending their sons to travel was to wean them from their acquaintance and familiarity with the serving-men: for then parents were so austere and grave, that the sons must not be company for their father; and some company men must have: so they contracted a familiarity with the serving-men, who got a hank upon them they could hardly after claw off. Nay, parents would suffer their servants to domineer their children: and some in what they found their child to take delight, in that would be sure to cross them.

Sir John, being my relation and faithful friend, was wont in fair mornings in the summer to brush his beaver-hat on the hyssop and thyme, which did perfume it with its natural spirit, and would last a morning or longer.
Sir William Davenant
1606-68

Sir William Davenant, knight, Poet Laureate, was born about the end of February (baptised 3 March) 1606, in the city of Oxford, at the Crown tavern.

His father John Davenant, a vintner there, a very grave and discreet citizen: his mother was a very beautiful woman, and of very good wit, and of conversation extremely agreeable. They had three sons, viz 1 Robert [parson], 2 William, and 3 Nicholas (an attorney)...

Mr William Shakespeare was wont to go into Warwickshire once a year, and did commonly in his journey lie at this house in Oxford, where he was exceedingly respected. (I have heard parson Robert say that Mr W. Shakespeare has given him a hundred kisses.) Now Sir William would sometimes, when he was pleasant over a glass of wine with his most intimate friends, e.g. Sam Butler (author of Hudibras), etc – say, that it seemed to him he wrote with the very spirit that Shakespeare wrote, and seemed contented enough to be thought his son: he would tell them the story as above, in which way his mother had a very light report.

He got a terrible clap of a black handsome wench that lay in Axe Yard, Westminster, whom he thought on when he speaks of Dalga in Gondibert, which cost him his nose, with which unlucky mischance many wits were too cruelly bold.
John Dee
1527-1608

Meredith Lloyd says that John Dee's printed book of spirits is not above a third part of what was written, which was in Sir Robert Cotton's library; many whereof were much perished by being buried, and Sir Robert Cotton bought the field to dig after it.

Memorandum: he told me of John Dee conjuring at a pool in Brecknockshire, and that they found a wedge of gold; and that they were troubled and indicted as conjurers at the assizes; that a mighty storm and tempest was raised in harvest time, the country people had not known the like.

Old goodwife Faldo (a native of Mortlake in Surey), aged eighty or more (1672), did know Dr Dee...

...She said he kept a great many stills going; that he laid a storm: that the children dreaded him because he was accounted a conjuror. He recovered the basket of clothes stolen when she and his daughter (both girls) were negligent: she knew this...

...She told me that he forewarned Queen Elizabeth of Dr Lopez' attempt against her (the doctor betrayed it, beshit himself)...

He was a great peacemaker; if any of his neighbours fell out, he would never let them alone till he had made them friends.

He was tall and slender. He wore a gown like an artist's gown, with hanging sleeves, and a slit.

Memorandum: his regaining of the plate for –'s butler, who coming from London by water with a basket of plate, mistook another basket that was like his. Mr J. Dee bid them go by water on such a day, and he would see the man that had his basket, and he did so. But he would not get lost horses, though he was offered several angels. He told a woman (his neighbour) that she laboured under the evil tongue of an ill neighbour (another woman) who came to her house, who, he said, was a witch.
Sir John Denham
1615-69

He was admitted of Trinity College in Oxford; I have heard Mr Josias Howe say that he was the dreamingst young fellow; he never expected such things from him as he left the world. When he was there he would game extremely; when he had played away all his money, he would play away his father's wrought rich gold cups.

In 1665 he married his second wife, Margaret Brookes, a very beautiful young lady; Sir John was ancient and limping. The Duke of York fell deeply in love with her, though (I have been morally assured) he never had carnal knowledge of her. This occasioned Sir John Denham's distemper of madness, which first appeared when he went from London to see the famous freestone quarries at Portland in Dorset, and when he came within a mile of it, turned back to London again, and would not see it. He went to Hounslow, and demanded rents of lands he had sold many years before; went to the king, and told him he was the Holy Ghost. But it pleased God that he was cured of his distemper, and wrote excellent verses, particularly on the death of Mr Abraham Cowley, afterwards. His second lady had no child; was poisoned by the hands of the Countess of Rochester with chocolate.

He was generally temperate as to drinking; but one time when he was a student at Lincoln's Inn, having been merry at the tavern with his comrades, late at night, a frolic came into his head, to get a plasterer's brush and a pot of ink, and blot out all the signs between Temple Bar and Charing Cross, which made a strange confusion the next day, and it was in term time. But it happened that they were discovered and it cost them and him some moneys. This I had from R. Estcott, esquire, that carried the inkpot.

In the time of the civil wars, George Withers, the poet, begged Sir John Denham's estate at Egham of the Parliament, in whose cause he was captain of horse. It happened that G. W. was taken prisoner, and was in danger of his life, having written severely against the king. Sir John Denham went to the king, and desired his majesty not to hang him, for whilst G. W. lived he should not be the worst poet in England.
René Descartes
1596-1650

He was too wise a man to encumber himself with a wife; but he was a man, he had the desires and appetites of a man; he therefore kept a good conditioned handsome woman he liked, and by whom he had some children (I think two or three). 'Tis pity, but coming from the brain of such a father, they should be well cultivated. He was so eminently learned that all learned men made visits to him, and many of them would desire him to show them his store of instruments (in those days mathematical learning lay much in the knowledge of instruments, and as Sir Henry Savile said, in doing of tricks). He would draw out a little draw under his table and show them a pair of compasses with one leg broken; and then for his ruler, he used a sheet of paper folded double. This from Alexander Cooper (brother of Samuel), limner to Christina, Queen of Sweden, who was familiarly acquainted with Descartes.

Mr Hobbes was wont to say that had Descartes kept himself wholly to geometry, that he had been the best geometer in the world. He did very much admire him, but said that he could not pardon him for writing in the defence of transubstantiation which he knew to be absolutely against his judgement.
Sir Everard Digby
1578-1606

Sir Everard suffered as a traitor in the gunpowder treason (1605); but King James restored his estate to his son and heir.

When his heart was plucked out by the executioner (who, secundum forman cried 'Here is the heart of a traitor!'), it is credibly reported, he replied, 'Thou liest!' This my lord Bacon speaks of, but not mentioning his name, in his Historia vitae et mortis.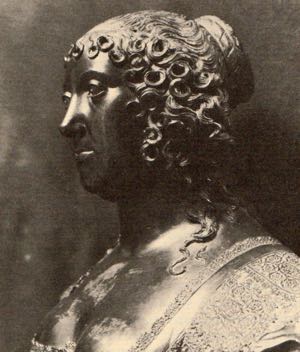 Venetia Digby
1600-33

Venetia Stanley was daughter of Sir Edward Stanley. She was a most desirable creature; and being matura viro was let by her father to live with a tenant and servants at Eynsham Abbey… but as private as that place was, it seems her beauty could not lie hid. The young eagles had espied her, and she was sanguine and tractable, and of much suavity (which to abuse was great pity).

In those days Richard Earl of Dorset (grandson and heir to the Lord Treasurer) lived in the greatest splendour of any nobleman of England. Among other pleasures that he enjoyed, Venus was not the least. This pretty creature's fame quickly came to his lordship's ears, who made no delay to catch at such an opportunity.

The Earl of Dorset, aforesaid, was her greatest gallant, who was extremely enamoured of her, and had one if not more children by her. He settled on her an annuity of £500 per annum.

Among other young sparks of that time, Sir Kenelm Digby grew acquainted with her, and fell so much in love with her that he married her, much against the will of his mother; he would say that 'a wise man, and lusty, could make an honest woman out of a brothel house'. Sir Edmund Wyld had her picture (and you may imagine was very familiar with her), which picture is now at Droitwich in Worcestershire, at an inn, where now the town keep their meetings. Also at Mr Rose's, a jeweller in Henrietta Street in Covent Garden, is an excellent piece of her, drawn after she was newly dead.

She had a most lovely and sweet-turned face, delicate brown hair. She had a perfect healthy constitution; strong; good skin; well proportioned; much inclining to bona roba (near altogether). Her face, a short oval; dark brown eyebrow, about which much sweetness, as also in the opening of her eyelids. The colour of her cheeks was just that of the damask rose, which is neither too hot nor too pale. She was of a just stature, not very tall.

She died in her bed suddenly. Some suspected that she was poisoned. When her head was opened there was found little brain, which her husband imputed to drinking viper wine; but spiteful women would say it was a viper-husband who was jealous of her, that she would steal a leap.

Sir Kenelm erected to her memory a sumptuous and stately monument ... upon this altar her bust of copper gilt, all which ... is utterly destroyed by the great conflagration.

About 1676 or 5, as I was walking through Newgate Street, I saw Dame Venetta's bust standing at a stall at the Golden Cross, a brazier's shop. I perfectly remember it, but the fire had got off the gilding: but taking notice of it to one that was with me, I could never see it afterwards exposed to the street. They melted it down. How these curiosities would be quite forgotten, did not such idle fellows as I am put them down!
Desiderius Erasmus
1466-1536

He loved not fish, though born in a fish town – from Sir George Ent, MD.

He was of the order of Augustine, whose habit was the same, that the pest-house master at (I think, Pisa; ask Dr John Pell) in Italy wore, and walking in that town, people beckoned him to go out of the way taking him to be the master of the pest-house; and he not understanding the meaning, and keeping on his way, was there by one well basted. He made his complaint when he came to Rome, and had a dispensation for his habit.

His name was Gerard Gerard, which he translated into Desiderius Erasmus He was begot (as they say) behind doors – see an Italian book in octavo, Of Famous Bastards. His father (as he says in his life written by himself) was the tenth and youngest of his grandfather, who was therefore designed to be dedicated to God. The father of Gerard lived with Margaret (daughter of a certain Dr Peter) as man and wife (and some would say that they were married).
Thomas Fairfax 1612-71

Thomas, Lord Fairfax of Cameron, Lord General of the Parliament Army: memorandum, when Oxford was surrendered (24 June 1646) the first thing General Fairfax did was to set a good guard of soldiers to preserve the Bodleian Library. It is said there was more hurt done by the cavaliers (during their garrison) by way of embezzling and cutting off chains of books, than there was since. He was a lover of learning, and had he not taken this special care, that noble library had been utterly destroyed – which N.B.; for there were ignorant senators enough who would have been contented to have had it so. This I do assure you from an ocular witness.
Edmund Halley
1656-1742

Mr Edmund Halley, FRS was carried on with a strong impulse to take a voyage to St Helena, to make observations of the southern constellations, being then about twenty-four years old. Before he undertook the voyage, he dreamt that he was at sea, sailing towards the place, and saw the prospect of it from the ship in his dream, which he declared to the Royal Society, to be the perfect representation of that island, even as he had it really when he approached to it.
James Harrington
1611-77

He was wont to find fault with the constitution of our government, that it was by jumps, and told a story of a cavaliero he saw at the carnival in Italy, who rode on an excellent managed horse that with a touch of his toe would jump quite round. One side of his habit was Spanish, the other French; which sudden alteration of the same person pleasantly surprised the spectators. 'Just so,' said he, 'it is with us. When no parliament, then absolute monarchy; when a parliament, then it runs to a commonwealth.'

In 1660 he was committed prisoner to the Tower, where he was kept; then to Portsea castle. His durance in these prisons (he being a gentleman of a high spirit and hot head) was the procatractic cause of his deliration or madness; which was not outrageous, for he would discourse rationally enough and be very facetious company, but he grew to have a fancy that his perspiration turned to flies, and sometimes bees – ad caetra sobrius; and he had a timber versatile built in Mr Hart's garden (opposite St James's Park) to try the experiment. He would turn it to the sun, and sit towards it; then he had his fox-tails there to chase away and massacre all the flies and bees that were to be found there, and then shut the chassees. Now this experiment was only to be tried in warm weather, and some flies would lie close in the crannies and the cloth (with which it was hung) that they would presently show themselves. A quarter of an hour after, perhaps, a fly or two or more might be drawn out of the lurking holes by the warmth; and then he would cry out, 'Do not you see it apparently that these come from me?' It was the strangest sort of madness that ever I found in anyone: talk of anything else, his discourse would be very ingenious and pleasant.

He married to his old sweet-heart Mrs Dayrell, a comely and discreet lady. It happening so, from some private reasons, that he could not enjoy his dear in the flower and heat of his youth, he would never lie with her, but loved and admired her dearly; for she was vergentibus annis when he married her, and had lost her sweetness.
William Harvey
1578-1657

When Charles I by reason of the tumults left London, he attended him, and was at the fight of Edgehill with him; and during the fight, the prince and Duke of York were committed to his care: he told me that he withdrew under a hedge, and took out of his pocket a book and read; but he had not read very long before a bullet of a great gun grazed on the ground near him, which made him remove his station. He told me that Sir Adrian Scrope was dangerously wounded there, and left for dead amongst the dead men, stripped; which happened to be the saving of his life. It was cold, clear weather, and a frost that night; which staunched his bleeding, and about midnight, or some hours after his hurt, he awoke, and was fain to draw a dead body upon himself for warmth's sake.

His sayings:- He was wont to say that man was but a great mischievous baboon.

He would say that we Europeans knew not how to order or govern our women, and that the Turks were the only people used them wisely.

He was far from bigotry.

He had been physician to the Lord Chancellor Bacon, whom he esteemed much for his wit and style, but would not allow him to be a great philosopher. 'He writes philosophy like a Lord Chancellor,' said he to me, speaking in derision; 'I have cured him'.

I remember he kept a pretty young wench to wait on him, which I guess he made use of for warmth's sake as King David did, and took care of her in his will, as also his man servant.

He was much and often troubled with the gout, and his way of cure was thus; he would then sit with his legs bare, if it were frost, on the leads of Cockaine House, put them in a pail of water, till he was almost dead with cold, and betake himself to his stove, and so 'twas gone.

He lies buried in a vault, at Hempstead in Essex, which his brother Eliab Harvey built; he is lapped in lead, and on his breast in great letters Dr William Harvey. I was at his funeral, and helped to carry him into the vault.
Mary Herbert
Countess of Pembroke, 1561-1621

Mary Countess of Pembroke, was sister to Sir Phillip Sidney; married to Henry the eldest son of William Earl of Pembroke aforesaid; but this subtle old earl did forsee that his fair and witty daughter-in-law would horn his son; and told him so and advised him to keep her in the country and not let her frequent the court.

She was a beautiful lady and had an excellent wit, and had the best breeding that that age could afford. She had a pretty sharp-oval face. Her hair was of a reddish yellow.

She was very salacious, and she had a contrivance that in the spring of the year, when the stallions were to leap the mares, they were to be brought before such a part of the house where she had a vidette to look on them and please herself with their sport; and then she would act the like sport herself with her stallions. One of her gallants was crook-backed Cecil, Earl of Salisbury.

In her time Wilton House was like a college, there were so many learned and ingenious persons. She was the greatest patroness of wit and learning in her time. She was a great chemist and spent yearly a great deal in that study. She kept for her laborator in the house Adrian Gilbert (vulgarly called Dr Gilbert)(half-brother to Sir Walter Raleigh) who was a great chemist in those days*.

She also gave an honourable yearly pension to Dr Mouffett, who has written a book On Insects. Also one Boston, a good chemist, a Salisbury man born, who did undo himself by studying the philosopher's stone, and she would have kept him but he would have all the gold to himself and so died in gaol.

* He was a man of great parts, but the greatest buffoon in England; cared not what he said to man or woman of what quality soever. Some curious ladies of our country have rare receipts of his.

This curious seat of Wilton and the adjacent country is an Arcadian place and a paradise. Sir Phillip Sidney was much here, and there was so great love between him and his fair sister that I have heard old gentlemen (old Sir Walter Long of Draycot and old Mr Tyndale) say that they lay together, and it was thought the first Philip Earl of Pembroke was begot by him, but inherited not the wit of either brother or sister.
William Herbert
First Earl of Pembroke, 1501-70

…Henry VIII of England, who much valued him, and heaped favours and honours upon him. Upon the dissolution of the abbeys, he gave him the abbey of Wilton, and a country of lands and manors thereabouts belonging to it.

In Queen Mary's time, upon the return of the Catholic religion, the nuns came again to Wilton Abbey, and this William Earl of Pembroke came to the gate (which looks towards the court by the street, but is now walled up) with his cap in hand and fell upon his knee to the lady abbess and the nuns, crying 'Peccavi' [I have sinned]. Upon Queen Mary's death the earl came to Wilton (like a tiger) and turned them out, crying 'Out, you whores, to work, to work, you whores, go spin.'

From my great-uncles, the Brownes of broad Chalke:- in Queen Elizabeth's time, some bishop (I have forgot who) that had been his chaplain, was sent to him from the queen and council, to take interrogatories of him [to question him on his beliefs]. So he takes out his pen and ink, examines and writes. When he had written a good deal, said the earl, 'Now let me see it'. 'Why?' said the bishop, 'your lordship cannot read.' 'That's all one: I'll see it' said he and takes it and tears it to pieces: 'Zounds, you rascal', said he, 'do you think I will have my throat cut with a penknife?' It seems they had a mind to have picked a hole in his coat and to have got his estate. 'Tis reported that he caused himself to be let blood and bled so much that it was his death, and that he should say as he was expiring, 'They would have Wilton – they would have Wilton', and so gave up the ghost.

Memorandum:- this William (the founder of this family) had a little cur-dog which loved him, and the earl loved the dog. When the earl died the dog would not go from his master's dead body, but pined away, and died under the hearse; the picture of which dog is under his picture, in the gallery at Wilton.
William Holder
1616-98

It ought not to be forgotten, the great and exemplary love between this doctor and his virtuous wife, who is not less to be admired, in her sex and station, than her brother Sir Christopher [Wren]: and (which is rare to be found in a woman) her excellences do not inflate her. Amongst many other gifts she has a strange sagacity as to curing of wounds, which she does not do so much by precedents and receipt books, as by her own excogitancy, considering the causes, effects and circumstances. His majesty Charles II had hurt his hand, which he entrusted his chirurgeons to make well; but they ordered him so that they made it much worse, so that it swelled, and pained him up to his shoulder; and pained him so extremely that he could not sleep, and began to be feverish. Someone told the king what a rare she-surgeon he had in his house; she was presently sent for at eleven o'clock at night. She presently made ready a poultice, and applied it, and gave his majesty sudden ease, and he slept well; next day she dressed him, and in a few days perfectly cured him, to the great grief of all the surgeons, who envy and hate her.
Ben Jonson
?1573-1637

A Grace by Ben Johnson, extempore, before King James

Our king and queen, the Lord-God bless
The Paltzgrave, and the Lady Bess,
And God bless every living thing
That lives, and breathes, and loves the king,
God bless the Council of Estate,
And Buckingham, the fortunate,
God bless them all, and keep them safe,
And God bless me, and God bless Raph.

The king was mighty inquisitive to know who this Raph was. Ben told him 'twas the drawer at the Swan tavern, by Charing Cross, who drew him good canary. For this drollery his majesty gave him a hundred pounds.
Ralph Kettell
1563-1643

He was irreconcilable to long hair; called them hairy scalps, and as for periwigs (which were then very rarely worn) he believed them to be the scalps of men cut off after they were hanged, and so tanned and dressed for use. When he observed the scholars' hair longer than ordinary (especially if they were scholars of the house) he would bring a pair of scissors in his muff (which he commonly wore) and woe be to them that sat on the outside of the table. I remember he cut Mr Radford's hair with the knife that clips the bread on the buttery-hatch...
William Oughtred
1575 - 1660

I have heard Mr Hobbes say (and very truly) that with all his great skill in algebra, he did never add one proposition to geometry: he could bind up a bundle well.
Sir William Petty
1623 – 87

Sir William Petty had a boy that whistled incomparably well. He after waited on a lady, a widow, of good fortune. Every night this boy was to whistle his lady asleep. At last she could hold out no longer, but bids her chamber-maid withdraw: bids him come to bed, sets him to work, and marries him the next day. This is certain true; from himself and Mrs Grant.
Sir Walter Raleigh
?1552 – 1618

He loved a wench well; and one time getting up one of the maids of honour up against a tree in a wood ('twas his first lady) who seemed at first boarding to be something fearful of her honour, and modest, she cried, 'Sweet Sir Walter, what do you ask me? Will you undo me? Nay sweet Sir Walter! Sweet Sir Walter! Sir Walter!' At last as the danger and the pleasure at the same time grew higher, she cried in the ecstasy 'Swisser Swatter Swisser Swatter.' She proved with child, and I doubt not but this hero took care of them both, as also that the product was more than an ordinary mortal.

My old friend James Harrington, esquire (Oceana) was well acquainted with Sir Benjamin Ruddyer, who was an acquaintance of Sir Walter Raleigh's. He told Mr J. H. that Sir Walter Raleigh being invited to dinner to some great person where his son was to go along with him, he said to his son 'Thou art expected today at dinner to go along with me, but thou art such a quarrelsome, affronting …. that I am ashamed to have such a bear in my company.' Mr Walter humbled himself to his father, and promised he would behave himself mighty mannerly. So away they went (and Sir Benjamin, I think, with them). He sat next to his father and was very demure at least half dinner time. Then said he, 'I, this morning, not having the fear of God before my eyes but by the instigation of the devil, went to a whore. I was very eager of her, kissed and embraced her, and went to enjoy her, but she thrust me from her, and vowed I should not, "For your father lay with me but an hour ago".' Sir Walt, being so strangely surprised and put out of his countenance at so great a table, gives his son a damned blow over the face. His son, as rude as he was, would not strike his father, but strikes over the face of the gentleman that sat next to him and said 'Box about: 'twill come to my father anon.' 'Tis now a common used proverb.
Edward de Vere seventeenth Earl of Oxford
1550-1604

This Earl of Oxford, making a low obeisance to Queen Elizabeth, happened to fart, at which he was so abashed that he went to travel for seven years. On his return the queen welcomed him home and said, 'My lord, I had forgotten the fart.'

Nicholas Hill was secretary to the Earl of Oxford. A poor man asked Mr Hill one time to give him 6d. (or 1s, or such an alms). Said Mr Hill, 'What do you say, if I give you ten pounds?' 'Oh,' said he, 'ten pounds would make me a man.' And he did put it down in the account, 'Item, £10 for making a man –' which his lordship allowed and was well pleased at it.