John Aubrey's Brief Lives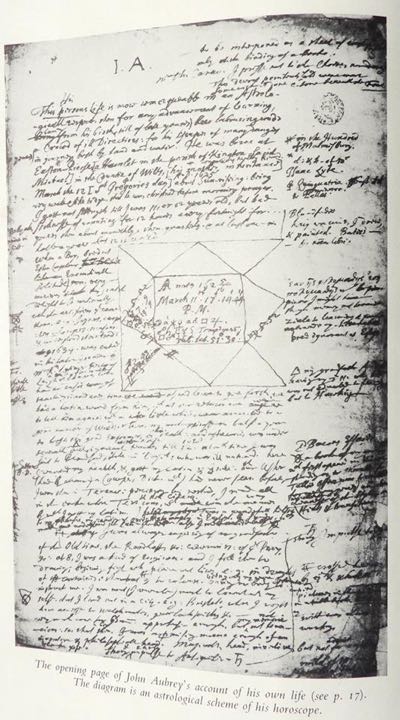 As I've come to the end of Mr Pepys' diary, I'm re-reading another 17th century man's "book" - John Aubrey's Brief Lives. Aubrey kept very chaotic notes about people and places he knew, and his friend Anthony à Wood suggested they should be published. Here's a picture of one of the pages of Aubrey's notes. In a letter to Wood, Aubrey wrote:

"Sir!
I have according to your desire, put into writing these minutes and lives tumultuously as they occurred to my thoughts; or as, occasionally I had information of them: they may easily be reduced into order at your leisure by numbering them with red figures, according to time and place etc."

Not surprisingly, Wood never bothered! We start with excerpts from Aubrey's own life, written partly in the third person and partly in the first.
John Aubrey
His life is more remarkable in an astrological respect than for any advancement of learning, having from birth (till of late years) been labouring under a crowd of ill directions: for his escapes of many dangers, in journeys both by land and water, forty years. He was born (longaevous , healthy kindred) at Easton Pears... 12 March (St Gregory's day) A.D. 1625, about sun-rising, being very weak and like to die, so that he was christened before morning prayer
I got no strength till I was 11 or 12 years old; but had sickness of vomiting, for 12 hours every fortnight for some years, then about monthly, then quarterly, and at last once in half a year. About 12 it ceased.
25 March 1675, my nose bled at the left nostril about 4 p.m. I do not remember any event which followed this bad omen.
John Aubrey, 20 March 1693, about 11 at night robbed and 15 wounds in my head. 5 January 1694, an apoplectic fit, about 4 p.m. My uncle Anthony Browne's nag threw me dangerously the Monday after Easter, 1639. Just before it I had an impulse of the briar under which I rode, which tickled him, at the upper end of Berylane.
Thanks be to God!
In 1633, I entered into my grammar at the Latin school at Yatton Keynell, in the church, where the curate, Mr Hart, taught the eldest boys Virgil, Ovid, Cicero, etc. The fashion then was to save the ferules of their books with a false cover of parchment, that is old manuscript, which I was too young to understand; but I was pleased with the elegancy of the writing and the coloured initial letters. I remember the rector here, Mr Wm. Stump, great grandson of Stump the clothier of Malmesbury, had several manuscripts of the Abbey. He was a proper man and a good fellow; and when he brewed a barrel of special ale, his use was to stop the bunghole, under the clay, with a sheet of manuscript; he said nothing did it so well: which methought did grieve me then to see. Afterwards I went to school to Mr Latimer at Leigh Delamere, the next parish, where was the like use of covering books. In my grandfather's days the manuscripts flew about like butterflies. All music books, account books copy books, etc. were covered with old manuscripts, as we cover them now with blue paper or marbled paper: and the glovers at Malmesbury made great havoc of them; and gloves were wrapped up no doubt in many good pieces of antiquity. Before the late wars a world of rare manuscripts perished hereabout; for within half a dozen miles of this place were the abbey of Malmesbury, where it may be presumed the library was well furnished with choice copies as most libraries of England; and perhaps in the library we might have found a correct Pliny's Natural History, which Camitus, a monk here, did abridge for King Henry the Second. Within the aforesaid compass was Broadstock Priory, Stanleigh Abbey, Farleigh Abbey, Bath Abbey, eight miles, and Cirencester Abbey, twelve miles. In 1638 I was transplanted to Blandford School, in Dorset, to Mr. Wm. Sutton. (In Mr Wm. Gardner's time it was the most eminent school for the education of gentlemen in the west of England.) Here also was the use of covering books with old parchments, that is, leases etc, but I never saw anything of a manuscript there. Hereabouts were no abbeys or convents for men. One may also perceive by the binding of old books how the old manuscripts went to wrack in those days. In 1647 I went to Parson Stump out of curiosity, to see his manuscripts, whereof I had seen some in my childhood; but by that time they were lost and dispersed. His sons were gunners and soldiers, and scoured their guns with them; but he showed me several old deeds granted by the Lords Abbots, with their seals annexed, which I suppose his son Capt. Tho. Stump of Malmesbury hath still.
George Abbot (Archbishop of Canterbury)
1562-1633

Old Nightingale was his servant, and weeps when he talks of him. Everyone that knew, loved him. He was sometimes choleric.

He was the son of a sherman. His mother, with child of him, longed for a jack [pike], and dreamed that if she could eat a jack, her son should be a great man. The next morning, going to the river, which runs by the house (which is by the bridge), with her pail, to take up some water, a good jack came into her pail; which she ate up, all, herself. This is generally received for truth.
Thomas Allen
1542-1632

...he was the best astrologer of his time. In those dark times, astrologer, mathematician and conjurer were accounted the same things, and the vulgar did verily believe him to be a conjurer. He had a great many mathematical instruments and glasses in his chamber, which did also confirm the ignorant in their opinion, and his servitor (to impose on freshmen and simple people) would tell them that sometimes he should meet the spirits coming up his stairs like bees.

One time, being at Holm Lacy in Herefordshire, at Mr John Scudamore's (grandfather to the Lord Scudamore), he happened to leave his watch in the chamber window (watches were then rarities): the maids came in to make the bed, and hearing a thing in a case cry Tick, tick, tick, presently concluded that that was his devil, and took by the string with the tongs, and threw it out of the window into the moat (to drown the devil). It so happened that the string hung on a sprig of an elder that grew out of the moat, and this confirmed to them that it was the devil. So the good old gentleman got his watch again.
Lancelot Andrews
1555-1626

He had not that smooth way of oratory as now. It was a shrewd and severe animadversion of a Scottish lord, who, when King James asked him how he liked Bishop Andrewes's sermon, said that he was learned, but he did play with his text, as a jackanapes does, who takes up a thing and tosses and plays with it, and thentake up another, and plays a little with it – 'here's a pretty thing, and there's a pretty thing!'
Sir Henry Blount
1602-82

He was heretofore a great shammer, i.e. one that tells falsities not to do anybody any injury, but to impose on their understanding: e.g. at Mr Farr's: he said that at an inn (naming the sign) in St Albans, the innkeeper had made a hog's trough of a free-stone coffin; but the pigs, after that, grew lean, dancing and skipping, and would run up on the tops of the houses like goats. Two young gentlemen that heard Sir H. tell this sham so gravely, rode next day to St Abans to enquire; coming there, nobody had heard of any such thing, 'twas altogether false. The next night, as soon as they alighted, they came to te Rainbow, found Sir H., looked louringly on him, and told him they wondered he was not ashamed to tell such stories. 'Why, gentlemen', said Sir H. 'have you been there to make enquiry?' "Yea,' said they. 'Why, truly, gentlemen,' said Sir H. 'I heard you tell strange things that I knew to be false. I would not have gone over the threshold to have found you in a lie:' at which all the company laughed at the two young gentlemen.
Edmund Bonner 1495-1569

Mr Stephens, whom I met lately accidentally, informed me thus: that Bishop Bonner was of Broadgates Hall; that he came thither a poor boy, and was at first a scullion boy in the kitchen, afterwards became a servitor, and so by his industry raised to what he was.

When he came to his greatness, in acknowledgement from whence he had his rise, he gave to the kitchen there a great brass pot, called Bonner's pot.* He has showed the pot to me, I remember. It was the biggest pot, perhaps, in Oxford: ask the old cook how much it contained.

*Anthony Wood notes against this 'false', presumably because he made his own enquiries and could not find any evidence for the story. Ed.
Richard Boyle first Earl of Cork
1566-1643

This noble lord, by his prudent and pious consort, no less an ornament and honour to their descendants than himself, was blessed with five sons, of which he lived to see four lords and peers of the Kingdom of Ireland.

And a fifth, more than these titles speak, a sovereign and peerless in a larger province – that of universal nature, subdued and made obsequious to his inquisitive mind.

And eight daughters.

And that you may remark how all things were extraordinary in this great personage, it will, I hope, be neither unpleasant nor impertinent, to add a short story I had from our lady's own mouth.

Master Boyle, after Earl of Cork (who was then a widower) came one morning to wait on Sir Jeffrey Fenton, at that time a great officer of state in that Kingdom of Ireland, who being engaged in business, and not knowing who it was desired to speak with him, a while delayed him access; which time he spent pleasantly with his young daughter in her nurse's arms. But when Sir Jeffrey came, and saw whom he had made stay somewhat too long, he civilly excused it. But Master Boyle replied, he had been very well entertained, and spent time much to his satisfaction, in courting his daughter, if he might obtain the honour to be accepted for his son-in-law. At which Sir Jeffrey, smiling (to hear one who had formerly married, move for a wife carried in arms, and under two years old) asked him if he would stay for her? To which he frankly answered him he would, and Sir Jeffrey as generously promised him he should then have his consent. And they both kept their words honourably.

My lady Petty says he had a wife or two before, and that he married Mistress Fenton without her father's consent.
Robert Boyle
1627-91

He is very tall (about six foot high) and straight, very temperate, and virtuous and frugal; a bachelor; keeps a coach; sojourns with his sister, the Lady Ranelagh. His greatest delight is chemistry. He has at his sister's a noble laboratory and several servants (apprentices to him) to look to it. He is charitable to ingenious men that are in want, and foreign chemists have had large proof of his bounty, for he will not spare for cost to get any rare secret. At his own cost and charges he got translated and printed the New Testament in Arabic, to send into the Mahometan countries. He was not only a high renown in England, but abroad; and when foreigners come hither, 'tis one of their curiosities to make him a visit.
Thomas Bushell
1594-1674

He was one of the gentlemen that waited on the Lord Chancellor Bacon. 'Twas the fashion in those days for gentlemen to have their suits of clothes garnished with buttons. My Lord Bacon was then in disgrace, and his man Bushell having more buttons than usual on his cloak, they said that his lord's breech made buttons and Bushell wore them – from whence he was called' buttoned Bushell'.

He had done something (I have forgotten what) that made him obnoxious to parliament or Oliver Cromwell, about 1650; would have been hanged if taken; printed several letters to the Parliament etc dated from beyond sea, and all that time lay privately in his house in Lambeth marsh where the pointed pyramid is. In the garret there, is a long gallery, which he hung all with black, and had some death's heads and bones painted. At the end where his couch was, was in an old Gothic niche (like an old monument) painted a skeleton incumbent on a mat. At the other end, where was his pallet-bed, was an emaciated dead man stretched out.
Samuel Butler
1612-80

Memorandum: satirical wits disoblige whom they converse with, etc; and consequently make to themselves many enemies and few friends; and this was his manner and case. He was of a leonine-coloured hair, sanguine-choleric, middle-sized, strong.
William Butler
1535-1618

William Butler, physician: he was of Clare Hall in Cambridge, never took the degree of Doctor, though he was the greatest physician of his time.

The occasion of his being taken notice of was thus: about the coming-in of King James, there was a minister of a village a few miles from Cambridge that was to preach before his majesty at Newmarket. The parson heard that the king was a great scholar, and studied so excessively that he could not sleep, so somebody gave him some opium, which would have made him sleep his last, had not Dr Butler used this following remedy. He was sent for by the parson's wife. When he came and saw the parson, and asked what they had done, he told her that she was in danger to be hanged for killing her husband, and so in great choler left her. It was at that time when the cows came into the back side to be milked. He turns back, and asked whose cows those were. She said, her husband's. Said he: 'Will you give one of these cows to fetch your husband to life again?' that she would with all her heart. Her then causes one presently to be killed and opened, and the parson to be taken out of his bed and put into the cow's warm belly, which after some time brought him to life, or else he had infallibly died.

Memorandum: there is a parallel story to this in Machiavelli's Florentiac History where 'tis said that one of the Cosmos, being poisoned, was put into a mule's belly, sewed up, with a place only for his head to come out.

He was a man of great moods. One time King James sent for him to Newmarket, and when he was gone halfway, he left the messenger and turned back; so then the messenger made him ride before him.

I think he was never married. He lived in Crane's, an apothecary's, shop in Cambridge, to whom he left his estate; and he in gratitude erected the monument for him at his own charge, in the fashion he used. He was not greedy of money, except choice pieces of gold or rarities.

He would many times (I have heard say) sit among the boys at St Mary's church in Cambridge (and just so would the famous attorney-general Noy, in Lincoln's Inn, who had many such frolics and humours).

I remember Mr Wodenoth, of King's College, told me that being sent for to _ he told him that his disease was not to be found in Galen or Hippocrates, but in Tully's Epistles, Cum non sis ubi fueris, non est cur velis vivere [When you are elsewhere, it will not be because you wanted to live].

I think he left his estate to the apothecary. He gave to the chapel of Clare Hall, a bowl, for the communion, of gold (cost, I think £2 or 300), on which is engraved a pelican feeding her young with the blood from her breast (an emblem of the passion of Christ) no motto, for the emblem explained itself.

He was much addicted to humours, and would suffer persons of quality to wait sometimes some hours at his door, with coaches, before he would receive them. Once, on the road from Cambridge to London, he took a fancy to a chamberlain or tapster in his inn, and took him with him, and made him his favourite, by whom only accession was to be had to him, and thus enriched him. Dr Gale, of Paul's school assures me that a Frenchman came one time from London to Cambridge, purposely to see him, whom he made stay two hours for him in his gallery, and then he came out to him in his old blue gown; the French gentleman makes him two or three very low bows down to the ground; Dr Butler whips his legs over his head, and away goes into his chamber, and did not speak with him.

He kept an old maid whose name was Nell. Dr Butler would many times go to the tavern but drunk by himself. About 9 or 10 at night old Nell comes for him with a candle and lanthorne and says: 'Come you home, you drunken beast.' By and by Nell would stumble; then her master calls her 'drunken beast'; and so they did drunken beast one another all the way till they came home.

A servingman brought his master's water to Doctor Butler, he being then in his study (with turned bars) but would not be spoken with. After much fruitless importunity, the man told the doctor he was resolved he should see his master's water; he would not be turned away – threw it at the doctor's head. This humour pleased the doctor, and he went to the gentleman and cured him. Mr R Hooke.

A gentleman lying a-dying, sent his servant with a horse for the doctor. The horse being exceeding dry, ducks down his head strongly into the water, and plucks down the doctor over his head, who was plunged in the water over head and ears. The doctor was madded, and would return home. The man swore he should not; drew his sword, and gave him ever and anon (when he would return) a little prick, and so drove him before him. Mr Godfrey.

From Mr James Bovey, some instances of Dr Butler's cures. The doctor lying at the Savoy in London, where was a balcony looked into the Thames, a patient came to him that was grievously tormented with the ague. The doctor orders a boat to be in readiness under his window, and discoursed with the patient (a gentleman) in the balcony, when on a signal given, two or three lusty fellows came behind the gentleman and threw him a matter of 20 feet into the Thames. This surprise absolutely cured him.

A gentleman with a red ugly pumpled face came to him for a cure. Said the doctor 'I must hang you.' So presently he had a device made ready to hang him from a beam in the roof; and when he was even almost dead, he cuts the veins that fed the pumples, and let out the black ugly blood, and cured him. Another time one came to him for the cure of a cancer (or ulcer) in the bowels. Said the doctor: 'Can ye shit?' 'Yes' said the patient. So the doctor ordered a basin for him to shit, and commanded him to eat it up. This did the cure.

From Dr More. More's father was a very strong-bodied man. 'Twas forty stools he gave his father; he had almost killed him. Told him he would be the better for it as long as he lived.

That he was chemical I know by this token that his maid came running in to him one time, like a slut and a fury, with her hair about her ears, and cries 'Butler! Come and look to your devils yourself, and you will; the stills are all blown up!' She tended them, and it seems gave too great a heat. Old Dr Ridgeley knew him and I think was at that time with him.