Photos of King's Lynn Waites and Wyldes Noyse
October 2006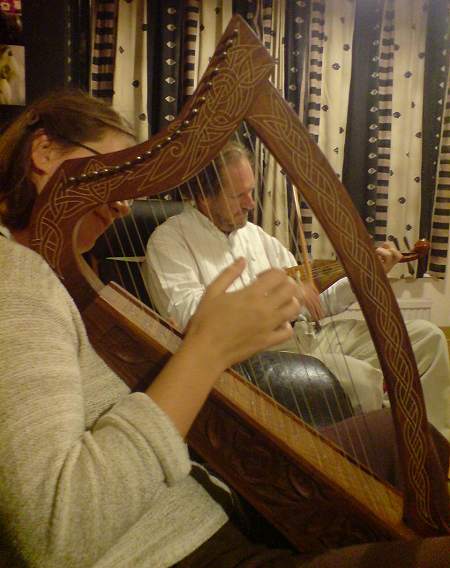 Wyldes Noyse in rehearsal
30th July 2006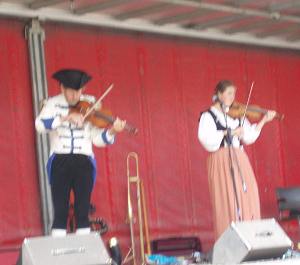 Wyldes Noyse at Worstead
7th - 9th July 2006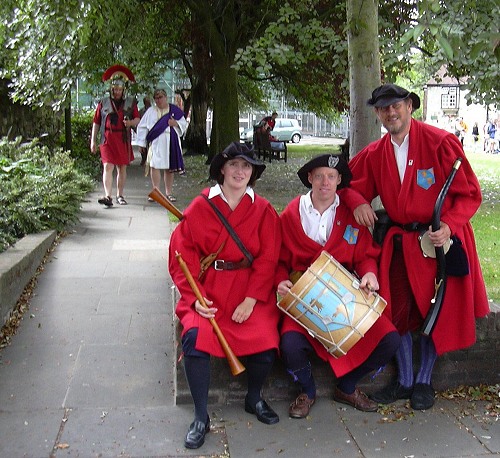 Members of the King's Lynn Waites take a break from leading the resurrection of Christ around the streets of York during the 2nd International Festival of Town Pipers.
14th June 2006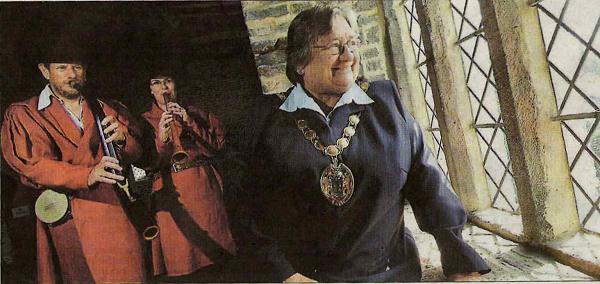 King's Lynn & West Norfolk mayor Ann Clery-Fox with Chris Gutteridge and Claire Clarke. Photo - EDP 15th June 2006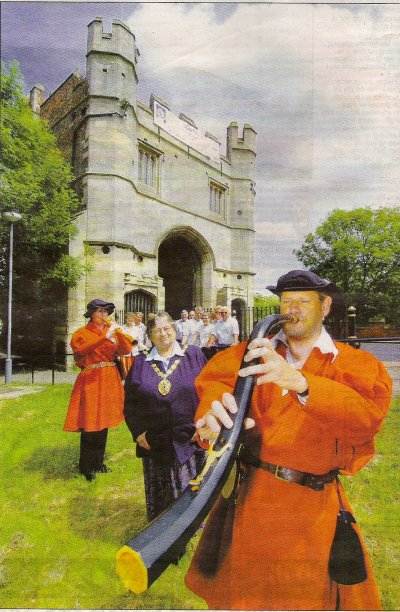 Photo Alan Miller, Lynn News
August - September 2005
To commemorate the 200th anniversary of the battle of Trafalgar and the death of Nelson, Wyldes Noyse performed music of the period at Arundel Castle, West Sussex and at Bedford Castle Mound.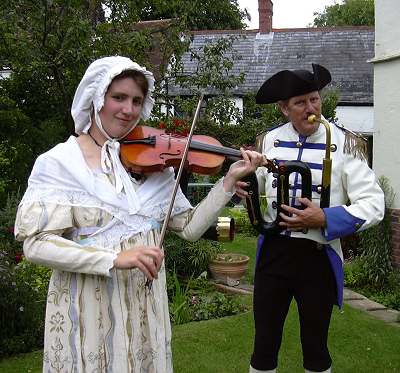 Wyldes Noyse dressed for their Trafalgar performances
Bishop's Garden, Norwich July 2005
Four of the Waites playing in the garden of the Bishop's Palace, Norwich in aid of the Norfolk Wildlife Trust.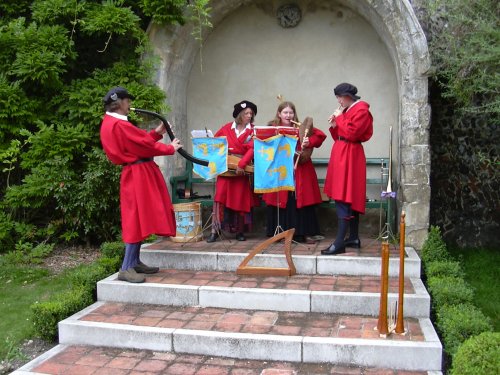 The Waites playing in the Bishop of Norwich's Garden
St George's Day, Leatherhead
Wyldes Noyse in Leatherhead, Surrey as part of the St George's day celebrations 2005.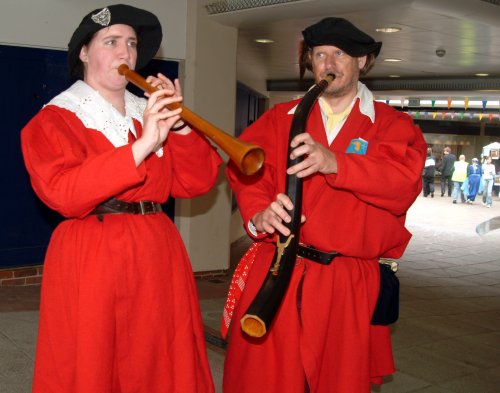 Photo © Andy Newbold by kind permission of Acorn Images
Chris made a solo appearance in Downham Market at 9.00am, providing music for the Mayor's procession, and then entertaining the Mayor's guests during breakfast:
Photos - James Burch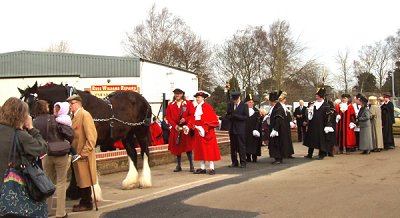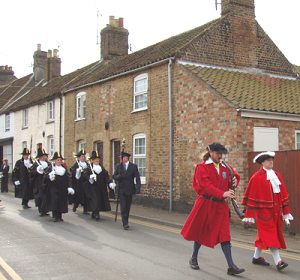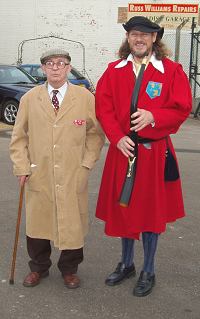 Wyldes Noyse talking to Dave Monk on BBC Radio Essex.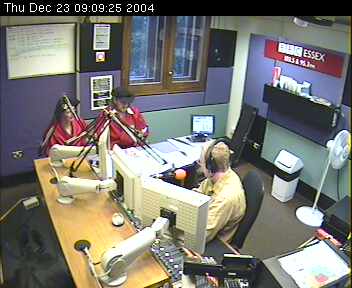 Banquet at Blackfriars Hall, Norwich
King's Lynn Waites were engaged to entertain at a banquet during an international conference of the Silver Society in October 2004. They "played in" the Lord Mayor of Norwich, and entertained diners during the meal.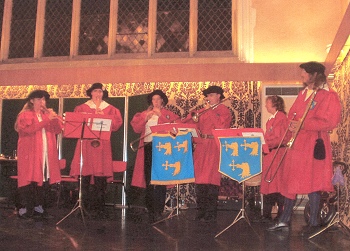 1st European Festival of Town Pipers, 's-Hertogenbosch, The Netherlands.
The Stadspijpers van 's-Hertogenbosch were the generous hosts of a wonderful festival for Waits and their European equivalents from 10th - 12th September 2004. Three of the King's Lynn Waites, Ann Husar and Elizabeth and Chris Gutteridge, attended (see below). For a full report on this splendid event, visit the Waits Website.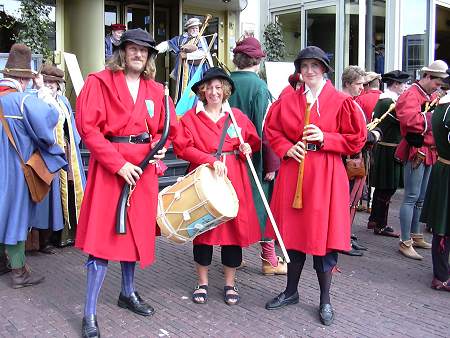 As part of the year-long Skelton Festival in Diss, Norfolk, King's Lynn Waites played during the Skelton Fair held on the afternoon of Sunday 8th August. See the Skelton Festival Website for more information on this celebration of the great Tudor poet, who became Rector of Diss 500 years ago.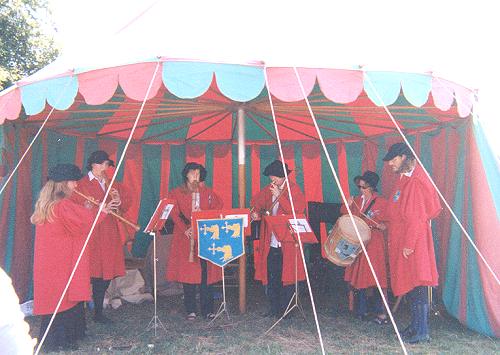 King's Lynn Charter Day 800
2004 marked the 800th anniversary of Lynn becoming a free borough. To mark the occasion, the King's Lynn Civic Society, King's Lynn Preservation Trust, King's Lynn Society of Arts & Sciences and the King's Lynn Blue Badge Town Guides jointly organised a day of celebration on Saturday 24th July 2004 in the Town Hall, Saturday Market Place. As part of the celebrations, the King's Lynn Waites gave an informal recital in the Town Hall. Three of the Waites, Chris Gutteridge, Chief Waite (back) and Deb Cooper (left) and Elizabeth Gutteridge (front) shawms, are pictured below in the Waites' gallery on the staircase of the Town Hall porch.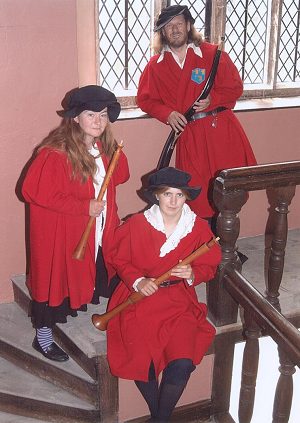 Photo:Roy Williamson, Lynn News (04/07/1506)