Opening of the Mart, 12th February 2000

King's Lynn Waites led the Mayor's procession to open the Mart on Saturday 12th February. Preceded by the Staff Bearer and four Mace Bearers in full regalia, the Waites played 'All Ye Who Love Good Fellows', 'The Earl Of Oxford's March', and 'The Mayor of Lynn's March', the last of which was written specially for them by Elizabeth Gutteridge. Behind the Waites came members of the Showmen's Guild, the bishop of Lynn and other clergy ,the Deputy Mayor and Mayoress, and, with his Sword Bearer before him, the Mayor, Dr Paul Richards, with his Mayoress, Allison Gifford. The only slight mishap of the day was when I lost my hat and music to a strong gust of wind coming up the Purfleet, but order was soon restored, if not my hat, which caught up with me later.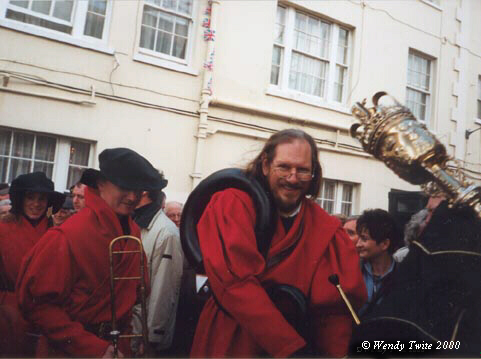 The Millenium Mart Song, which I wrote for the occasion, seemed to be well received, and a copy of the words was published in 'The World's Fair', the house magazine of the Showmen's Guild.
The Millennium Mart
(To the tune of 'Jamaica')
Have you heard the tale of the King's Lynn Mart
All in the Year 2000
How the Mayors and the Showmen played their part
To celebrate the Millennium
Our brave Mayor Richards led the way
All in the year 2000
To open the Mart that glorious day
To celebrate the Millennium

All down Queen Street The Mayor did go
All in the Year 2000
With music and maces he made a show
To celebrate the Millennium
And the Showmen's Guild were there that day
All in the Year 2000
As along King Street they made their way
To celebrate the Millennium

On Savages Gallopers the deed was done
All in the Year 2000
To declare the Lynn Mart was begun
To celebrate the Millennium
See the Gallopers whirling round
All in the Year 2000
With all the Mayors bobbing up and down
To celebrate the Millennium

So let's drink a toast to all the Mayors
All in the Year 2000
And to Dr Richards and Bertie Ayres*
To celebrate the Millennium
And make a pledge with mighty cheers
All in the Year 2000
To hold the Mart for a Thousand Years
To celebrate the Millennium

*Bertie Ayres, President of the Showmen's Guild
© Chris Gutteridge, January 2000
More photographs © John C Barrett L.R.P.S.Copies available.

www.jcbarrettphotographic.co.uk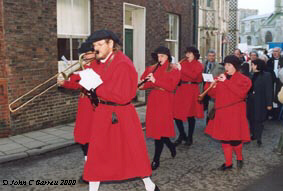 Town Hall 2000/X62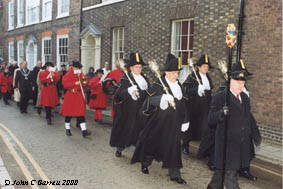 Queen Street 2000/X62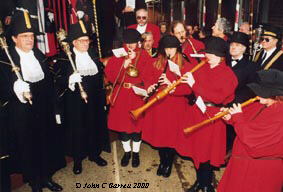 Click on picture to hear Fanfare 2000/X63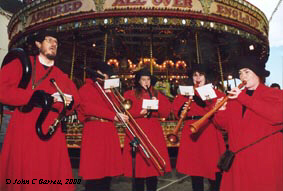 Busking 2000/X63