News
King's Lynn Waites took part in the 4th International Festival of Town Pipers in 's-Hertogenbosch, The Netherlands, 3rd - 5th September 2010: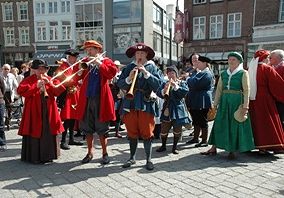 The Waits of King's Lynn (red coats) and Colchester (blue coats) combine forces to play in the City Square.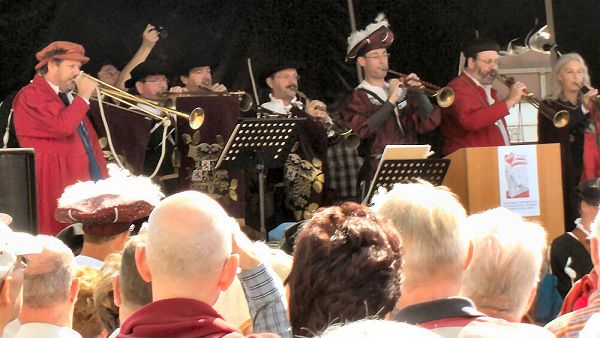 Left - Chris Gutteridge (King's Lynn Chief Waite) playing a fanfare with trumpeters from the Netherlands, Spain, Yorkshire and Sweden!
King's Lynn Waites performed a programme of 15th century music at All Saints Church for the Hanse festival in King's Lynn on Saturday 15th May 2010 at 5pm.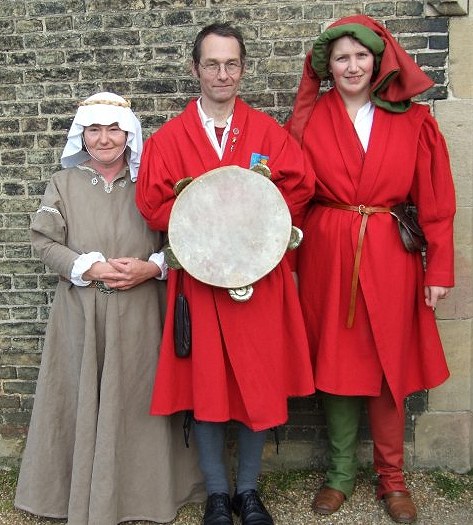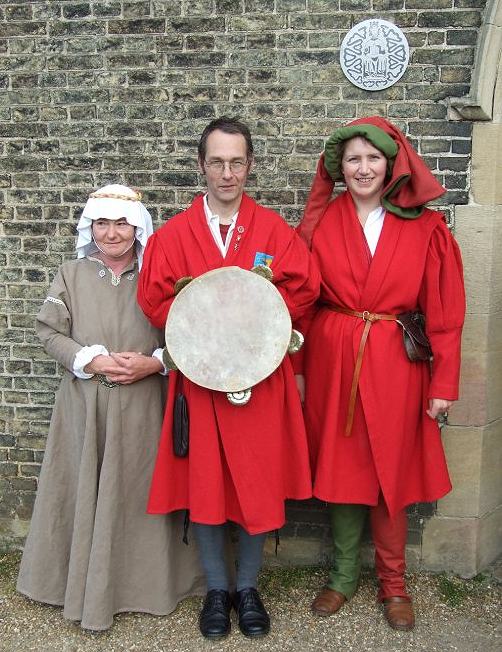 Wyldes Noyse CD
Wyldes Noyse CD Kings to Cuckolds out now! Click here to order.
Colchester Waits Recruiting
Following the very successful workshop at Cressing Temple (see below), Colchester Waits are looking for people who would like to play shawms, lysard or sackbutt etc. Monthly rehearsals have started and are going well. They can provide instruments for people to start off on. Contact Lizzie Gutteridge 01206 212466 for details.
Instruments & Players Always Wanted!
The King's Lynn Waites are always looking to extend their repertoire, instrumentation and personnel. We currently have seven members, but more are welcome. So if you are a musician living in the King's Lynn area, and are either involved in early music or would like to be, or if you have some obscure Renaissance-style instrument that you don't have a use for, please contact Chris Gutteridge by clicking .
2008 Gigs
Saturday 19th January - Private Function
Friday 14th March - Chris provided the music for the St Winnold's Event at Downham Market again. Starting with the procession around 8.45am.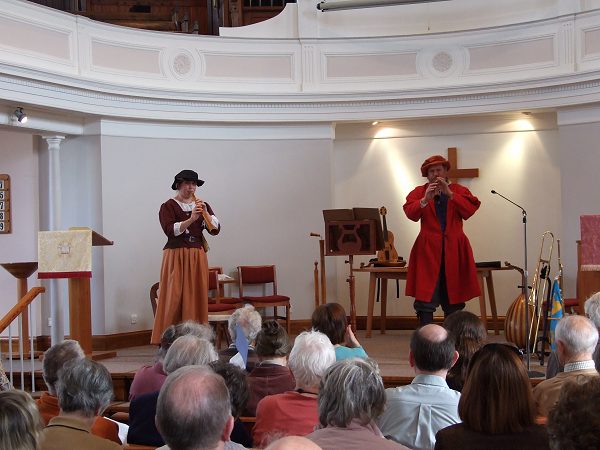 Thursday 10th April 1pm - 2pm - Wyldes Noyse gave a lunchtime concert at the United Reformed Church, Market Hill, Maldon, Essex.
Sunday 15th June - 10am - 5pm Wyldes Noyse were at Cressing Temple Barns, Essex with the Colchester Waits.
Wednesday 25th June, 7pm - Chris and Deb appeared for Sandringham WI
Friday 27th to Sunday 29th June - International Festival of Town Pipers in Lincoln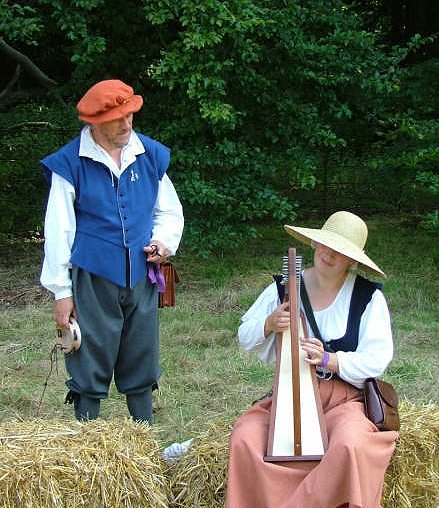 Saturday 26th and Sunday 27th July 10am to 5pm - Wyldes Noyse appeared at the Fairy Fair at Narborough Hall.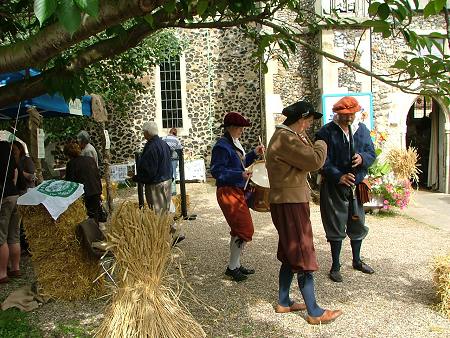 Saturday 13th September, 10am - Wyldes Noyse played about the streets of Maldon, Essex, for the town's Medieval Market.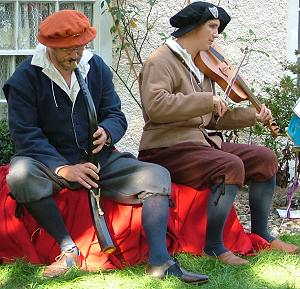 5pm - Wyldes Noyse provided incidental music for the Maldon Players' hilarious Heritage Play, Robin Hood.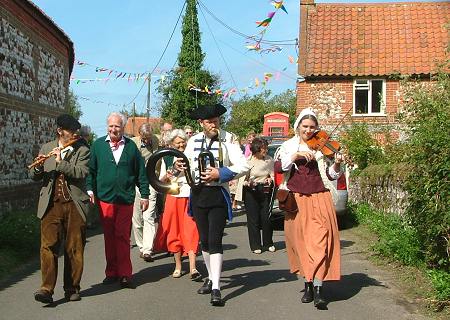 Richard, Chris & Lizzie with Richard Gilbert-Scott, son of the designer of the red telephone box, lead the villagers.
Sunday 14th September, 12 noon-2pm - Chris, Lizzie and Richard provided background music as the people of Burnham Norton celebrated the retention of their red telephone box.
Sunday 28th September, 3pm - King's Lynn Waites gave a concert at Swaffham Assembly Rooms.
Thursday 18th December, evening - Chris and Lizzie will be joining Al Garrod's Lincoln Waites for the ceremony of "Crying Christmas" in the streets of Lincoln.
2007 Gigs
Friday 30th March AM - Chris lead the procession for the opening of St Winnold's Fair, Downham Market and entertained the guests at the breakfast afterwards.
Thursday 26th April 7.30pm - Chris gave a talk with musical illustrations to Binham Local History Group. Binham Village Hall.
Friday 1st June - Wyldes Noyse appeared as part of Leicester Early Music Festival. See review from the Leicester Mercury.
Friday 22nd - Sunday 24th June - Chris, Lizzie and new Waites member Richard Blake performed as Chris's 18th century village band, "The Fall of Eve" as part of the King's Lynn Vancouver Festival. On the Friday, the full band appeared at the Town Hall, providing music during a banquet, and on Saturday and Sunday the three of us played in the courtyard of Thoresby College. See picture below: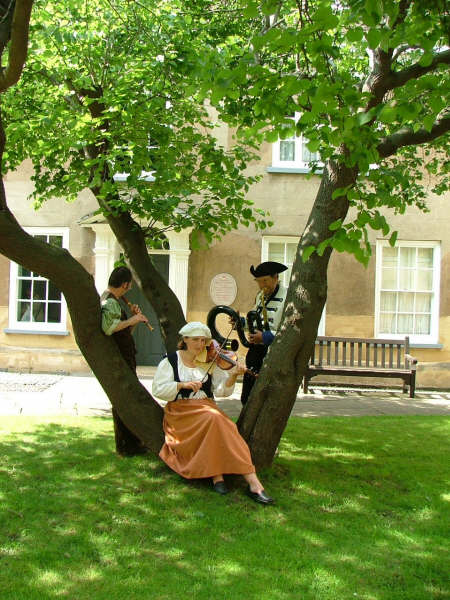 Saturday July 7th - Chris gave a musically illustrated talk on Waits to the Richard III Society at Walpole Cross Keys Village Hall.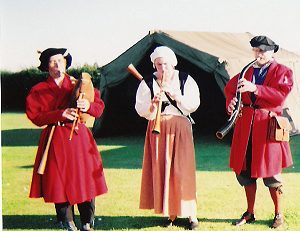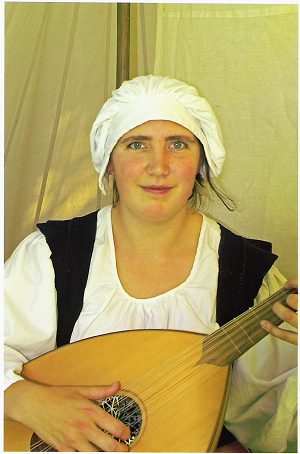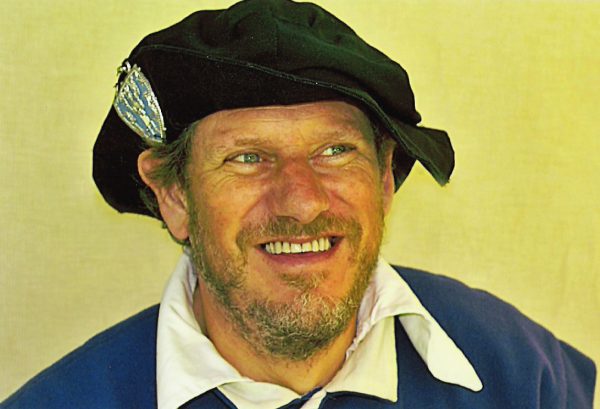 Saturday 4th August - Wyldes Noyse appeared at Binham Medieval Festival, providing music for their banquet. See letter of thanks.

In the morning of the same day, Chris and Elizabeth spent an enjoyable hour or two with Alan and Pam Radford of the Leeds Waits, who were taking part in a civil war re-enactment at Oxburgh Hall.
Wednesday 15th August - 10am-4pm. The Nelson Monument, Monument Road, South Denes, Great Yarmouth, Norfolk. Family Fun Day with volunteers in period-style costume at the Monument as well as a juggler, fire eater, Punch and Judy show, clown, puppeteer, knotmaker, face-painter and the Norfolk Militia, not to mention Ronaldo's Ice Cream Barrow. Wyldes Noyse in Georgian guise provided musical entertainment throughout the day with the help of singer, Dave Cooper. A very windy day, but good fun!
Sunday 2nd September - King's Lynn Waites joined forces with Colchester Waits to perform at Queen Elizabeth's Hunting Lodge, Chingford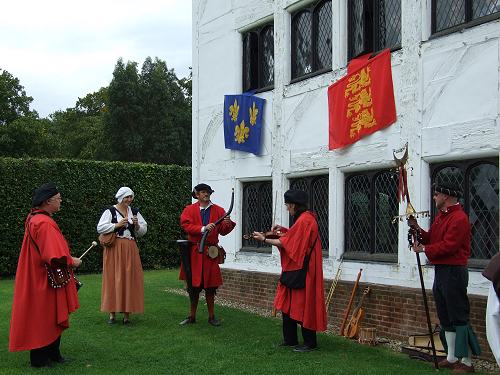 Paul of Colchester Waits, Lizzie, Chris, Phil of Colchester & Trevor of Colchester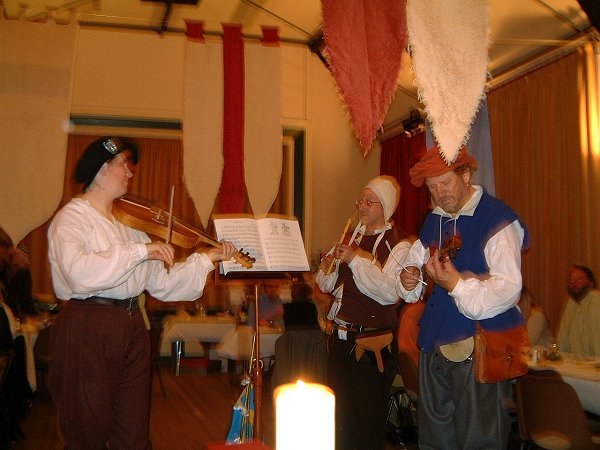 Lizzie, Al Garrod and Chris at Hallaton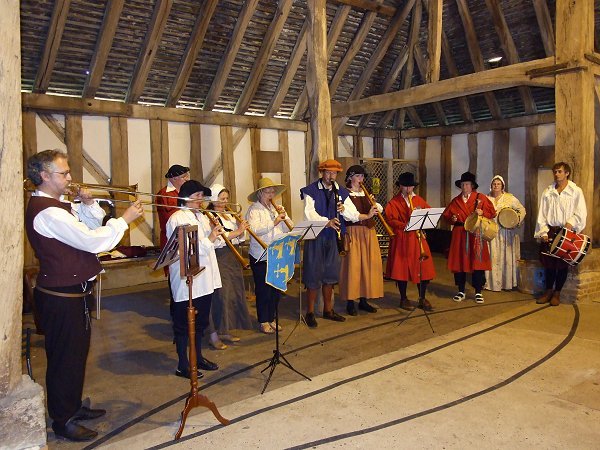 Massed performance by tutors and workshop participants
at Cressingham Temple Barns
Friday 14th September - Wyldes Noyse appeared, with their friend Al Garrod, the Lincoln Wait, at the Hallaton Medieval Supper in aid of the local museum fund. See email.
Sunday 16th September - Wyldes Noyse held a very successful Early Music Workshop at Cressing Temple, Essex.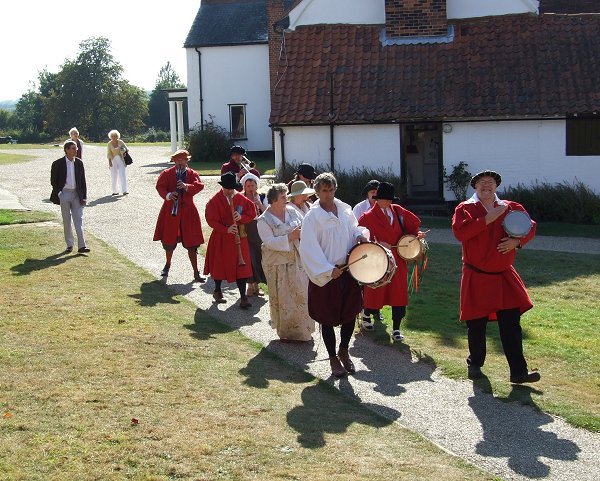 Workshop participants and tutors playing in procession
Wednesday 14th November - Chris and Richard Blake gave a talk and demonstration of instruments, ranging from shawms and bagpipes to the Norfolk Dulcimer, at Wolterton Hall.

Lincoln and Doncaster Waites and Chris playing in the council chamber
of Lincoln's famous Stonebow
15th November - Chris helped the Lincoln Waites with their first ever performance, leading the Mayor of Lincoln's procession for the switching on of the Christmas lights. The Doncaster Waites also came to help.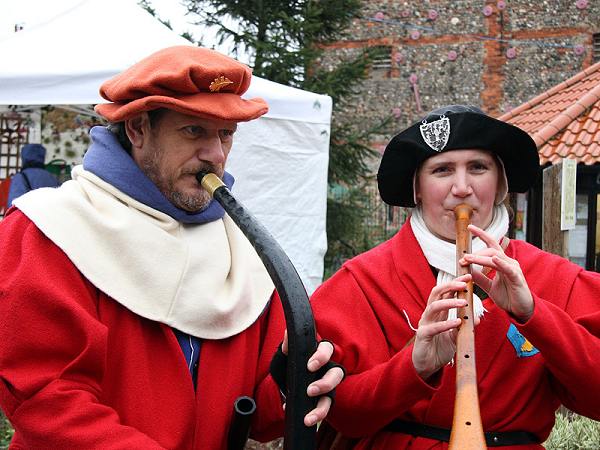 Wyldes Noyse at Wells. Photo by cy.
8th December - Wyldes Noyse performed in a very wet and windy Wells-Next-Sea for the Wells Christmas Tide Festival. Later, they were joined by Deb Cooper and retreated to the nearby restaurant at the Granary Theatre to perform in drier and warmer surroundings.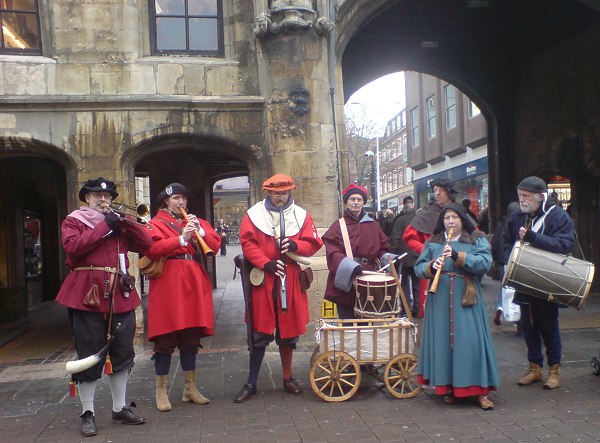 Crying Christmas outside the Stonebow, Lincoln, with the Lincoln Waits.
Saturday 22nd December - Members of King's Lynn Waites were in Lincoln, helping Al Garrod and friends to revive the ancient local custom of Crying Christmas.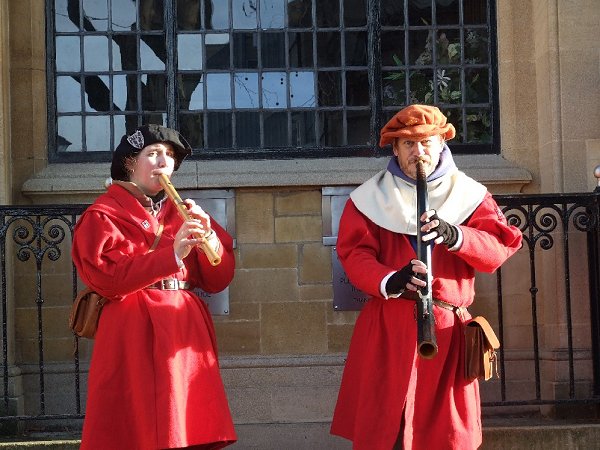 Busking in Peterborough
On the way home to Colchester, Wyldes Noyse stopped off in Peterborough for their usual pre-Christmas busking spot for Peterborough City Council.

Busking in Colchester
On Christmas Eve, Chris and Lizzie were in Colchester, busking with the new Colchester Waits Shawm Band to raise money for their instruments fund.
Wyldes Noyse
If you are planning a function, fête, garden party, etc., and don't require a full band of Waites, try the Renaissance duo, Wyldes Noyse, which is formed from members of the King's Lynn Waites. Click here for details.
.