Vancouver Festival, King's Lynn
22nd - 24th June 2007
To celebrate the 250th anniversary of Captain Vancouver's birth, the town of King's Lynn put on a weekend of period entertainment. The Fall of Eve performed in the Town Hall on the Friday evening, and in Thoresby College during the day on the Saturday and Sunday.
Vancouver Festival Website.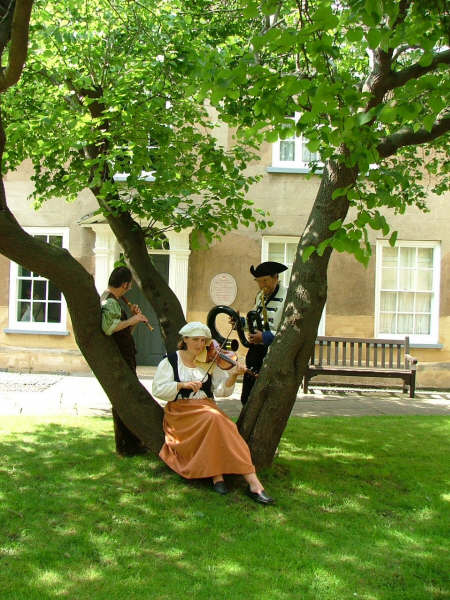 During the eighteenth and nineteenth centuries, many English villages had their own band. Made up almost entirely of self-taught amateurs, their skills and repertoire were sometimes astonishing. They played country dances for their friends, more sophisticated dance music for the 'big house', marches for the local militia and four-part psalm tunes (often locally composed) for the church. They also played popular airs, operatic arias, and pieces from the classical repertoire that took their fancy. Because they could read music, and played in harmony, they were largely ignored by the Victorian folk historians, and their existence has been almost forgotten. They played a large variety of instruments, often making their own where necessary.
The Fall Of Eve is a Folk Band specialising in the dances, marches and church music played by Norfolk village bands during the 18th and 19th centuries. Their repertoire is drawn from fiddlers' tune books and church quire manuscripts found in Norfolk, researched, edited, and where necessary arranged by Chris Gutteridge.
Research is ongoing, and anyone having information on music manuscripts in Norfolk is invited to get in touch with Chris, email chris@wyldesnoyse.co.uk
The band has worked together with local choirs and singers to give concerts and take part in church services re-creating the lively village church music of Georgian times - much of it local compositions which had not been heard for 150 years or more - and they are keen to expand this side of their work. They also appear at folk clubs and other venues, performing the secular side of their repertoire.
The Fall Of Eve will perform either in modern or Georgian dress, and are available for re-enactments etc.
To book the band, email chris@wyldesnoyse.co.uk
or ring +44 (0)1760 755993.