FEEDBACK
Banquet at The Duke's Head, King's Lynn, Saturday 13th May 2017
On behalf of our President and all members of our British Association of Former United Nations Civil Servants (BAFUNCS) who attended our Annual Reunion and General Assembly last weekend, I would like to thank you for providing the entertainment at our banquet on Saturday evening. As our President said in his remarks, your contribution to our weekend was unlike anything we had enjoyed at past Annual Reunions, and I'm sure you could tell from the strength of the applause, and the number of people who flocked to the stage to examine your instruments more closely, that you were a great hit. You will be a hard act to follow at our next Reunion in Geneva next year.
John Stares, organiser.
40th Birthday Party, November 2016
Dear Chris,
I would like to take the opportunity to thank you and all the band members for providing such wonderful period music all evening for our medieval banquet.
It was a real treat for us to have such talented musicians playing live, and we couldn't have asked for more. Everyone made a huge effort for the evening, and Alex has a lovely memory of her 40th to look back on.
I hope you all enjoyed the evening too, and perhaps we'll see you again! Thank you also for the CD, which is much appreciated too...
Kind regards,
Matthew
West Gallery Workshop & Evensong, St George Colgate, Norwich
Sunday 22nd January 2012
...such an enjoyable and worthwhile afternoon/evening, with a superb choice of music, not to mention an excellent lunch...It was worth coming over from Cambs. on such a lovely day and I hope you will be inspired to run the same event next year!
Robert Johnson
[workshop participant]
Wedding, near Norwich, 20th August 2011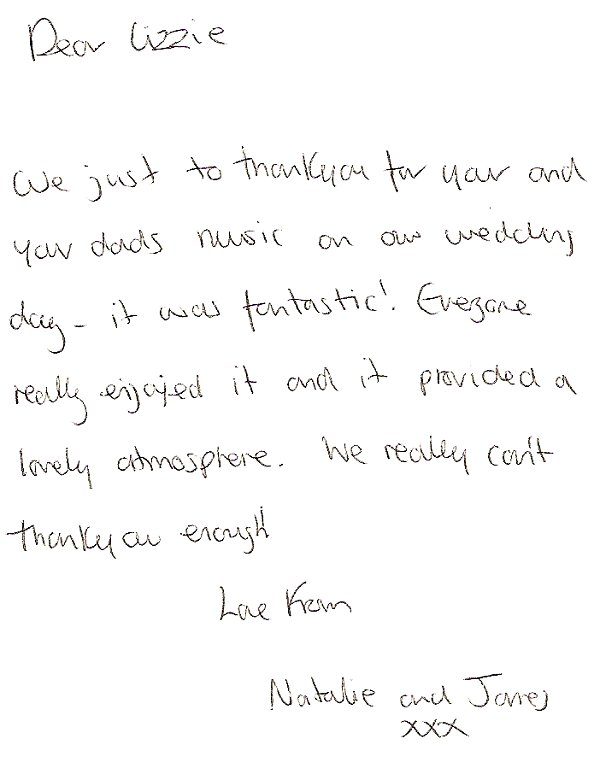 Picture
Burnham Norton Street Party, 31st July, 2011
"Thank you so much to you and your co-musicians for bringing such good cheer to our party. Best wishes, Richard."
See pictures
School Workshop, Walton on the Naze Primary School, June 2011
"Lovely music at Walton yesterday. Thank you! Hope you didn't mind a small class sneaking in - they were desparate to come and I knew they would be good. You included everything we wanted."
Hilary Worn
Concert in aid of victims of the Japan earthquake
at Our Lady & St. Walstan's Roman Catholic Church, Costessey, Norwich,
"On behalf of the audience can I say a big thank you to all who took part. Both the singing and the reading were of a high quality and the costuming, presentation, and instrumentalists were very much appreciated". (St Walstan's Parishioner)

[£213.09 plus 20 Euros was raised.]
School Workshop, Janet Duke Primary School, Basildon 30th March 2011
"You two were great!"
Ben, Year 6.
St Winnold Parade, Downham Market 18th March 2011

West Gallery Workshop & Evensong January 2011
St George's Church, Colegate, Norwich
Dear Chris, and Lizzie,
thanks for a superb day yesterday. The right event in the right place, and you may quote me.
Regards
Robert Johnson
[workshop participant]
Dear Lizzie,
A very big "Thank you" to you & your dad for coming along to our Silver Wedding & playing so beautifully. Everyone has been so complimentary about the evening which you made so possible.
Thank you!
with warmest wishes,
Lynda & Peter
Dear Lizzie
We are all still talking about how wonderful it was last Saturday – you and your dad were amazing!! Thank you so much for such a marvellous addition to our evening. Your dad amazed me with his singing of my favourite piece from Handel!! A huge thank you to him for taking the time to do this.
Attached is a photo for you as a keepsake.
Best wishes,
Lynda
St John's Green Primary School, Colchester 10th December 2009
Lizzie I thought that was incredible yesterday. The children really enjoyed it and were talking about it all day. They also learnt a great deal and I thought the whole thing worked brilliantly. I came away in a Christmas mood and I will certainly consider having you in again another time.
The children are really motivated this year and really have enjoyed the whole topic. If I think of any improvements I'll pass them on but I was too busy enjoying the music.
Thank you very much
Dan Bates.
Pictures
Wedding, Castle Heddingham, 30th November 2009
Just to say thank you ever so much for playing at my wedding. It really contributed to the success of the occasion.
Tim.
Pictures
St. Peter's School, Sible Hedingham 7th July 2009
We appreciated your prompt time keeping and you allowed yourselves enough time to set up your instruments prior to the workshops.
All classes enjoyed your workshops. It was such a joy to hear these instruments and giving the children a chance to hear authentic period music for their Tudor studies. The mix of information, listening to the different instruments and then allowing the children to participate either in singing, accompaniment with un-tuned percussion instruments or dancing was just right. The Year 4 really enjoyed the extra time to do the dancing!
The children and staff enjoyed listening to the different instruments and we thank you for being so helpful and informative about the history or how to play them. Year 4 having dressed up really felt that your workshop added an air of authenticity and atmosphere to their day.
Wedding, 12th June 2009
Please find enclosed a photo of your merry team - we thoroughly enjoyed your musical performance at our wedding reception and the crowd particularly enjoyed the medieval dance instruction.
You knocked fingers, toes, knees and arms off anyone else we had seen or heard before.
Much love and many thanks,
Sadie & Colin.
Baddow Hall Junior School, Chelmsford
Thanks for a great day!
Holy Cross Catholic Primary School, Harlow
The workshop presentation was well received by the children. It was informative and entertaining. It is always important to include practical examples for particular topics and the workshop was an excellent example of this. We were very satisfied and therefore cannot offer any aspects of improvement.
Kerry Clark.
White Court School
Thank you very much for a very enjoyable Tudor music experience on Friday 16th of January. We enjoyed learning about the different instruments like the lute and the fanfare trumpet. The harp sounded beautiful. We also enjoyed playing the percussion instruments and dancing. We had a very exiciting session.
Yours sincerely,
Year 5
pictures
Langham Primary School
Thankyou very much for the music workshop you delivered on Tuesday at Langham School.
It was a very enjoyable morning and all the children thoroughly enjoyed participating.
It was fascinating to see the instruments and hear the music, the children particularly liked playing the recorders, guitars, singing and dancing.
We hope you have a happy Christmas and a prosperous New Year.
Maureen Game
Great Massingham Primary School
The perfect end to a Tudor project.
Sam, year 4.


St John's Green Primary, Colchester
Once you get into it it's really catchy
Alex, year 3.


Lexden Springs School
The timing was fine, nice atmosphere. All the pupils were engaged and enjoyed the opportunity to join in. Good to have a chance to sing, dance and handle/play instruments. History curriculum - costumes were an added interest. Good for pupils to experience historical instruments they have never seen or heard before.


St John's C of E Primary School, Buckhurst Hill
Thank you very much for our day a couple of weeks ago. The staff and children really enjoyed themselves. Here are a few pictures of you both in action.
Happy Christmas!
Alison Tinker


Two Village C of E Primary, Dovercourt
Nice to have the harp playing as the children filed in - got them into listening mode.
Excellent that we had the music to play from - so easy to download and print from your website, and simple enough to do a proper performance.
All enjoyed the dance, even the 'anti' dancers! Easy and again very accessible
An excellent workshop and not too expensive. Many thanks,
J Cole


Come & Play workshop, Castle Hedingham
To Lizzy & Chris.
Thank you for everything you both have done and I hope you come again. You have done a lot for us and I just wanted to say THANK YOU!!
from Lyn & Emily xx
P.S.
Thanks for the instruments xxx


Maldon Primary School
"I just wanted to thank you for the performances you gave last Tuesday at Maldon Primary. Everthing went smoothly and everyone enjoyed themselves."
Shirley Murphy.


Warley Primary School
On behalf of Years 3 and 4, thank you very much. We all enjoyed it.
Mrs Lowen (Y. 3)
I really enjoyed dancing in the circle and travelling around and learning about Tudor singing as well as the instruments.
Ashleigh
I liked it when Elizabeth played the two different shawms.
Emily
I really enjoyed singing the Summertime song because I liked keeping in tune with it. I also enjoyed holding little fingers and slithering around the hall like a snake.
Natasha
Your instruments were amazing. I never knew that there were such weird and interesting instruments.
Amy
I really enjoyed playing the drums. I liked the dancing as well when we had to swap partners.
Bonnie
I really enjoyed being the leader of the cymbol section in assembly
Chloe