Chris Gutteridge's Worcester blog January 2017
On our way back from visiting Jayne''s Mum in Cardiff, we stopped off to have a look at Worcester and surroundings. We''ve both visited Worcester before, but not together, and mine was only a flying visit on the way to the Brecon Beacons for pony trekking when the girls were young.

On the way, we stopped off at Croome Park. A great advantage of National Trust membership is that it encourages one to visit places one otherwise wouldn't. Like many country estates, Croome was used for the forces during the war. We didn't actually get to see the RAF exhibition as we got too involved in other aspects, but we did start by having a splendid lunch in what had been the RAF hospital building - a concrete prefab. Shepherd's Pie and Apple Crumble, both excellent.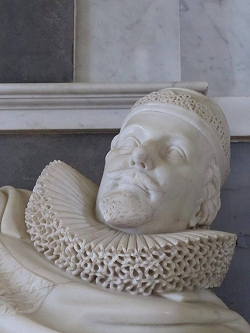 Looks uncomfortable...
We walked through the park, calling in at the church, which was full of exquisitely carved monuments to 17th century members of the Coventry family, and at a rotunda banqueting room with splendid views. This park was Capability Brown''s first solo gig, but was destroyed over the years. The trust is gradually putting it back together.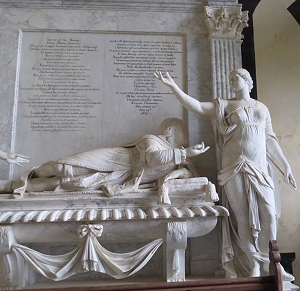 The deceased Coventrys have a penchant
for scantily-clad, buxom ladies!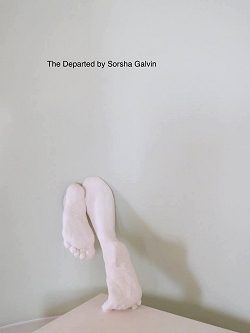 The house has had a rough time of it, as well. It''s almost empty, although the trust is gradually getting together furniture and paintings that belonged there and had been sold off. Our first stop was in the hall which had been used to exhibit statuary. Modern sculptors have been invited to exhibit works in the empty alcoves, with varying degrees of success. All claimed to be linked to the house and grounds in some way. The only one that impressed me was the one of a pair of lower legs, giving the impression that the statue was crawling out of the alcove through the wall.
We elected to go on the house tour, which was a good choice, as there weren''t many of us on a cold January day in a house with no heating, so the enthusiastic volunteer was delighted to show us round and tell us fascinating tales about the house''s history.
In recent times it has been a Catholic school and has passed through the hands of property developers, one of whom wanted to turn it into a hotel, but couldn't get permission. He did, however, live in part of the house, papering the walls with ghastly paper and turning one bedroom into a bathroom with a gigantic modern double bath sitting in the middle of the room. Once filled with water and people, this bath proved too heavy for the floor, which didn''t quite cave in, but there's a steep slope towards the bath. The trust took the bath out, strengthened the floor, and put the bath back, as it's now part of the house''s history.
The house was once the British centre for the Hare Krishna movement, financially assisted by George Harrison. They were welcomed by the local people, and were careful to look after the building as best they could. The beautiful 18th century plasterwork in one room, that was originally pure white, has been carefully and beautifully painted in pastel colours, making it a more welcome part of the house''s history than the bath upstairs.
Our guide, having taken us round the bedrooms as requested, agreed to also take some of us round the cellars. Here one could see how the present, 18th century house has been built around the earlier 17th century house, absorbing it into the fabric of the new house. As no-one of consequence saw the cellars, the ground-level cellar windows were made to line up with the other windows of the house on the outside, but were offset from the original window openings in the cellars, disappearing behind the wall on one side.
Our guide was then eager to show us the semi-derelict servant' building, attached to the main building and at least as big. This was hardhat territory, with rotten or missing floors, and was fascinating. One area had the walls painted in bright yellow, and was used by the Hare Krishna as a recording studio. At the far end of the building was the enormous kitchen, which, our guide told us, was a quarter of a mile away from the dining room in the house!
The next morning, we left Severnside Bed and Breakfast well fortified by a splendid Full English, and set off for Worcester.
The first building to attract our attention after we left the car park was St Alban''s Church, reputedly dating back to Roman times. We went to look inside, and found that it was being used as a day centre for the homeless. Not wanting to intrude, we were about to retreat, but a man sitting on the step having a smoke asked if he could help, and insisted we should just go on in. We were warmly welcomed and shown around, and one gentleman came out to show us the best way to get to the cathedral. There was a lovely, friendly atmosphere. I would certainly recommend giving a donation to this sadly much-needed charity: www.maggsdaycentre.co.uk.
So to the cathedral, where we were greeted by a man in a kilt who was eager tell us all about the building. Bad King John is buried here, and his tomb is surprisingly well preserved. Also, Prince Arthur lies in a little chapel near the altar. His nephew, Edward VI, apparently sent his commissioners especially to Worcester to deface the images in his uncle''s chapel.
It's a strange thing, but having had an unaccustomed large and filling breakfast, 11am saw us sitting down to hot chocolate and toasted teacakes in the cathedral café!
From there, we visited the Royal Worcester shop, and then set off to find the Commandery, a complex of buildings dating back to the 11th century, which was the Royalist headquarters during the battle of Worcester. Unfortunately, as it was January, it was closed. However, the Tudor House museum was open, and proved interesting. It has a very nice Tudor ceiling in one of the upstairs rooms.
Also open was the guildhall, a very impressive 18th century building with a magnificent ballroom upstairs. Said ballroom having a small stage at one end, on which stood a large, throne-like chair, I found myself drawn to sit on it until Jayne noticed me and gave in and took a picture!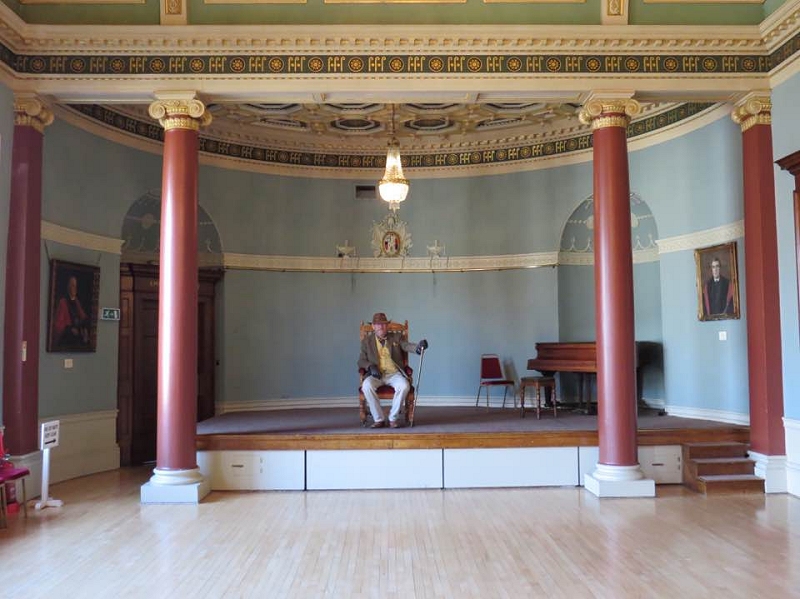 Me waiting to be noticed by Jayne in Worcester Guildhall
In the afternoon we visited Hanbury Hall, an early 18th century country seat built by Thomas Vernon. Its great claim to fame, and the thing that saved the building from demolition in the 20th century, is the wall and ceiling paintings by Sir James Thornhill, famous for his painted hall at Greenwich Naval College. Greenwich is impressive, but this did not impress me, being gloomy, heavy and pretentious. Or maybe I was influenced by our guide''s tales of the inhabitants. The hall was built purely as a snobbish status symbol, and Thomas died childless not long after. A succession of ne''er-do-wells inherited, gambled, had affairs and generally behaved badly without seeming to enjoy themselves much.
Acting on the excellent advice of Jane at Severnside Bed and Breakfast we set off next day for Malvern to visit the priory. We went there before, the day after our wedding, but obviously didn't take it all in at the time. The priory, which is now the parish church, is an 11th century building with impressive, heavy, Norman pillars. It has stained glass windows surviving from the 15th century and some very good mediaeval tiles. A very interesting and pleasant church.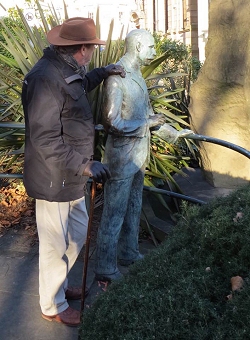 Me trying to console Sir Edward Elgar.
He looked as if someone had asked him to
come and conduct Land of Hope & Glory again!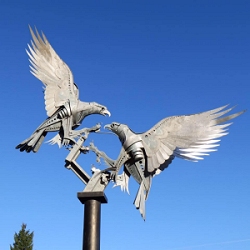 A pair of buzzards having a fight
After a visit to a coffee shop for coffee and cakes, we went to tourist information to check what else we hadn't noticed in Malvern. A very keen and helpful lady suggested, among other things, Rosebank Gardens. We stopped off at the somewhat despondent-looking statue of Elgar on the way. In the gardens was a massive sculpture of two buzzards having a fight. We then decided to climb up to St Ann''s Well on the hill above the town. First there was a long flight of stone steps, then, after crossing the road, we found a winding path which brought us out on a grassy knoll with splendid views across the plain below us. We found we''d slightly overshot the well, which is in a Victorian building which we could have reached by staying on the road, but it was well worth the diversion.
Coming down, for my knees, was a painful experience, but I was chastened on arriving at the bottom of the steps to see an elderly lady with a stick and a large container of cyclamen plants plodding upwards. Jayne asked how far she had to go (to the house at the top of the flight of steps) and offered to help by carrying her plants, but she thanked her profusely and said it was quite alright.
We then followed up Jane from Severnside's other suggestion, and headed for Tewkesbury. This was somewhere neither of us had visited before, and I think we''ll be going back. It''s a lovely old town with masses of timbered buildings and an abbey.
Our first stop was the Cornell Bookshop, a narrow, four-story, timbered building which had been an inn. The shop specialises in maps, having the largest collection of second-hand OS maps anywhere, but also has rooms and passages packed with books of all kinds. "The father-in-law", as he described himself, sat behind a desk, with a wood-burning stove at his side, minding the shop. The family lives in the other three floors above, and father-in-law lives round the corner in the old bakery, but comes, as he says, to have a warm.
The front parlour was panelled, and one could see where the dartboard used to be by the ring of holes in the panelling. Here, amongst stacks of Folio Society books, I found their second volume of Aubrey''s "Brief Lives". I have the first volume from the days, before we had children, when I was rich enough to belong to the society, so was delighted to add this to my library.
The John Moore museum, set in a terrace of timbered cottages, was closed, so we went on to the abbey. This was of a similar date to the priory in Malvern, with the same massive Norman pillars, but on a grander scale.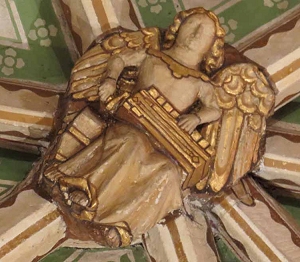 Roof boss in Tewkesbury abbey - an angel
playing a symphony (early form of hurdy-gurdy)
Jayne was photographing roof bosses, many of which had angels playing instruments, including a symphony, and I was looking at them in the mirror provided, when a toddler accompanied by his grandmother came in. He took a look round, and stated emphatically, ""too high!"" From then on, as she led him round, he could be heard plaintively and incessantly repeating, ""too high, too high, too high"". Grandmother tried her best to distract him and point out things at his eye level, but to no avail until she took him into a side aisle with a lower roof, where he immediately took a lively and intelligent interest in what was around him.
Hot chocolate in a café was next on the agenda, and then we started reviewing places to eat. The Old Black Bear claims to be the oldest inn in Gloucestershire. It was certainly very old and full of history, so we stopped for a drink. For our meal, however, we settled on the Tudor House Hotel which had venison pie on the menu. Unfortunately, they only had one pie left, which Jayne nobly let me have, and she made do with sausage and mash. It was a proper raised pie, delicious and enormous. I think we could have shared it and still been well fed!
So that concluded our mini-break, and the next morning we set off to return home on a pleasant cross-country route devised by Jayne which took us past one of our favourite refreshment stops, – Thrift Farm, which serves excellent food and drink. They have a bright, new restaurant since our last visit, and there were some delicious meals on the menu, but being still full of breakfast and, in my case, venison pie, we made do with a cheese scone for me and a jam and cream scone for Jayne.
Text © Chris Gutteridge 2017
Photos © Jayne Gutteridge 2017