Chris Gutteridge's Shropshire holiday blog September 2017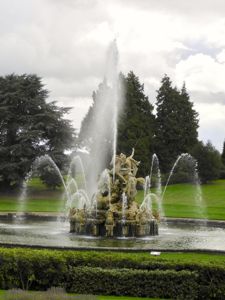 Witley Court Gardens
Photo © Jayne Gutteridge
We've had a few days in Shropshire, among the "blue remembered hills".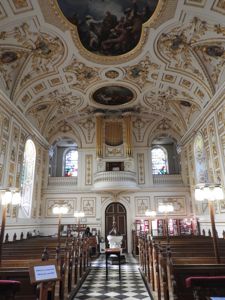 Great Witley Church
Photo © Jayne Gutteridge
We travelled across country, and just after Northampton, in the little village of Flore, we saw signs for a garden centre with café, so decided to have a break. The signs sent us down a narrow lane, and then a muddy track to a little car park. Switching the satnav off, Jayne somehow managed to log a speed camera in the car park, which should cause confusion for future visitors. The café, in a modern bungalow, with farm shop attached, was very pleasant and the proprietor was friendly. The smell of freshly fried bacon hung in the air, so I had a delicious bacon sandwich, Jayne had a huge piece of chocolate cake, and we had lovely coffee. Another little gem of a refreshment stop to add to our list.
Nearing our destination, we stopped off at Witley Court, a grand Italianate 19th century house which was destroyed by fire in 1937. The remaining shell is very dramatic, and the gardens are nice, but the two really stunning things are the massive fountain, which is turned on once every hour, and the parish church, which survived the fire in spite of being attached to the house.
Witley Court and Gardens.
The church is 17th century and is decorated throughout with gold leaf. There are paintings on the ceiling and the windows are of enamelled glass. It has been restored from a semi-derelict state by the hard work and dedication of the people of the small local parish. The volunteer steward told us that their next project, the cleaning and conservation of the enamelled glass windows, was likely to cost around half a million pounds. The organ was originally built for Handel. A truly amazing building!
Great Witley Church.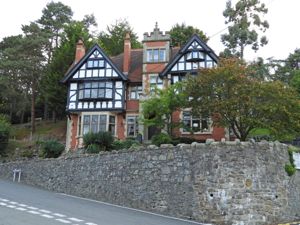 Arden House Photo © Jayne Gutteridge
Our base for our time in Shropshire was Arden House, an attractive arts and crafts house at the mouth of the picturesque Carding Mill Valley in Church Stretton, where we had our own luxurious apartment. Once settled there, we had a walk round the town to get orientated and admire some of the old buildings, then retired to our king-size bed, tired but happy.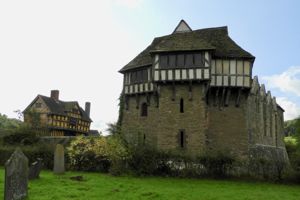 Stokesy Castle Photo © Jayne Gutteridge

Next morning we headed south to Stokesay Castle, which is not a castle – it's a fortified manor. It's also extremely photogenic, with its pretty 17th century timbered gatehouse and timbered and jettied top story to one of its towers.
Stokesay Castle was constructed at the end of the 13th century by the merchant, Laurence of Ludlow, who at the time was one of the richest men in England. He designed it to be capable of repelling robbers, whilst appearing non-threatening to the innocent. The great hall is practically untouched by time, having its original internal wooden staircase. The solar was updated in the 17th century, with paneling and a very impressive carved chimney piece.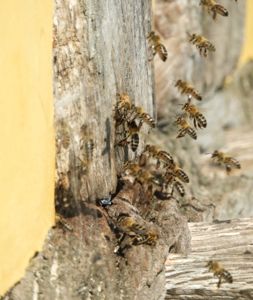 Bees in the wall
Photo © Jayne Gutteridge
While we were there, two groups of very well-behaved young school children were visiting, taking it in turns to go round the castle or to sit in the bailey and draw the gatehouse. Having been all round the inside, we walked round the outside in the dry moat. As we got back to the gatehouse, we heard a furious buzzing, and discovered that a colony of honey bees had made their nest in the wall of the gatehouse, and were working frantically at building up their winter supplies.
Stokesay Castle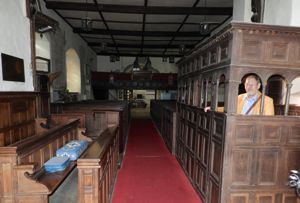 Stokesy Church Photo © Jayne Gutteridge
We then visited the church next door, which had a 17th century interior, with a splendid enclosed pew for the Lord of the Manor to sit in privacy. After a bacon and Brie roll and a coffee in the café, on the way back we stopped off at the Shropshire Hills Discovery Centre which was interesting, and had a gentle stroll down to the River Onny.
Shropshire Hills Discovery Centre.
In the afternoon we parked the car in Carding Mill Valley and climbed up to the reservoir on the Town Brook, which presumably originally was the town's water supply, and up Town Brook Valley – a stiff climb by our standards – until we emerged on the Long Mynd, which is a vast area of picturesque, heather covered hills and valleys. We walked back through a gap called the Devil's Mouth on the Bur Way, a single track road with a sheer drop on one side into Carding Mill Valley, which our host told us caused many tourist drivers to freeze in horror when they met an oncoming vehicle and had to reverse to the nearest passing place.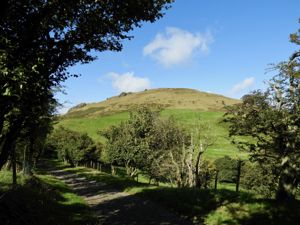 Caer Caradoc Photo © Jayne Gutteridge
Shropshire has more than its fair share of Iron Age forts. The trouble is, they tend to be on the top of steep hills! Looking at the Ordnance Survey map, I spotted one on the hill that we could see from our window – Caer Caradoc. The map said there was a road that went round behind the hill to the side that had less contour lines, and several footpaths then led up to the top. Next morning we set off through narrow, winding lanes with high banks and hedges, and eventually found the "road" I had seen on the map. It was unmade, but I decided we'd give it a go. After a couple of miles we came to a gate, and a patch of ground where people obviously parked, so we did.
As the map had promised, there was an information board with a map of the footpaths, and whilst I was examining this, a couple of quads came down the road, the front one loaded with dogs and people, and the second one with just a driver. He dismounted and opened the gate for the front one, then stood holding the gate and looking at his quad, as if he expected it to drive itself through the gate, so Jayne asked if he'd like her to shut the gate for him. He thought hard, then agreed, and they sped off up the hill. They had come to get the sheep down off the hilltop in preparation for autumn.
We started up the hill, and soon became aware of several things – the views were spectacular; the tail end of the result of Hurricane Irma was still blowing up here, making it difficult to stay upright at times; there was still a large amount of very steep hill to climb; and hoards of sheep were pouring down the hill towards us. A sheep dog hurtled past us uphill, having come round in a great circle to come up on the sheep unobserved from the side. We decided that perhaps we didn't need to see this particular hill fort.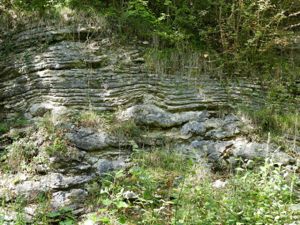 Wenlock Edge - layers of sediment and fossilised coral.
Photo © Jayne Gutteridge
I've been to Much Wenlock several times, and always meant to visit Wenlock Edge, so we decided to do that, wending our way through lanes and byways. We met hardly any traffic, which was as well, because the roads were single track with many blind corners, and passing places were rare. It seems a beautiful, under-populated and unspoilt area. Having reached Wenlock Edge, we decided to go to Much Wenlock in search of lunch before investigating further. Fortified with Cottage Pie at The Copper Kettle, we returned to the National Trust car park and followed the waymarked trail along the Edge. Views were limited by the trees, but it was very pleasant.
I had always imagined it would be an escarpment, but it's more of a ridge, with a vast quarry on one side of it. Quarrying has been going on here for many years, and an information board in one old quarry explained the layers of limestone sediment and areas of fossilised coral. The Shropshire Way footpath runs along Wenlock Edge, as does the Jack Myton bridleway, but then, they both seem to run along the top of every ridge in Shropshire.
Wenlock Edge
Not satisfied with all these adventures, we decided to try the formidable Bur Way from Church Stretton, of which our host had warned us. Just as we were ascending the first very steep section with the infamous precipice, we came round a corner and face to face with a motor home. Fortunately the cliff edge was on his side, and we had just passed a passing place carved out of the rock, so I reversed into it and he gingerly inched past us. His passenger shut her eyes.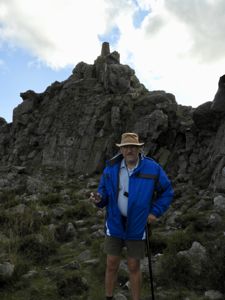 The Devil's Chair
Photo © Jayne Gutteridge
The road winds for miles across the heathland of Long Mynd, and eventually descends to an area called The Bog, which was known for its lead mines. Little remains to show that the industry was there, other than the miners' institute, now an information centre with refreshments.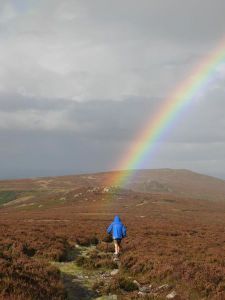 The end of the rainbow
Photo © Jayne Gutteridge
Retracing our steps a little, we came to the Stipperstones – another ridge of hills, this one with rocky outcrops strewn along its summit, each one with a name given, presumably, by very imaginative ancient peoples. To me they all looked like heaps of rocks, whether they were called Shepherd's Rock, Devil's Chair, Manstone Rock, Cranberry Rock, Nipstone Rock or just simply The Rock. We decided to climb up onto the ridge and see if we could reach the Devil's Chair – partly because we knew we could identify it as it has a trig point on top of it, and partly because it's the highest point of the Stipperstones (hence the trig point).
The climb wasn't too bad, but the path along the top (the Shropshire Way, of course) consisted of a bed of jagged rocks, making progress slow and cautious. We came eventually to the Devil's Chair, and I persuaded Jayne to abandon her plan of climbing it as the wind was getting very strong.
Looking out to the West, we could see masses of black cloud and sheets of rain falling on the next ridge, and it was obvious that it would reach us very soon. Looking at the map, it was clear that the best way down was to continue further along the ridge until the Shropshire Way turned down by a gentle slope and crossed a footpath leading back along the bottom of the ridge to the car park.
It is surprising how quickly circumstances can change in such places. We had started off in warm sunshine, with other walkers in sight all around us, but now we were alone, in a howling gale, with rain lashing down. Luckily we were wearing warm, waterproof coats. Jayne found that she had six sweets in her pocket, and started calculating how we should space out their consumption. We decided that if things got worse, and visibility dropped, we could huddle in the lea of one of the massive rocks for shelter.
We plodded on along the rocky path, and the storm soon blew over. Although the rain continued, the sun broke through, and I found myself within a few yards of the end of a rainbow. By the time we descended from the ridge the weather was quite pleasant again.
We passed through a field of cattle, which Jayne found unsettling, but didn't bother me, although when we met the bull standing across the footpath I did approach him cautiously and asked him politely if he'd mind moving. He gave us a disinterested stare, stepped to the side of the path and continued grazing. The whole walk was under three miles, but it had seemed quite an exciting trek.
The Stiperstones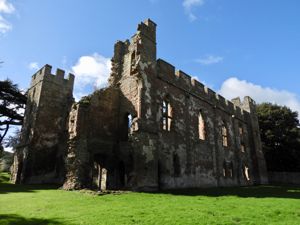 Acton Burnell Castle Photo © Jayne Gutteridge
We drove back by a more northerly, but similarly narrow and winding route across Long Mynd, astonished at what we had packed into the day.
We had done two days of, for us, quite intensive walking, so for our final day, we decided to have a look at Acton Burnell Castle and Langley Chapel. are situated in the lowland area to the east of Church Stretton, along more narrow, winding lanes. Acton Burnell Castle is another castle that isn't a castle – it's a bishop's palace, and it's next door to a very exclusive large private college. It was built in 1284 by Robert Burnell, Bishop of Bath and Wells, who was a friend and advisor to Edward I. His personal life - which included a long-term mistress who was rumoured to have borne him four sons – inhibited his promotion in the church, otherwise he would probably have been pope. The first parliament to include commoners was held in the barn here in 1283. The gable ends of the barn still exist and stand in the college's playing field.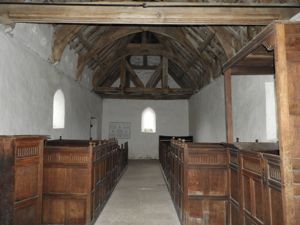 Langley Chapel Photo © Jayne Gutteridge
From there, we moved on to Langley Chapel, which has been disused for a very long time, and so retains its early 17th century interior, complete with seating round the communion table for puritans, and a singing desk at the back.
Langley Chapel


We had seen that there was a thatched, timbered church at Little Stretton, so we went and had a look at that, but it proved to be Victorian mock Tudor outside, and pitch pine boarded walls inside.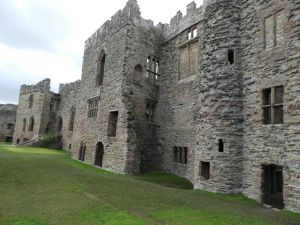 Ludlow Castle Photo © Jayne Gutteridge
After returning to our apartment for a light lunch, we decided to go to Ludlow for an evening meal. Ludlow has recently acquired a reputation as a gourmet centre. We have been before, and had a very nice meal in the Church Inn, whose menu at the time consisted of a thick, heavy folder of nothing but pies.
We decided to visit the castle, as we hadn't been in it before. It's quite impressive, and one can clearly see how it was altered and adapted for different uses over the centuries, with large Tudor windows opened up in the Norman walls.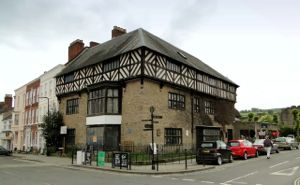 Castle Lodge
On our way out of the castle entrance, we saw a large Tudor building, Castle Lodge, with a board outside inviting visitors to ring the bell to view the inside. We were a bit dubious, but decided to give it a go. It was a startling revelation! The owner, Mr Pearson, opened the door to us and took our £3 each admission charge, then told us there were ten rooms open to view, and retired to his private rooms. Downstairs were three reception rooms, one with a painted and moulded ceiling, the next with an extremely grand moulded ceiling, and a third plainer room. All had magnificent panelling (rumoured to have come from Nonesuch Palace) and chimneypieces. A large bow window had some good stained glass. On the next floor were three impressive bedrooms, two with four-poster beds, and on the top floor, which is timbered, were four smaller rooms.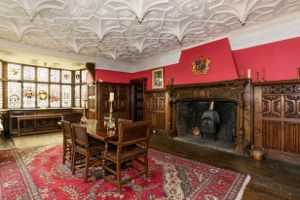 Castle Lodge
Returning to the ground floor, Jayne asked Mr Pearson about the house. He and his wife, who was a famous ballerina, bought the place 25 years ago. His wife died, and he has lived there alone ever since. They spent a lot of money on restoration and repairs, and I have since read that they wanted to open it as a hotel, but could never obtain any grants or financial help.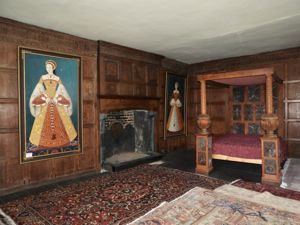 Castle Lodge bedroom Photo © Jayne Gutteridge
Understandably, as he is no youngster, he now wants to sell up and get out. The place has been valued at six million pounds, and he has it advertised at £900,000. He says he hasn't had a single enquiry. The fireplace in the main reception room alone has been valued at a million pounds.
Jayne asked him how many rooms there are all together, and he said twenty-three. To be a mansion, he says, a house has to have over twenty-one rooms. The Authorised Version quote, "In my Father's house there are many mansions" came to mind. It is often interpreted in modern bibles as "there are many rooms", but to the 17th century reader, the idea of many mansions in a house would have made sense, I think.
Castle Lodge
Feeling somewhat sad after our meeting with Mr Pearson, we went and had a look round the church, but it was still too early for a meal, and the Church Inn didn't seem to have such an appealing menu as previously, so we returned to Church Stretton and had excellent Lamb Shank at the Buck's Head.
So concluded our very enjoyable short break in Shropshire.
Text © Chris Gutteridge 2017.
Photos © Jayne Gutteridge 2017 except Castle Lodge exterior and ceiling pictures.