Chris Gutteridge's Neterlands blog June 2016
We're just back from a great visit to the Netherlands to attend the 7th International Festival of Town Pipers in 's-Hertogenbosch.

First, though, we stopped off in Utrecht for a day – a beautiful old city with a splendid cathedral and separate, very tall, campanile tower. Dutch campaniles are slightly strange to the ear – it takes a while to pick out the tune from amongst the clanging of the supposedly harmony bells!

We all know that in the Netherlands, the bicycle is king, but in Utrecht they seemed particularly numerous and fast! Dutch cyclists rarely slow down or take avoiding action, but manage to synchronise effortlessly with each other. We saw many prospective mass pile-ups, but never witnessed a single accident, the cyclists passing between each other in all directions with only centimeters to spare, whilst chatting with each other or using their mobile phones.

The Dutch bicycle is very much a workhorse. Young ladies dressed up for a night out, businessmen on their way to work or teenage boys just getting from A to B are all equally happy on the traditional "sit-up-and-beg" Dutch bicycle (much more comfortable to ride than our mountain bikes and such like) and are not bothered if it's old, rusty, clanking and creaking. Girlfriends sit side saddle on the luggage rack over the back wheel; children, shopping, workmen's tools etc. are often carried in a large wooden container on the front.

I won't say too much about the actual 7th International Festival of Town Pipers here, as it is being and will be well reported both on facebook and on the International Guild of Town Pipers' website www.townpipers.org.uk.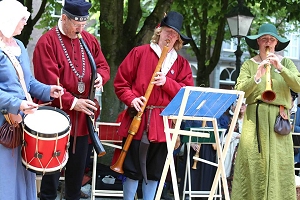 The Family Band.
King's Lynn Waites playing in 's-Hertogenbosch
l-r Jayne Gutteridge, Chris Gutteridge,
Erik Martens & Lizzie Gutteridge.
Suffice to say that the Stadspijpers were, as they always are, excellent, thoughtful and generous hosts, the Bosch festival that we were part of was very atmospheric and interesting, and the city of 's-Hertogenbosch is beautiful and welcoming. We (the King's Lynn Waites – an infinitely re-inventable band, consisting on this occasion of David Hall, borrowed from the Colchester Waits, Jayne, Erik Martens and myself) had a great time performing around the city and taking part in the "Great Noyze" of 11 bands playing together.

Before all the jollifications started, we joined Lizzie and Erik in a virtual experience underneath the Stadhuis. This year marking the 500th anniversary of the death of the painter, Hieronymus Bosch, the city is celebrating their famous son all year, and our festival was just a small part of those celebrations. The virtual experience was a trip through the weird and wonderful worlds of Bosch's paintings. Riding on the back of a fish, we visited his idea of heaven, earth and hell. The effect was stunning as we swooped down from our entrance high on a hill to get intimately involved with many of his characters. The fish I rode on flapped its fins and tail convincingly (I was actually just sitting on a plastic cube) and it was tempting to take a huge breath before being plunged under water. When we explored the gloomy crevasses of hell, we turned a corner to be greeted by a naked man being raped by a very amorous pig. I heard Lizzie exclaim, "Oh, David Cameron!" which was precisely what I was thinking. If there were such a place as hell, I'm sure that would be his fate.

One of the many "medieval" stalls that particularly interested me in the fair that was running alongside our festival was that of The Dutch Luthier. This young man had a stall of various instruments that he had made, but two that caught my eye were his "Bosch Lute", a work-in-progress which will be a copy of a lute from one of Bosch's paintings, and his copy of the only remaining Stradivarius guitar.

The lute has a back made from oak, rescued from an old table. I don't think anyone has attempted using oak for this purpose before. He has completed the rose of the lute, which has tiny Bosch images painted on it and a red LED nestling in the centre. He let me try the guitar, which was light as a feather (under 500G in weight, he says) and sounded gorgeous to my ear. He explained that, unlike modern guitars and most reproductions of Renaissance guitars, the Strad has no struts on the back of the body, and so he hadn't put any in. This means that the back is as much of a soundboard as the front, which could be demonstrated by playing the instrument held away from one's body, and then against it. In the former position it really sang!

The Saturday evening, the Stadspijpers treated us to a splendid barbecue, during which we were entertained by a guitar and flute/whistle duo. Also, the Colchester Waits treated us to their rendition of the Dr Who Theme arranged for Renaissance shawm band and the Stadspijpers played us some pieces, ably assisted on percussion by Ruth, who was in charge of the Colchester Waits for the weekend whilst Lizzie played with Blondel and The York Waits.

After playing on Sunday, Erik invited us to join his family in celebrating his father's birthday with a splendid meal at a local restaurant. As well as his parents and brother and sisters, a high proportion of his nieces and nephews were also present, making for a sizeable family gathering. Erik's father insisted on paying for all, which must have made it an expensive birthday for him!

Returning to the hotel for a drink, we were surprised when Arngier, from Blondel, walked through the door, as he was supposed to be on a plane back to the UK. He had discovered on arrival at the airport that he didn't have his passport, which he hoped he had left in his instrument case which Lizzie and Erik were taking home for him. After a brief panic when it was not found there, it was tracked down to the bag that the drum he'd been playing was packed in. The hotel obligingly found him a room for the night at a discount, and calm was restored. As his passport is Icelandic, sorting things out if it had been lost might have proved difficult.

Next morning, we set out for Amsterdam. I'd never been before, but Jayne had. The place was full of tourists! Strange that one is never a tourist oneself. It was also grubby and litter-strewn compared with other towns in the Netherlands. After a glass of Sparkling Ice Tea in the restaurant attached to the tourist information, we set off up the main street, and found a supermarket behind the palace where we bought a few essentials, such as tea bags, milk and beer. And so, dragging our now-clanking hand luggage behind us, we sought out the Number 21 bus to Westergasfabriek http://www.westergasfabriek.nl - an unglamorous name for what turned out to be a beautiful park, nature reserve and general entertainment centre with fine cafés and restaurants, where the gasworks used to be.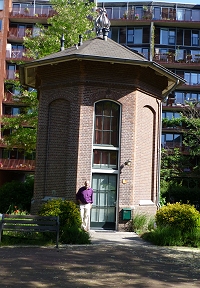 Hotel de Windketel
Our self-catering home for the next few days, hotel de Windketel, was just across the canal in the centre of a residential complex which had once been the waterworks. The pump house is now a good restaurant, and our home was a little tower in the middle of a square. Its original function seems to have been (the translation of the Dutch explanation was a bit confusing) as a sort of safety valve for the steam pumps that pumped the water supply. It used to contain a large copper "kettle" which operated something like the header tank on a central heating system (I think).

We had a well equipped and spacious semi-basement kitchen-diner, a comfortable first-floor living room then, via a spiral stair, and situated under the roof, where the kettle once was, a bedroom cum bathroom. It was all well thought-out and delightfully eccentric, though I struggled a bit with the stairs. Apparently, when the residential complex was built, the residents didn't want to loose the windketel, so they got together and decided to turn it into self-catering accommodation. They run it between them and share the income.

The next day we took the tram into Amsterdam and did the touristy things. On the way from the tram stop to our first destination, we happened upon a bead shop, so that caused some slight delay. After that, we plunged into the old quarter and wandered around, pausing for sparkling ice tea from time to time. The weather was hot all the time we were in the Netherlands, and sparkling ice tea is the most refreshing drink I have ever come across. Unfortunately, it seems unavailable in the UK. The still version is available in several flavours, but it just doesn't hit the spot.

It's difficult to accept that a lot of the buildings are as old as they actually are at first. There are far too many tourists. The red light district is rather tawdry, and more low-key than I'd anticipated.

We did the canal cruise, which was pleasant and interesting, and I think the city makes more sense from the water. Drinks were being sold on board, and lolling opposite us was an orange creature dressed in white lace. She had blond hair, pneumatic breasts and lips sculpted by collagen into the shape of a duck's bill. In one hand she clutched a glass of pink champagne, and in the other she held an enormous spliff. Her boyfriend looked small and insignificant beside her. The boat's "hostess" enquired where she was from, and she replied, "We're from Essex". Jayne and I turned to each other and simultaneously muttered, "I would never have guessed!"

Back on dry land, a group of four Americans were wandering down the middle of a street which was clearly marked every couple of meters with a picture of a bicycle, and ignoring the wide pedestrian pavements on either side. Cyclists weaved round them, ringing their bells, and one pointed out the pavement to them as he rode past. One American remarked indignantly that the cyclists might at least have the manners to say, "please excuse me", or some such, at which point, I'm afraid the phrase, "Bloody Americans" escaped my lips rather loudly. They glared at me, but they got on the pavement. I do apologise to my lovely American friends for this unwarranted generalisation!

It was all very interesting, but in the end, I think we were quite pleased to retreat to the western suburbs for a relaxed evening meal at a good restaurant, and then to the sanctuary of our windketel.

For our last full day, we decided to take the train to Zaanse Schans, an open-air museum which was in the industrial heartland of the Netherlands in the 17th century http://www.dezaanseschans.nl/en/. It still has a very active chocolate factory!

The museum is set out as a delightful village of original buildings by the river. We started with the clock museum, which was fascinating, and after a break for refreshments, went on to view the windmills along the riverbank. Most of these were working and producing. There was a spice mill, two peanut oil mills, a saw mill and the one that we chose to view was a paint mill, which ground the traditional minerals and vegetables for making artists' colours.

This particular mill and several others were covered all over in reed thatch, which surprised me. Windmills are already susceptible to fire, being built of wood, and operating with a considerable amount of friction, without covering them in highly inflammable thatch! They are also often destroyed by lightning strikes, so it was remarkable to see so many old ones lined up one after another.

Other attractions included a hemp weaver's workshop which had recently been rescued from demolition. It was used for making strips of sailcloth on handlooms. The main museum was very interesting and included a chocolate and biscuit factory where you could try your hand at being a virtual biscuit maker or chocolate packer. We failed miserably, but were rewarded with a real biscuit each.

The main thing that had attracted Jayne to this visit was the clog maker's, as she was after a pair of modern clog-shoes, and she found a pair with wooden soles and heels and leather uppers. I'm afraid I got carried away and bought myself a pair of traditional clogs, or to use the delightfully onomatopoeic Dutch word, klompen. Whilst Jayne was perusing the ladies' fashion clogs, a noise erupted from the wooden staircase behind her that sounded as if the building was being demolished, but it was only a member of staff running down the stairs in his clogs.

We were given a demonstration of clog making, which is done by a machine similar to a key cutting machine, using a clog form to control the cutter, producing an exact copy. The most dramatic part was after the clog was made. They are cut while the wood is green, and then gently kiln dried. To show the amount of moisture in a newly made clog, the demonstrator blew into it, causing water to pour out of the toe!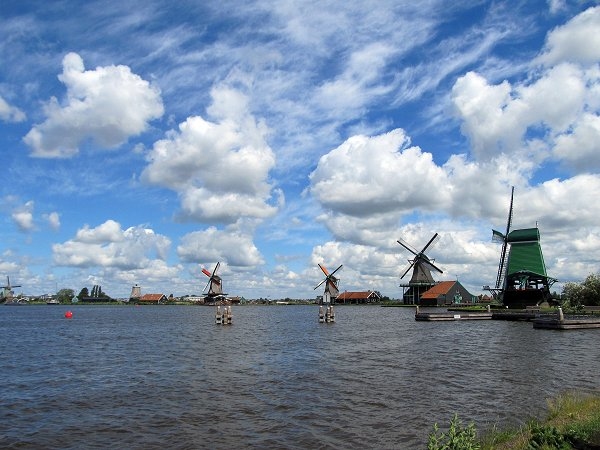 Zaanse Schans was definitely the highlight of our visit to the Amsterdam area.
© Chris Gutteridge 2016