Chris Gutteridge's London Experience. March 2018
Day 1 - All's Well That Ends Better Thanks to Jayne, celebrations of my 70th birthday started with a holiday in Sussex a month before the date and have continued ever since One of the many presents and treats that Jayne gave me was a "Whiskey Tasting Experience" in a posh London Hotel. We elected to experience it this March, as it fits in with other things. There have been several problems with this Experience - date changes, random emails sent to wrong people, and other confusions, but the final straw was when they contacted us a few days before the event to say they weren't doing whisky tastings any more, and in the circumstances they were prepared to give us a full refund, which was jolly condescending of them! The refund went well on the way to buying me two bottles of 15 year Glenlivet, so I'm happy. This left us with an already booked trip to London, so we went and looked at some things we both wanted to see. Jayne had booked us into a slightly eccentric B & B in Fitzrovia - a quiet, slightly Bohemian area, with masses of interesting shops and eateries. It was a five-story building, one room wide, which had once been a dressmaker's. The basement and ground floor were occupied by a business which was in the process of setting up. On the first floor was a self-catering suite, and on the next were the two bedrooms available for B & B. We had the one on the front of the building. On the half landing above was a tiny kitchenette where our host prepared our breakfasts which he then brought to our room as there was nowhere for a dining room. He and his wife and dog live on the floor above that, and they have a rooftop garden and greenhouse above that. He said if we wanted a cup of tea, to help ourselves to milk from the kitchenette, but if we didn't like unpasteurised milk, he would pop out and get some pasteurised for us. We said not to bother, unpasteurised would be OK, but when Jayne went to investigate she found two bottles in the fridge, the contents of which had turned to cottage cheese, so we decided we didn't need tea and would set off straight away for our first place of interest, the Wallace Collection, home of, among other things, "The Laughing Cavalier". We had a pleasant lunch in their caf&eacute. I was taken with some of the very early pictures and artefacts, but my favourite paintings were the 17th century Dutch scenes of ordinary life - peasants working, drunken celebrations in pubs, etc. However, I was very taken with Sir Joshua Reynolds' portrait of Nellie O'Brien, Viscount Bolingbroke's mistress. I'm not sure to what extent it was because it had recently been cleaned and conserved, but her personality seemed to shine out at one. Apart from paintings and furniture, there was a large exhibition of arms and armour, together with an 18th century trumpet inscribed "IOHANN . WILHELM . HAAS . IN . NURNBERG". It was all very interesting and beautifully presented, but we found the silk wall coverings and the heavy furniture and candelabras verging on gross. We then started on a quest for a pair of walking shoes. I had seen the design in Millets in Monmouth a few weeks ago, and liked them, but they didn't have my size, so we set out to a branch of Blacks, which is the same firm as Millets, but they didn't stock them. That evening we took a stroll round Oxford Street, Regent Street and Piccadilly Circus, visiting another branch of Blacks to no avail, and returning via a very dull and uninteresting Carnaby Street. We worked out later that we'd walked over five miles during the day.
Day 2 - Life In Office Across the road from our B & B was an office, where we had seen people hard at work until gone 7pm the previous evening. By the time our breakfast arrived at 8.15 they were back at their desks, eating their fast food breakfasts as they worked. Our host brought in a huge tray holding bowls heaped with fresh fruit, yoghurt, fresh orange juice and coffee strong enough to make you sit bolt upright, and returned with a tray of cooked breakfast and toast. So replete were we after this that we consumed nothing but a cup of tea until the evening when we had beer and sandwiches. Our first sally was the furtherance of the walking boots quest. We headed for the City, and at the second attempt, in a branch of Blacks in St Paul's Churchyard, found what I was looking for. On our previous visit to London I had wanted to visit Westminster Abbey and Westminster Hall, as I had never been to either before, but both were closed then, so we tried again this time. Guarding the gate to the Abbey grounds was a man who seemed to be dressed in the uniform of a Cossack cavalryman - a pleasant chap with a foreign accent, who confirmed that, although photography wasn't permitted in the abbey, they wouldn't confiscate Jayne's camera. We entered the abbey, which we found to be crammed with monuments. The largest and most tasteless, with larger than life symbolic females draped all around them, were to military men and aristocrats that I'd never heard of, whereas composers, authors, scientists and poets had more discreet and tasteful plaques or simple floor tiles. Passing Dr Blow and Henry Purcell amongst many other musicians (it was like meeting old friends), we found Isaac Newton and Darwin in the nave, and ancient kings crumbling in a dignified fashion behind the altar. The recently restored medieval floor before the altar looked splendid. I was amused to find that Elizabeth I had been buried on top of her step sister, and surprised to find that Catholic Mary Queen of Scots had a tomb across the way. In poets' corner the ancient tomb of Chaucer was crumbling away in the same way as those of the kings. We sat here for a while to rest, and I was amused to see that Larry Olivier, despite the amount of money and pulling of strings he engaged in to make sure he became the first actor to be given a peerage, was just marked as Laurence Olivier, Actor; whilst right next to him was 'Sir Henry Irving'. Benjie Britten went to similar trouble to become the first composer to be given a peerage and is down as just Benjamin Britten. Death, the great leveller!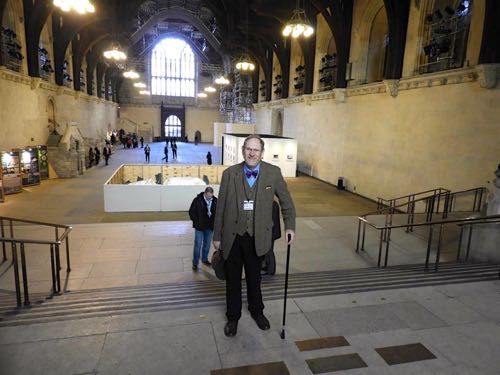 As Jayne has already written elsewhere, you have to lie to get into Parliament. I've long wanted to see Westminster Hall - the only remaining part of the original Palace of Westminster. Built in 1099 by King William Rufus, and with a splendid 14th century hammer beam roof, it has seen so much of our history. Now, except for certain state occasions, it is little more than a passageway leading into parliament itself. I approached the lady on the gate and said I wanted to see Westminster Hall, and she told me I shouldn't say that, but should say that I wanted to see a debate. I would have to pass through the Hall to reach the public gallery. However, PMQs was in progress, so I wouldn't get in as it was too busy - would I like to come back later? So that was when we went to the abbey. Coming back to the entrance, I couldn't bring myself to just baldly lie, so said to the man on the gate that I understood that if I wanted to see Westminster Hall, I must say that I wanted to see a debate. He gave me a large, green card which would give me access to the public gallery, and we were then asked if we had any of the things on their display board, such as a gun, a knife or a whistle. Jayne then remembered that she had her Leatherman in her bag (if you don't know what a Leatherman is, it's like a Swiss Army Knife, only more functional, with more useful tools on it) and she was escorted over to one of the police officers lined up behind the gatekeepers. He wanted to know if it had a 'locking blade', but shied away when she tried to hand it to him. In the end he said he'd radio through to security, who would take it from her and store it while we were inside. At this point, Jayne remembered that she might have another knife with her, to which the officer asked, "What do you need two knives for?" "One's got a bottle opener, and the other's got a corkscrew and..." "OK, you had me at corkscrew". Security was identical to what one finds in an airport, so I had to give up my walking stick, trousers belt and pocket watch to be scanned. And so we entered the hall, which is just as vast and impressive as I'd imagined. In Pepys' day it was used for courts, all taking place at the same time with no partitions, and with booths selling all manner of things as well. It was here that parliament met before they had their own Commons and Lords chambers, and it was here that Charles I was tried for treason. Coronation feasts and lyings in state still take place there. Among the displays I saw mention of an early 20th century survey which found that the massive hammer beams of the roof, each with an enormous carved angel on it, had dropped five inches in the previous 600 years, which isn't bad going! So we left without visiting the public gallery, and Jayne returned to security to be re-united with her Leatherman. As the security man retrieved it from his cupboard, I noticed that among the dangerous items listed and categorised on the inside of the door was a skateboard. The security man escorted us off the premises, but decided to trust Jayne with her offensive weapon a few yards before we got to the gate. Jayne had noticed a shop called "Scandinavian Kitchen" down the road from our B & B, and as we have visited her younger son who lives in Sweden, we knew of items of cuisine we would like. We found the brown sauce for meat balls, and the cloudberry jam, and after a text conversation with her son, Jayne also chose some marzipan sweets and a large piece of cheese. After taking our shopping back to the B & B and having a cup of tea, we decided to take a walk to Regents Park, where we visited the formal gardens and the wildfowl ponds. Very pleasant on a sunny early evening. We found we had again walked over 5 miles during the day. Returning to our B & B, we found the office workers still hard at it across the road. The building had no information on it to say what companies occupied it, and I became so intrigued as to what they were working on that I have since looked them up. I'm not really any wiser. See what you think. Aspire
Day 3 - Home Again So full of another splendid breakfast we set off home after what we agreed had been our best London visit yet, leaving the office workers across the road eating their breakfasts and tapping their keyboards. Walking around London, one is constantly confronted either by people wearing earphones and talking loudly to themselves whilst gesticulating wildly, or people walking with their attention fixed entirely on the phone in their hands. We did meet one girl walking along reading a large textbook, but she seemed more aware of her surroundings than the phone zombies. Once on the train home, Jayne mentioned the fact that nobody in the carriage was engaged in a loud phone conversation for once. Several had earphones on, including one young man who had his classical music so loud we could all enjoy it. No sooner had she spoken than the man behind her phoned his colleague "in chambers" to bemoan the fact that he was having to go to Norfolk to "do an injunction". He then spent most of the rest of the journey picking his colleague's brains about abstruse law and getting him to look things up. Across the aisle, a girl who got on at Cambridge engaged in a seemingly endless and repetitive argument on her phone, insisting that the train is quicker than the bus, then veered off into one about the train being smoother than the bus, which got into a rut of "it is" repetitions, and "I've travelled on the train much more than you have, hun, and I know." It gradually became clear that she was going to Lynn to collect a cake, which she was going to bring back on her lap. As her stomach left very little lap to fit a cake onto, this did sound precarious. She then told 'hun' that the lady with the cake would be waiting for her at the station (the train was running nearly half an hour late by this time, so I felt sorry for the cake maker, presumably standing in the car park, cake in hands). "Yeah, she's got a shop, but that's in Gaywood, and I int goin up there, Gaywood's pants. Remember last time we went up Gaywood, when you went to the hospital and both our phones went flat and only Shel's was working?" As I had no book to read on the return journey, I was pleased to have all this in-train entertainment laid on. Having been picked up at the station by a driver from the garage where our car had been serviced in our absence, and collected our car, we drove home, avoiding Gaywood.
© Chris Gutteridge 2018