We've been to Kampen for the weekend to attend their Hanse festival.
Things didn't start too auspiciously. Knowing how airlines feel about musical instruments, we had taken Jayne's drum and my lysarden down to Lizzie and Erik for them to take in their car by ferry. At eight in the morning of our late afternoon flight, Lizzie rang to say she'd just realised, as they drove off the ferry in Holland, that she'd forgotten to pack my Lysarden.
So an early start, via Mark's Tey, to pick up my instrument and re-pack my underwear in its case, as Easy Jet will only take the instrument case in the cabin with no hand luggage. Drove to Stansted and decided to confirm that the Lysarden was acceptable as cabin luggage. The girl on the Easy Jet desk said yes, that's fine, so we set off to find our long-term car park. What with our instructions from purple parking assuming we would come down the M11 as we had intended, and somebody having altered the road system since last time we went that way, we ended up heading south down the M11 to Harlow and back.
Finally parked, we went through security. As I had other things beside my instrument in my instrument case, they wanted to have a look at the contents, so a charming young Asian lady opened it up and started removing my underwear etc. She pulled out my Lysarden and handed it to me, saying, "would you like to hold your horn for me, sir?"
At boarding, Jayne was told that she couldn't have her handbag (now bulging with my possessions that wouldn't fit in the lysarden case) and her case, so we had to stuff our pockets with sundry items so we could cram her handbag in her case. I was then threatened that I might have to put my instrument in the hold, but when I got on board, the stewardess smiled sweetly and said she was sure it would fit in the overhead locker.
Once settled on the train to Zwolle (Kampen station was closed for work on the line over the festival period!), Jayne tried to text Lizzie to tell her when we would arrive, using her new, wonderful, BT package for her mobile phone. It didn't work.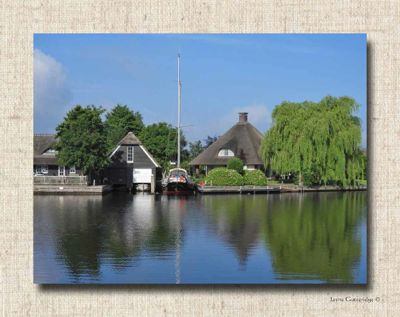 The view from our window. Photo © Jayne Gutteridge
At Zwolle, Jayne asked a young man sitting on the station steps if there was a public phone. "What, like those there?" he asked, pointing to the two kiosks about two meters away. I think, by then, our brains had fried. However, the instructions on the screen were very faint, and pressing the "English" button had no effect, so she accosted a station cleaner, who obligingly lent her his company phone, but we couldn't get through. At that point, Lizzie and Erik turned up and whisked us away to our accommodation at Camping de Blauwe Hand – a very roomy static caravan, about a meter from the water's edge. Here's the view from the window:
On our way there, I noticed a pair of storks in a field, which I took as a sign that our luck was changing for the better. Whether the farmer who was cutting the grass would agree, as they were gathering up great swathes of it, presumably to carry off to build their nest, I'm not sure. We were soon settled in our temporary home and consuming beer on the patio. A man went past walking his pet fish – at least, that's what he appeared to be doing. He had a line in the water, and was strolling along with it. Every so often the rod would bow and he would pause, presumably to let the fish sniff something or relieve itself. Occasionally a boat would go past and the road bridge would open up to let it through. We watched the sun set over the lake. Then it was time for bed.
Next day I woke early and decided to do a bit of sunbathing on the patio. As I stood on the doorstep, a voice said, "Hello!" I looked all around, and then the voice said, "down here!" and there was Lizzie swimming along beside the riverbank. As she said, the water was tea-coloured, but apparently fine to swim in. Steps into the water and a water slide were provided, but it didn't appeal to me.
As this was the day before the festival started, we went to have a look at Kampen and get our bearings. It's a charming old town with three massive gates, a cathedral, town hall, and a very impressive campanile tower with 36 bells, which seemed to be wasting its tremendous potential on a rendering of "Doe – a deer". This was not improved by somebody frantically ringing a church bell in a different key as fast as they could.
The campanile tower had a life-size plastic cow hanging from it. We enquired of a local as to the reason for this, and were told that many years ago the residents of Kampen noticed that grass was growing on top of the Campanile, so, in a spirit of "waste not, want not", they decided to hoist a cow up there to eat the grass. They tied a rope round its neck and hauled away. As the cow started to choke to death, its tongue protruded, and the people agreed the cow was so hungry that it had put its tongue out ready to grasp the grass. You don't need me to tell you that it didn't end happily.
Back at our home on the riverside, we had a short rehearsal, then sat and relaxed. Many of the properties were privately owned, and one of the owners spent a good half hour gently discussing his two square meters of garden with his next-door neighbour. Later, his wife came out, and they discussed the same garden for another half hour. The Dutch seem to have an infinite capacity for discussion.
Next day found us in Kampen ready to start our performances. Our first one was on the stage belonging to the city of Rostock, on the riverside. After showing ourselves so that they knew we were there, we strolled round to see our old friends at the Kamper Cog, the replica of a medieval trader, which had visited the King's Lynn Hanse Festival a few years ago. We went on board where a very talented slide trumpeter with a drumming and singing lady were performing, and when they finished we played a couple of numbers together with them.
The river was thronging with tall ships, traditional Dutch sailing vessels and other historic vessels as we made our way back to our performance venue.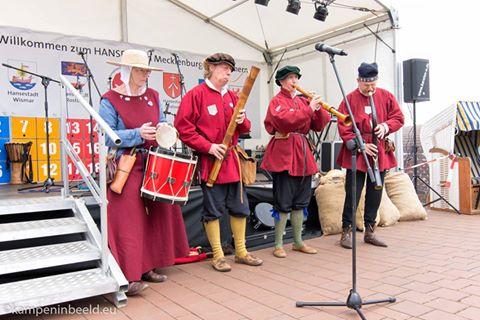 Performing for Rostock
The local duo from Rostock were on before us warming up the crowd, and then we did our first proper set, which was well received. On our way to our next performance we passed a shoe shop selling clogs, which we'd noticed the day before. As Erik had almost destroyed his clogs digging the footings for his new workshop, he stopped off to buy a new pair. The shopkeeper soon found a pair that fitted comfortably and the transaction was made. There then followed a long, Dutch discussion before we finally moved off, accompanied by the merry sound of Erik's klompen.
For the rest of the day we toured the town, performing at our other designated stage and also at the King's Lynn, Boston and Hull tent. Every town or village with historical connections to the Hanseatic League was represented in tents which stretched from one end of the town to the other, some offering local delicacies or local products to the public. The town was a little quiet, but it was a Friday, and the really big crowds were expected on the Saturday.
There were other bands and musicians about, and choirs. There was a large medieval encampment outside the gates and regular re-enactments of the storming of one of the gates. The whole festival was a massive and well-organised event.
The weather was warm, but breezy, so Lizzie and Erik had opted for their Tudor bonnets rather than their broad brimmed hats. When we got home, we found that Erik had left his hat on the park and ride bus.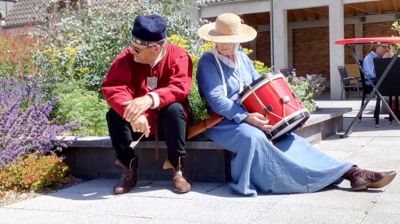 Chris & Jayne relaxing. Photo © Lizzie Gutteridge
The park and ride, set up specifically for the event, was a big undertaking, involving dozens of coaches. For the first day we had our own, participants' field to park in, separate from the public area, and Erik took us in there again, having misinterpreted the steward's vague hand signals. Apparently he was trying to wave us on to the public area as they had decided to close the participants' area. A lot of people had done the same, so there was a large crowd of people waiting for coaches. Two full coaches pulled up to try and cram in these extras, and the driver from the lead coach leapt out, waving Erik's hat in the air. We climbed on his coach, which was literally packed with people, and as last on, I just managed to squeeze onto the steps and hang there for our journey, leaning forward as much as I could so the driver could see his mirror.
Our performances were at the same venues as before. The main difference being that the town was packed with people. Apart from the Rostock stage and the King's Lynn tent, our other official venue was in the courtyard of a complex of flats, old people's home, restaurant, library and museum. Elderly ladies in wheelchairs and children playing in a sandpit shared this space with restaurant customers and others, while residents sat out on the balconies of their flats. An excellent idea.
The weather was cooler than the previous day, with the occasional sprinkling of rain, which made things more comfortable for us in our woollen livery coats. Other bands played on stages, at their city's tent, or just wherever they could find a bit of pavement. There were gorgeous-sounding traditional hunting horn choirs, folk singers, brass bands, wind bands, accordion players, a classical violin duet and many others.
Jayne's and my favourite drink when in the Netherlands is Sparkling Ice Tea – refreshing, invigorating and cooling – and we drank several over the weekend. For some reason, we only seem to be able to buy the still version in the UK, which is nowhere near as agreeable.
After a full day of performances, we returned to our home by the water to relax and drink some beer, ready for our final day of performances.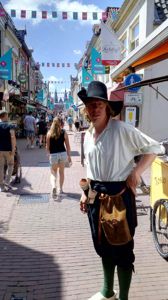 Erik. It was very hot! Photo © Lizzie Gutteridge
For our last day, the temperature climbed into the 30s. We had a later start as we were not performing for Rostock. Whilst Lizzie and Erik went to put our things in the King's Lynn tent, Jayne and I sat outside a café, drinking Ice Tea and coffee. A young man who resembled Van Gogh came up the street, calling out to the café proprietor for a beer – one got the impression that this was his breakfast. I tried to check whether he had a full compliment of ears, but with his big, bushy beard and his straw hat it was hard to tell.
He soon introduced himself as Nathan Dillen – a kinetic sculptor – and showed us some video of his work on his mobile phone. He also told us about his 15 minutes of fame. His other occupation was playing Klezmer clarinet, and on his way home by train after a gig, a passenger asked him to play. He obliged, but despite the enthusiastic reception from his fellow travellers, the guard threw him off the train and he was fined €380. His story got onto the national TV, together with video of him performing. Here's an article with the video: https://slippedisc.com/2017/01/clarinetist-is-fined-for-playing-klezmer-on-dutch-train/
In addition to our set performances, we went over to the medieval encampment, where we got chatting with some musicians, which lead to a jamming session, and then on to an artist, who made his own colours by traditional medieval methods, where we played "Summer is Icumen In" from the illustrated manuscript on his stall.
Jayne bought some eucalyptus impregnated honey chips, and some menthol ones, from one of the stalls we had visited previously, which she found helpful for alleviating the symptoms of her heavy cold, and a very nice pair of pattens from a young Polish lady.
Erik's parents caught up with us while we were having lunch. I was having a giant meatball and fried potatoes with salad. Jayne was trying Uitsmijter, which consisted of a base of bread and butter with layers of cheese alternated with slices of beef and ham, and topped by three fried eggs.
Some re-enactors who had stalls behind the cathedral had visited the King's Lynn tent in our absence, inviting us to go and play for them, so we went to visit them. One of them was sitting playing a cornetto, which he had started learning to play a few weeks before, and was doing incredibly well on such a difficult instrument. He was already a very proficient recorder player. We played some music together and had a pleasant chat. Jayne found a lady who was doing the medieval equivalent of Kumihimo braiding, and they had a pleasant discussion on braiding and beading.
On our way back past the cathedral we went inside to have a look. It had an impressive looking baroque organ and a wonderful acoustic, so after we had a look at the art exhibition at the rear of the church, we asked permission to play some music. We chose "Belle Qui Tiens Ma Vie" as being a slow pavan that the lively acoustic could cope with, and it sounded wonderful. A man with a mobile phone recorded us: https://www.facebook.com/martin.brush.1/videos/909375462536361
And so we came to the final procession. As we made our way to the start, Jayne and I saw a row of five gleaming sousaphones ahead. A smooth, creamy pianissimo brass band tune crescendoed slowly, until with a fortissimo blast and a sudden leap forward, the band marched off. We hurried to catch up, but they soon stopped again, with a percussion riff. They were wearing uniforms with silver capes and helmets with red plumes (except for the sousaphone players, as helmets would have got in the way of their instruments). They danced and swirled, and then the trumpets all snapped into position as one, all tested their valves simultaneously, and the band was away again. This was the Kampen town band – an American-style marching band – and their discipline, choreography and musicality were faultless. They came to a silent halt just short of the assembly point for the parade, and we all stood around in our groups – we with the King's Lynn representatives. We played a couple of tunes to entertain the crowds, and then the Kampen band struck up again and came wheeling round the corner, driving a path through the crowds to take their place at the head of the procession. The parade came to an end at the main stage on the riverside, where a Beatles tribute band struck up with "All You Need is Love", segueing into "She Loves You". And so we collected our possessions from the King's Lynn Tent and headed for the coach.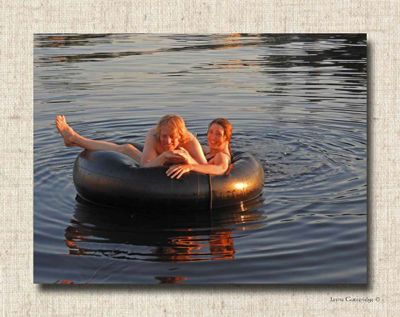 Lizzie & Erik relaxing. Photo © Jayne Gutteridge
Back at the campsite, Lizzie and Erik took to the water, playing with a giant inflatable ring, and launching themselves down the slide into the water. I sat and watched, and Jayne photographed the proceedings: https://www.facebook.com/jayne.gutteridge.5/videos/1415817978460981/
Next morning, Lizzie and Erik dropped us off at Zwolle train station and we had an uneventful journey home. I'm trying a new anti-inflammatory drug for my arthritis which is proving very good, but I had taken my walking stick in case of relapses. It proved very handy at Schiphol, where Jayne and I were sent straight through to Premier Boarding, and again at Stansted, where we hit the back of an enormous queue for passport control, and were passed through the crew channel to the front!
When we got home, tired and hungry, Jayne set to and made a Welsh version of Uitsmijter – toasted cheese on toasted baps with sausages, bacon, fried egg and baked beans. With a cry of, "Eet smakelijk!" I tucked in. It was lekker. It was also lush.
The next day we drove down to Mark's Tey to collect our instruments and dirty washing, and an outer of giant bottles of Sparkling Ice Tea that Lizzie and Erik had bought for us before boarding the ferry.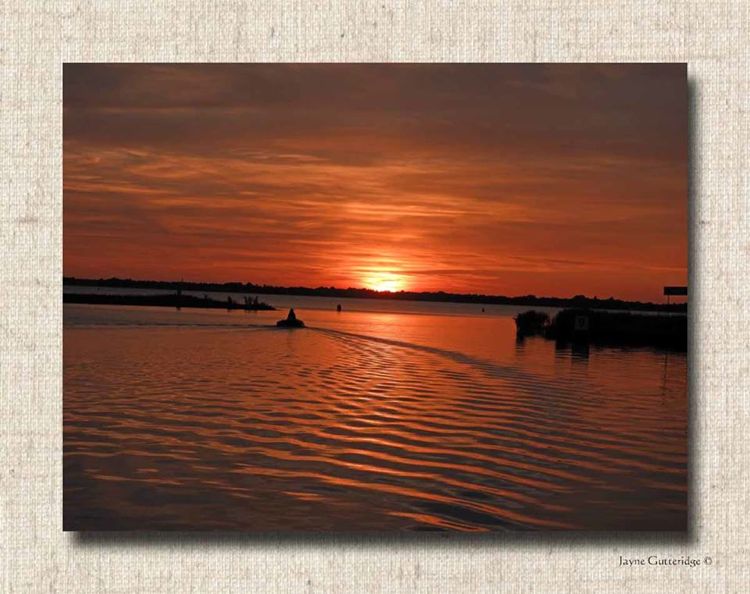 Sunset at Camping de Blauwe Hand. Photo © Jayne Gutteridge
Text © Chris Gutteridge 2017