Chris Gutteridge's Dorset blog May 2016
As Hunstanton Concert Band was performing on Saturday afternoon - albeit, due to several separate instances of illness, a "fig leaf band" (all the important parts were covered) – we set off that evening and spent our first night in Milton Keynes, in a motel on the bank of the Grand Union Canal, which had a splendid view of the marina from our bedroom window.
We went for a stroll over the canal bridge and into the village of Woughton on the Green. For some unknown reason, in the 16th century, the centre of the village was abandoned, and the houses allowed to fall into decay. New houses were built round the edge, and the large, lumpy area of grass where the village used to be is now the green. An idyllic, peaceful English village, hidden away close to the insane grid of bustling dual carriageways that is Milton Keynes!


Woughton on the Green
We made a very early start next morning, and stopped off at the Haynes Motor Museum. The car parks were crammed full with vintage and classic cars. We managed to find a space for our Yeti in a row of Bentleys and Rollers.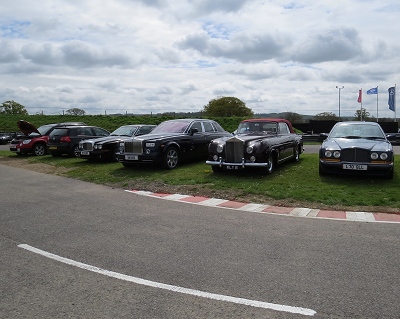 Our Yeti, parked with the other smart cars.
I noticed that several people had left the bonnet up
so that one could admire the engine,
so I thought I'd better do the same.
Here, I learnt that Mr Haynes started writing his manuals as a teenager, when he bought an old car just after the war. As all our sports cars were being exported to help pay off war debts at the time, people would buy old Austin 7s and convert them into sports cars themselves. The difference with young Haynes was that he wrote down everything he did for the conversion.
Having sated our appetite for veteran, vintage and classic cars, and also for cheese scone, carrot cake and coffee, we continued our journey via Cattistock, to visit the Dorset Knob Throwing and Frome Valley Food Festival. The place was heaving and the food and drink stalls were enticing. Having bought beer, cider and cheese for later, we lunched on delicious lamb and cranberry hot dogs and visited all the other stalls.
In addition to the Knob throwing, there was a Knob and spoon race for the children, Splat-the-Knob, Knob putting, pinning the Knob on the Cerne Giant and a Knob eating contest. Some of you may be relieved to learn that a Dorset Knob is a biscuit. It's actually shaped like a small bun. We tried one at a cheese stall, where they were being given away with cheese samples. With a very nice creamy blue cheese on top, it wasn't too bad; but basically, they are very dry, more or less flavourless and extremely crunchy. I can quite see why they prefer to play games with them.
Arriving in Lyme Regis, we found the car park, half way up a steep hill, and found our holiday cottage, half way up another steep hill with pedestrian access only. By the time we'd carted our luggage down one hill and up the other, we were exhausted!
We were woken the next morning not by seagulls as we had anticipated, but by church bells. It seemed a bit early to be ringing at around 7am. As we wandered around the town during the day, the bells were still ringing, though they didn't sound very loud, and I concluded that it was a recording being broadcast from speakers in the church tower. However, we decided to visit the church at around 4pm, and as we entered under the tower, we could hear and feel the thudding as the peel of eight bells was being rung! While we were in the church, the ringing resolved into plain rounds and then stopped, and as we left and walked off down the street, the ringers started ringing down in rounds. They were excellent ringers, and the bell chamber, I think, must be heavily insulated to reduce the volume.
Among other things, we visited the Dinosaur Museum, which was a strange mixture of very naff models and illustrations, a moth-eaten display of stuffed birds and animals, a fascinating display of animal skeletons, including hedgehog, toad, shrew and turtle, and masses of fossils, some of them really spectacular. The layout and display notices gave me the clearest explanation of the history of evolution on our planet I have ever met. I only hope I can remember some of it!
The next day saw us up bright and early to go fossil hunting on the beach with a guide from the town museum – an amusingly entertaining geologist with a fund of knowledge. Due to the bad fossil hunting weather (sunny and calm), there was nothing dramatic to find, but you can't walk a step without seeing fossils. Jayne found a large rock that was crammed full of Devil's Toenails (a type of prehistoric oyster), and our guide managed to extract a lump with a couple of good ones in for her. He also gave her (because she pointed out that it was her birthday tomorrow) a small rock with a couple of tiny ammonites in it. Along with various other bits and pieces, and comparing prices of what is available in the many fossil shops, I think we made a comfortable profit on the price of the guided walk.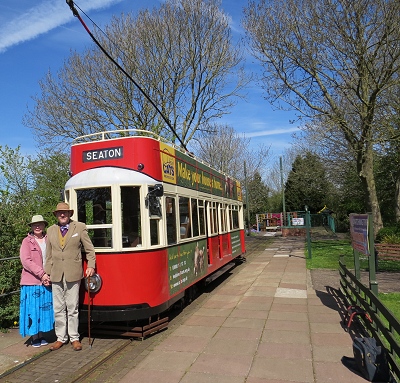 As we were the only passengers, and it was Jayne's birthday,
the tram driver volunteered to take our picture.
One can't go anywhere in Lyme without climbing, and as we did a bit of the coastal path, involving goodness knows how many steps to get to the top of the cliffs, on the same evening as the fossil hunt, it was pleasant to take the bus to Seaton for Jayne's birthday, on another bright, sunny day, and catch the tram from there to Colyton.
This tramline comes from Eastbourne, where it was closed in 1970. I remember seeing it there, though I never travelled on it. Trams, track and electricity poles were transported to Seaton and set up along a three mile long disused railway track bed running alongside the River Axe, with nature reserves on the other side of the track. We sat in solitary splendour on the open upper deck – the only passengers on the tram.
Jayne spent the day playing the Sixtieth Birthday card, and was treated accordingly, so we had a good day. The town of Colyton is quaint and charming, with an interesting history, and after a good wander round and an excellent pub lunch we headed back to the tramline and boarded a much fuller tram for our return journey.
Seaton itself is very quiet. Rows of beach huts on the prom with elderly couples sitting outside with glasses of wine and e-readers.
When we got back to Lyme we bought a small Victoria Sponge at the Co-op for a birthday cake. The cottage was equipped with birthday candles, but not matches, so the candle was easy to blow out.
For our last day in Lyme, we walked along the beach to Charmouth. It was so warm that I decided to have a swim, but the water only came up to my knees, with the occasional wave that was high enough to cool my ardour, before I found myself on a rocky reef, so I retired to the beach for a spot of sunbathing.
We had a nice lunch in Charmouth, then caught the bus back and did some shopping at the local microbrewery, which is in one of the outbuildings of the Town Mill. This watermill, after it ceased grinding corn, was used to produce the town's electricity for many years, up until 1947. It then became derelict and was scheduled for demolition, but it was saved and is now grinding flour again, and producing electricity, and its outbuildings have, in addition to the brewery, artists, a jeweller, a stonemason and a café. A very pleasing success story!
© Chris Gutteridge 2016