Chris Gutteridge's Chilterns break. October 2018
My Birthplace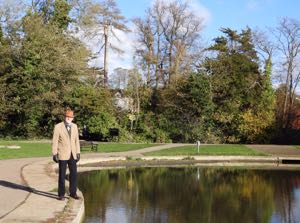 The model boating lake
Over seventy-one years ago, I was born in the front room of a semi-detached house in a suburb of St Albans. The event was witnessed by my two brothers. A neighbour was looking after them, but they sneaked out, gathered their friends, and went to peer through a gap in the curtains.

The house, indeed the whole estate of houses and the hospital where my father worked, have since been demolished. When they come to put up the blue plaque, it will have to be screwed onto a manhole cover in the middle of a busy road junction.

As we left St Albans when I was only three-and-a-half, I have very few memories of the city. I can remember having my marmite sandwich stolen by a sparrow in the back garden; and the time my father found me playing in an old jeep on the nearby allotments - they had been searching for me for some time, but I thought he was just worried that I might drive off in it. I also have a dim recollection of Dad taking me to Whipsnade Zoo, where I was convinced that a giraffe, leaning over the fence of its pen, was trying to eat his hair.

My main memory, however, is of leaving by taxi for our new home in Stafford, and being sick on the budgie's cage (luckily for the budgie, the cage had a cloth on it). The taxi driver was understandably furious. I remember he had waxed moustaches, and when we stopped for a cup of tea, he sat twirling them. I was convinced he had dipped them in his tea to make them stiff.

One traumatic event, however, I have no recollection of whatsoever. One day, apparently, Dad took us three boys out to the park. As he was about to set out, Mum handed him my coat "for when he falls in the pond", which I duly did. As I was pulled out, I apparently said, "It was cold and dark in there!"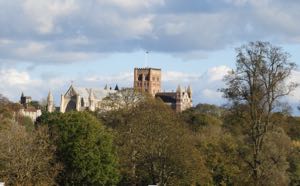 St Albans Abbey
So when we were looking for somewhere to have an autumn break, I suggested we should go and have a look at St Albans, as I didn't know what it was like. It's a very pleasant and relatively unspoilt town with some charming old buildings. The abbey (now a cathedral) is very impressive, having many Medieval wall paintings. The newly re-built shrine of St Alban is overlooked by a 14th century "Watching Loft", from which monks and pilgrims kept their vigil. From outside, the central tower and choir can be seen to be built with bricks and stones robbed from the old Roman town of Verulanium, giving it a warm, ruddy appearance. Next to the cathedral is the massive abbey gate which has been appropriated by the school next door, and the ground falls away to the river valley, on the opposite side of which Verulanium once stood.

The valley floor was dug out in 1929 to make work for unemployed men during the depression, giving a long ornamental lake, and it is at the far end of this that there is a model boating lake, which is the one into which I fell. It is currently less than six inches deep, but a 'tide line' round the edge would seem to indicate that it is usually about twice as deep.

The valley provides an enormous public space with tennis courts, football pitches and open areas which were, on a cold but sunny Sunday, thronged with people and dogs of all ages. Of the Roman town only a bit of mosaic flooring and a short section of town wall remain.

We climbed back up the hill and through the abbey gate, and after tea and cake in Waterstone's and a look in the museum, drove on to our B&B. This was situated in the Chilterns, and accessed by driving through the grounds of a large private school and out the other end through a network of unmade private roads. It was surprising to find this hidden world of farms, houses and open countryside within thirty miles of London.
Hills, forests a castle and a museum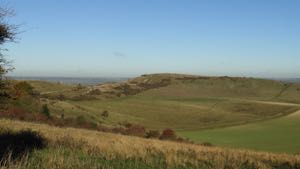 Ivinghoe Beacon
Next day, bright and sunny but with a biting wind, we set out to find Ivinghoe Beacon – a viewpoint set in an iron age fort where the Ridgeway and Icknield Way cross. The view from the top was worth the climb and the eye-watering wind.

From there we moved on to Ashridge Estate, a National Trust area of woodland. We were taken aback by the vast areas of public access forest in the Chilterns.

In the middle of this particular forest was a monument to Lord Bridgewater – "The Father of British Inland Navigation" on the strength of the fact that he commissioned the first navigable canal in the country – the Bridgewater Canal. It seems to be inevitable that all our holidays involve the climbing of steep spiral staircases, so up we went – 172 steps inside a column – to emerge onto a shelf around the cupola at the top. The views from there were worth the effort, and one could see the Shard, the Gherkin, Canary Wharf and Wembley Stadium on the horizon.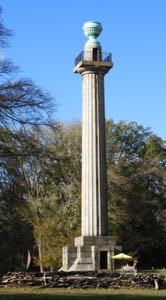 Bridgewater Monument
So, having tormented my arthritic knees and confirmed that I still suffer from vertigo, we went for a walk in the woods. As it was within days of Halloween, there was a Halloween Trail for the children, which we did our best to avoid, although we seemed to keep crossing it. The woods, however, were beautiful.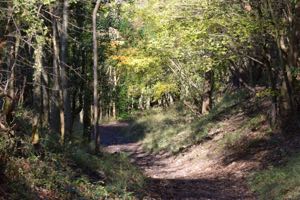 Ashridge Estate
Berkhamsted had been recommended to us as worth a visit, but we didn't really take to it – partly because the car park was hidden away through a private housing estate between the Grand Union Canal and the railway. We crossed the canal and went to find the castle, which involved re-crossing the canal and walking under the railway. Not much remains of the castle, but it covered a large area, and had an unusual design, as the mott where the keep used to be is outside the perimeter of the bailey but inside the double moat. The public is encouraged to use the bailey as a recreation ground, which is nice. The main street of Berkhamsted had very little to offer us, so we bought some beer and cider in the supermarket and moved on to Tring.

Tring was much better, having some lovely old buildings and a Natural History Museum. We were beginning to flag a bit by now, and weren't sure we wanted to go in the museum. We'd parked in a car park at the other end of town, and after we'd had a hot drink in the museum café I suggested I should fetch the car and park it in the museum car park while Jayne went into the museum to keep warm. By the time I got back, she was dying to go round the rest of the museum after viewing the first room. It was packed with stuffed animals and birds.

The collection was made by one of the Rothschilds, and was a serious attempt at collecting every bird, mammal, reptile, fish and insect he could. Although taxidermy is frowned on these days, and it was sad to see so many creatures killed for this purpose, some of them now extinct, it was a fascinating display.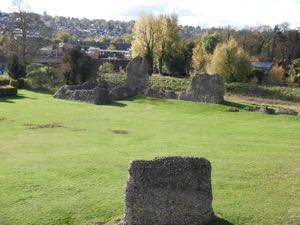 Berkhamsted Castle
True, the lion had a doleful expression on his face, as if he knew what his fate would be, but that was nothing, compared to the sight that met us as we climbed the stairs to find row upon row of gazelle and antelope, all gazing reproachfully at us. The final part of the display was breeds of dog, and it was interesting to see how these had altered since the 19th century.

I don't know how much longer the museum will survive, as there's a constant battle against insect infestation and light damage, but while it does, it's well worth a visit, and entry is free. http://www.nhm.ac.uk/visit/tring.html.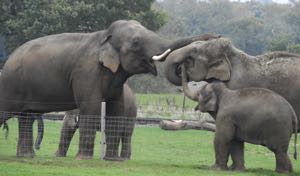 Elephants
Woburn and Wipsnade
The weather forecast had threatened an end to the bright, frosty weather, to be replaced with wind and rain, so we decided we would visit Woburn Abbey where we could be indoors. Arriving in the village of Woburn, we found it still asleep, but gradually shops began to open, including a kitchen shop that was an Aladdin's Cave of utensils. We drove towards the Abbey gates as the advertised opening time approached, to be confronted with a sign saying it was closed until April.

Though it was cold and cloudy, the rain was holding off, so we decided to visit Whipsnade Zoo instead. We started with the butterfly house, which was warm and welcoming. The staff said there were far fewer butterflies around than normal because it wasn't as warm as usual, but those that were there were beautiful.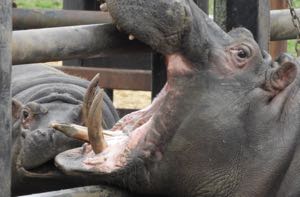 Baby Hippo teething
It was a bit cold and bleak outside, so not surprising that many animals were not visible, but we saw the Asian elephants, including a mischievous baby, the hippopotami with a teething baby chewing on its father's teeth and lips as he lay patiently against the bars of the pen. The lions looked bored. The giraffe peered out of the open door of their house but wisely didn't venture out, so we climbed up to the viewing gallery and watched them nibbling bunches of branches hung from the roof.
Nearby, a pack of very colourful African hunting dogs followed their leader as he patrolled the well-worn paths of their pen. We passed the bears and wolverines. We could hear a keeper inside the wolverines' house, calling to the last wolverine to come inside so she could shut the door. He kept darting in and straight out again.

Beyond them, on the edge of the escarpment in a suitably Antarctic wind, the penguins were being fed, but were made nervous by flocks of very aggressive gulls. A keeper told us later that they were thinking of putting netting over the enclosure to keep the gulls out, as the penguins were being robbed of their fish.

On the way back, we saw that the wolverine had won the battle of wills, and was contentedly munching on a piece of wood, shut out of his house for the night. I'm sure he would be quite safe, as no creature would want to argue with him!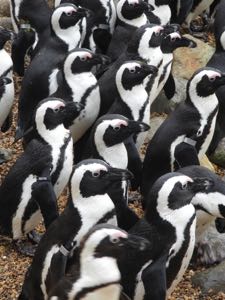 A quick look at the ring-tailed lemurs through the window of their house concluded our visit.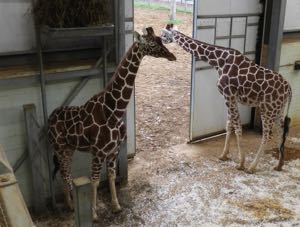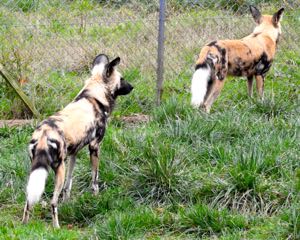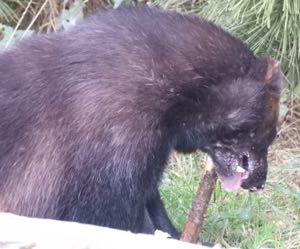 Dizzie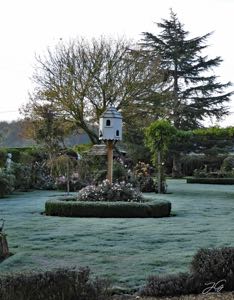 The garden at our B&B
Our final day dawned frosty and foggy, but it soon cleared up and we set off to visit Hughenden, home of Disraeli. The Gutteridge family seems to have come from nearby Stoke Poges, where my grandfather was head gardener at the local "big house", and there is a 19th century newspaper report on a ploughing match in which a James Gutteridge came third, and was presented with his prize by the local MP, Mr Benjamin D'israeli. Maybe one of my ancestors was the ploughman who plodded his weary way in Gray's Elelgy.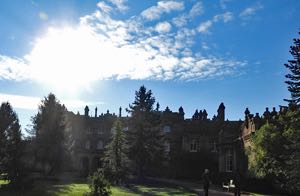 Hughenden Manor
Disraeli comes under the category of lovable rogues. He only entered parliament because he owed large amounts of money and MPs couldn't be imprisoned for debt. He modelled himself on Byron (mad, bad, and dangerous to know) but some of his quotes could have come from Oscar Wilde. For instance: "William Gladstone has not a single redeeming defect." Gladstone and Disraeli really didn't get on. Once at a social gathering, Gladstone said to Disraeli, "I predict, Sir, that you will die either by hanging or of some vile disease". Disraeli replied, "That all depends, sir, upon whether I embrace your principles or your mistress."

Victoria truly loved him. She said that Gladstone addressed her as if she were a public meeting. But "Dizzy" wooed her. As he said, "Everyone likes flattery; and when you come to Royalty you should lay it on with a trowel."

However, he seems to have been an excellent Prime Minister, and introduced several laws that eased the burden of the poor – something that would be unimaginable from the current Tory party!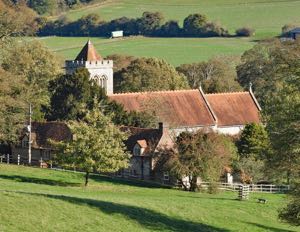 Hughenden Church
His house is not particularly beautiful, but he bought it for the setting, which is. It stands on a wooded hill, looking over the valley to the parish church below. After visiting the gardens we went round the house which contained exhibitions on Disraeli and, in the cellar, on the secret map makers who worked there during the Second World War, making maps of Germany from reconnaissance photos for use on bombing raids.

After a bowl of soup in the café, we went for a walk down to the church, where there was a monument to Disraeli erected by Victoria. Tucked away in the north chapel were some tombs of crusader knights, which we have since discovered are 16th century fakes, and one genuine 13th century carved cadaver in a shroud. See https://kateshrewsday.com/2013/09/28/the-fake-knights/.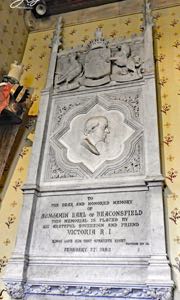 Victoria's memorial to Disraeli

Text © Chris Gutteridge 2018
Photos © Jayne Gutteridge 2018
We finished the day with a delicious meal at the Bell Inn at Studham as we had every day since we'd arrived. Excellent food and service and a friendly atmosphere – why go anywhere else?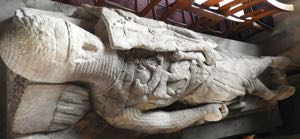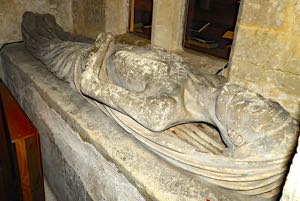 A fake knight and a genuine 13th century memento mori