Chris Gutteridge's Australia blog November 2015
Photos © Jayne Gutteridge
I feel like I've been shot half way round the globe in a metal tube 7 miles up in the sky... Ah, wait - I have! Still, Australia was excellent, though temperatures varied from the mid 40s to the mid 20s, and the wedding was splendid and went off without a hitch, despite the marquee's escape attempt the day before! Congratulations to Rosie & Shane Trevor!

Whilst in the limbo that exists after check-in and security, and before the gate for one's flight opens at Heathrow, having inspected all the shops and sat and watched a young man re-arrange the same pile of shirts four times in ten minutes (how do such shops survive in airports? Who buys expensive new clothes and stuffs them in their hand luggage?) we spotted the usual "buy one, get the second half price" offer in W H Smith's, and I found Bill Bryson's latest book, "The Road to Little Dribbling". What a pleasure! Hilariously funny, endlessly informative, and at times sadly depressing - I thoroughly recommend it.

The best thing on the outward flight was arriving at Dubai at dawn, and watching the huge, red sun rise over the desert, and then reflecting off the tower blocks of Dubai itself. Quite stunning.

Driving in Australia was an experience. Our hire car was an automatic, and we're used to manuals. It had what was described to us as a "foot handbrake", where the clutch would normally be, so at first I had tendency to put the brake on in an attempt to change gear. Of course, the indicators and wipers were the opposite sides to our car, so I operated the wipers every time we needed to turn. All this as we negotiated Sydney in the morning rush hour, after a 23 hour flight. Thank goodness the satnav was straightforward, even if it had the voice of an Australian dominatrix. Last time we visited, we had a jokey Crocodile Dundee character, who, as we crossed Sydney Harbour bridge for the fourth time, said, "tell those back seat drivers to shut up, and take the next left" etc. He became highly irritating at times!

Once clear of Sydney, the Pacific Highway was straightforward, and then we were onto rural roads. From time to time, overtaking lanes are provided. These necessitate non-overtakers moving over into a new left-hand lane, which is fine, but when the lane ran out, the slower traffic had to re-enter the lane being used by the overtakers, which was unnerving. However, Australian drivers seemed courteous and obliging, and we had no problems.

In built-up areas, there is a wide left-hand lane, divided from the main highway by a continuous white line. This is for parking, giving space to open doors without danger. It is also used for undertaking vehicles turning right. In Sydney, this parking lane frequently has a cycle lane between it and the main thoroughfare. When shopping, it is customary, and in the full heat of summer almost necessary, to drive from one shop to another, even when they are quite close, so that you can dive from air conditioned car to air conditioned shop and back with minimum discomfort.

Many rural roads are "unsealed", i.e. lacking tarmac (actually, temperatures have been so high in recent years that many sealed roads are in a bit of a state where they've melted and re-set in wild swirls and humps). Mount View Road, where our first cottage was situated, was mostly unsealed, and at times very windy, steep, and with precipitous drops to the side. These roads are very solid when dry, but send up clouds of dust and small stones. People drive on them at quite high speeds, but when they meet someone coming the other way, both vehicles slow right down to avoid chucking muck at each other.

When we arrived at Rosie & Shane's, they took us to lunch at Millfield Village Stores. This shop sells everything that you'd expect from a village stores, and also petrol and diesel. They also serve meals, so we sat at a table in the middle of the shop and ate homemade burgers. Jayne and I chose the house special - Portuguese burgers, which were particularly delicious. We helped ourselves to beers and ciders from the fridge, and to save space on the table, the empties were put on the floor. A customer noticed them there, and said, "I'm going outside, I'll put those in the bottle bank for you".

The shop is run by two ladies - one Australian and the other from Sarf London. The latter was much travelled - she and Jayne had an animated conversation about the joys of living in Caerphilly - and had lived in Portugal; hence the burgers. A very enjoyable, if slightly surreal experience.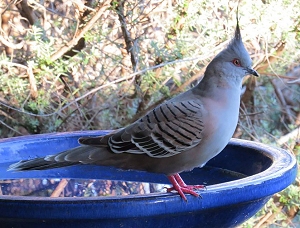 Crested Pigeon
When we eventually found Goosewing Cottage in the mountains above the Hunter Valley, our home for the first 8 days of our stay, and were welcomed and settled in, and had admired the cottage, the grounds and the stupendous views, we eventually succumbed to jet lag at about 6pm and decided to lie down on the bed for a few minutes. At 8.30pm I was suddenly awake, convinced that some piece of electrical equipment had gone seriously wrong. A loud noise like serious interference on a radio filled the air. We quickly tracked it down to a bush just outside the cottage, but despite searching with a torch, we could see nothing. This was a tree frog, and just part of the chorus of frogs and cicadas that filled the air. Soon after, they all stopped, as if someone had thrown a switch. Goosewing is a magical place. We were woken each morning by a dawn chorus of bellbirds, kookaburras, parakeets of numerous kinds and lyre birds (amongst others), and we would then sit out on the terrace in the cool of the morning with our breakfast and absorb it all. We were visited at the adjacent bird bath by the clownish crested pigeons, butcher birds and others, and a blue-tongued lizard lived in the nearby flower bed. Wallabies visited the garden, and we saw kangaroos fighting in the adjacent field.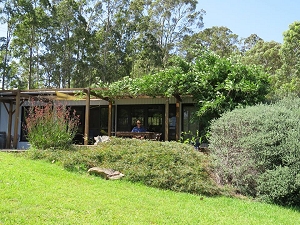 It was difficult to tear ourselves away.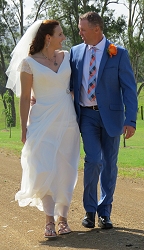 The happy couple, contemplating
running away together.
I'm no believer in fate or unseen powers, but one aspect of Rosie & Shane's wedding is remarkable. Having researched marquees, they found that buying one would be cheaper than hiring. When it arrived, there were two. They pointed out that they'd only ordered one but the delivery man said he was down to deliver two and there was no way he could do otherwise, so they got a free one. They decided to erect one at home as a trial run, and the day before the wedding, with the help of friends and family, they erected the other at the venue. The temperature was in the mid 40s and there was a strong wind blowing, so as well as pegging it down they weighted it with hay bales. Everybody dispersed, and Rosie showed Jayne and myself round the luxurious nuptial villa on site. As we were leaving, the wind had strengthened to gale force, and the marquee started to take off. All of us still on site rushed to catch it, but the frame was buckled and the canopy torn in places. Shane and the others who had left came back and helped dismantle it, and then we went back to the house just in time to rescue the first marquee, which was preparing for takeoff. It had suffered some damage, but there were enough good parts for one complete marquee, and on the day itself, the temperature and the wind dropped to give us a pleasantly warm day with a light breeze.
The wedding was a great occasion. The celebrant for this civil ceremony was a charming young lady in a minidress, wearing a large crucifix on a necklace of skulls, which was a little odd. She conducted the ceremony using her i-pad. I was a little concerned about the possible reception of my "father of the bride" speech, but it got plenty of laughs, and comments about "English humour". If you're interested, I've attached it here.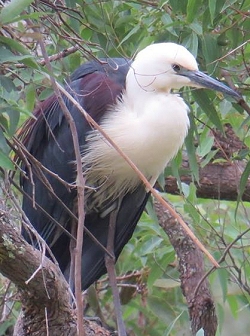 White Necked Heron
From Goosewing Cottage, we moved on to Wedgetail Loft, situated near Rosie & Shane's house geographically, but some distance by road. This property, situated on top of the owner, Linette's, carport, gives splendid views over her fields and gardens. We went there on the day of the marquee's escape attempt, and branches were falling from the gum trees onto the "unsealed" Wallaby Gully Road. What with that and the dappled sunlight making it difficult to spot the potholes, Jayne, who was driving, found this an interesting journey, but once Linette welcomed us and opened the door to the loft, saying, "it's nice and cool up there", we climbed the stairs and soon settled gratefully in to what felt, after the outdoor temperature, like a walk-in fridge. The air conditioning was actually registering 27 degrees!

The property has a private balcony, where Linette had provided bird food for us to put out and attract visitors, and once the wind had died down and stopped blowing the chairs around on the balcony, and the temperature had dropped to that of a pleasant British summer's day, we sat out and enjoyed the view. I was amused to see one of Linette's alpacas and a wallaby staring each other out in the field. The wallaby was the first to give in and retreated into the forest.

Next morning we were able to view lorikeets, galahs and other birds at very close quarters as they came to feed. We also discovered that a pair of white necked herons (which are apparently rare) were building a nest in a tall tree just outside, and had fun watching the male selecting a twig, then laboriously spiralling round the tree to gain height, and finally receiving a rapturous greeting from his mate, who then set to work weaving it into her creation. There was a long-necked turtle sunning itself on the bank of the dam in the field.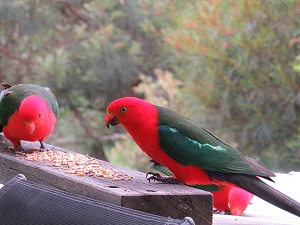 King Parrots feeding on our balcony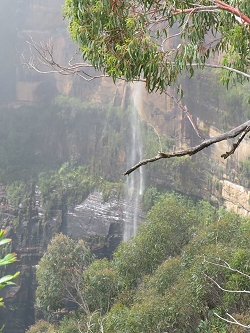 Bridal Veil Falls, Blue Mountains
The Blue Mountains of New South Wales are neither mountains nor blue. The area is an extremely high plateau which is riven by extremely deep and wide crevasses. The whole area, when not rendered invisible by white mist, is covered in a blue haze. One theory is that this haze is caused by a mist of eucalyptus oil from the blue gum trees, suspended in the air.

Whatever the truth, the area is incredibly beautiful, if not quite the best place for a vertigo suffer with arthritic knees.

I was particularly amused by the sulphur crested cockatoos. These large, noisy birds fly around the forest, and approach the branch on which they want to land with an air of panic and a frantic flapping of wings, but as soon as they land, they manage to give the impression that they had no difficulty landing at all!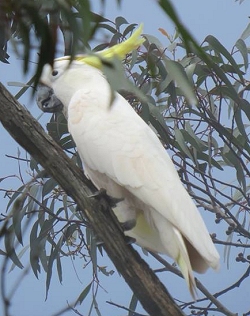 Sulphur crested cockatoo

TimTams are a mysterious Australian biscuit. Whilst in Australia, we bought several packets in different flavours and liked them all, but they kept disappearing. We liked them so much that we bought several packets in assorted flavours to bring home, but when we came to pack we could only find one complete packet of original flavour and four TimTams in an opened packet, so we packed the one packet and the four biscuits disappeared. When we got home at 1.30pm yesterday, I unpacked the slightly bent packet of TimTams, and when we had a cup of tea at about 3pm Jayne suggested that we should have some TimTams with it, but they'd all disappeared.
© Chris Gutteridge 2015